The BJP led by Modi and Shah has enriched Indian culture with violence in daily life
It comes as no surprise that the impact should begin to show among the party's own leaders and supporters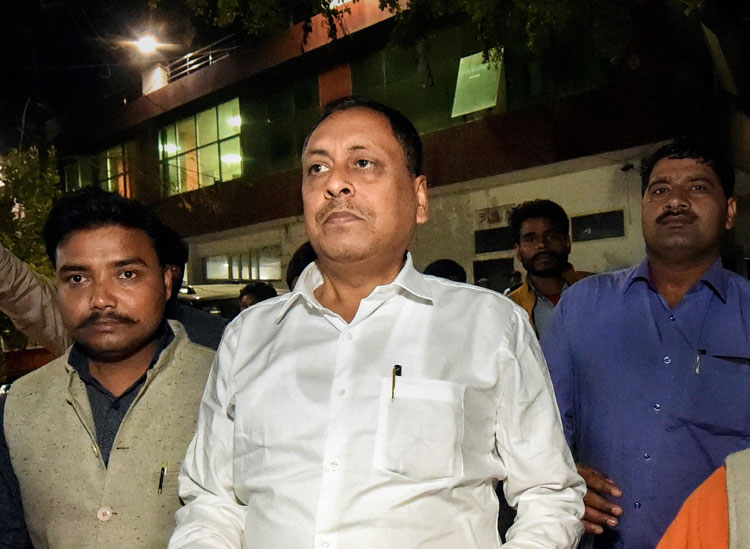 In Uttar Pradesh last week, MP Sharad Tripathi began hitting MLA Rakesh Singh Baghel (pictured here) with a shoe when he discovered his name was not on the plaque for the foundation stone of a bridge. Baghel retaliated by slapping the MP a number of times
PTI photo
---
Published 10.03.19, 03:32 AM
|
---
India is being overtaken by the spirit of grotesque comedy. The most recent manifestation of this occurred in Sahebganj in Jharkhand, when respective supporters of two Bharatiya Janata Party members of the legislative assembly flew at one another's throats. It is comic enough that supporters of the BJP, a party which falls over itself to proclaim its holier-than-thou unity while its leaders thunder forth the virtues of 'one nation, one voice', should make punching bags of one another for around 20 minutes before the media and the public. But what lends to the comedy a grotesque touch is that the mutual fury is about the absence of the name of one MLA, Tala Marandi, on the ceremonial plaque at the site of a Rs 100 crore sewerage project, which was about to be inaugurated by the other MLA in the equation, Anant Ojha. Mr Marandi's followers lost it because they felt that Mr Ojha had sidelined Mr Marandi. The BJP leaders' insatiable thirst to go down in history, whether through names on plaques immortalizing sewerage projects or by washing sanitation workers' feet, seems to have galvanized their supporters in this case into instant action. There is a bright side, though. Such passion over sewers may augur greater concern for manual scavengers at some later time. Evolution is slow after all.
The heroes who ignited such passion, however, were offstage during the fisticuffs. The MLA with his name on the plaque played peacemaker so the inauguration went smoothly while the MLA left out of the plaque made noble statements. But if factionalism was just about saved from the gutter in Jharkhand, it had reached memorable heights in Uttar Pradesh just a day previously. Trained thoroughly in the BJP school of drama, a member of parliament and an MLA, both from the BJP, threw themselves on each other with abandon during a district action plan committee meeting. The bone of contention — no surprise — was a plaque. The MP, Sharad Tripathi, began hitting the MLA, Rakesh Singh Baghel, with a shoe when he discovered his name was not on the plaque for the foundation stone of a bridge. Mr Baghel retaliated by slapping the MP a number of times while abuses flew thick and fast. It seems that the two MLAs' supporters in Jharkhand had merely followed in the footsteps of their betters.
The Narendra Modi-Amit Shah-led BJP has enriched Indian culture with two gifts: division and violence in everyday life. The effectiveness of these gifts is well illustrated by the killings, economic losses and uncontrollable indiscipline on roads and in fields caused in the name of the innocent cow, which is not spared disorientation and starvation itself. It comes as no surprise that the impact of these gifts should begin to show among the party's own leaders and supporters. Gifts, too, come home to roost.