The cow: A weapon of polarisation and murder
The cow is a major theme in national politics, news, pseudo-science, and everyday problems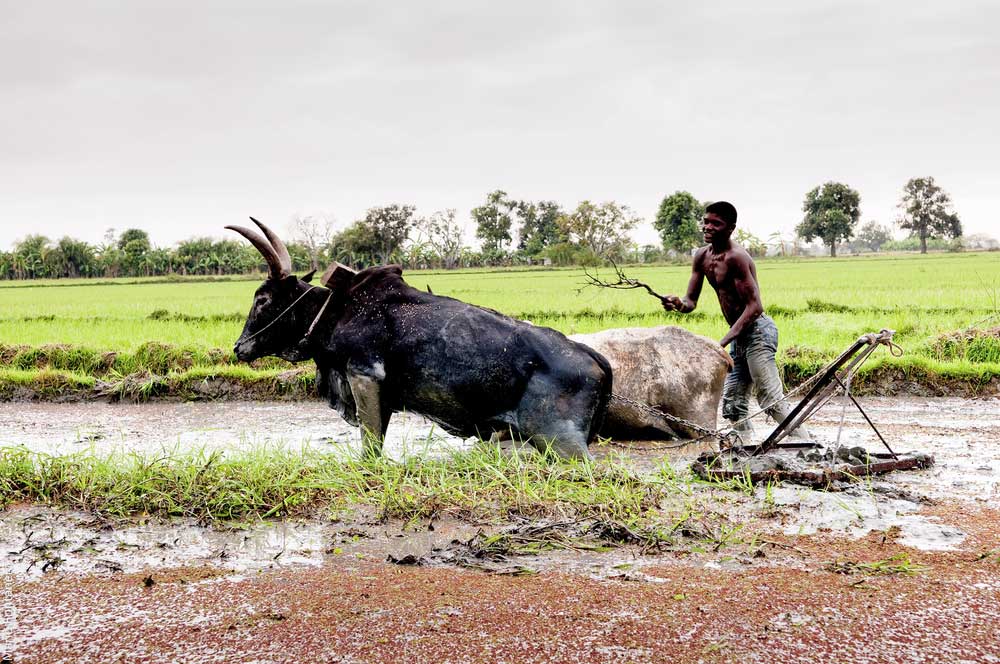 The disruption of the traditional cow economy has resulted in crops being eaten up, traffic obstructed and accidents caused by stray cattle
(Shutterstock)
---
Published 31.01.19, 03:23 AM
|
---
It is not clear what happened in Bulandshahr. It seems from reports that some villagers in the district found either carcasses of 25 cows or segments of them in a forested area close by their locality. Led by right-wing activists, they then laid siege to the nearest police station, throwing stones and burning vehicles. A young passer-by was killed in the violence and a police officer, strangely, was shot dead. The incident, at least as it has been reported by the national media, is weird enough in itself. Can it be that no one asked any questions before the police burst into action, apparently keener to get their hands on the invisible cow slaughterers than on the murderers who had killed one of their own? Is it normal to have 25 slaughtered cows strewn about in a forest? Killed not for meat or skin, but just for the fun of it? Why would anyone do it except to ignite violence between communities? Or push the local minority community further into a corner? Why was a Bajrang Dal leader, now apparently eluding the police, among the first to complain of cow slaughter? Why the siege on the police station? Is it coincidental that the murdered officer had investigated the lynching of Mohammad Akhlaque in Dadri for suspected storage of beef for two months in 2015?
Apart from the amazing fact that the men from the minority community arrested for illegal cow slaughter are being held under the National Security Act (whose security is threatened? who named them? the same Bajrang Dal leader who also named two little boys whom the police reportedly questioned for hours?), there is another feature becoming rapidly familiar. It seems that posters from the Bajrang Dal and the Vishwa Hindu Parishad wishing everyone happy Makar Sankranti and happy Republic Day (suggestive combination) feature those accused in the murder of the policeman as heroes. This is reminiscent of the Union minister, Jayant Sinha, garlanding eight men convicted of lynching a Muslim coal trader on suspicion that he was transporting cows. It is the same phenomenon as the Uttar Pradesh Navnirman Sena's offer of a Lok Sabha ticket to Shambhulal Regar, recorded on video stabbing and burning Afrajul Khan for the mythical — and this case false — offence of 'love jihad'.
Love jihad picks its own victims, but the extent and lethality of its operations may be slightly less successful than those of cow adoration. Two points stick out of the reported facts mentioned above. The first is a frank, and repeated, inversion in the hierarchy of values — conflict over peaceful coexistence, hatred over habitual acceptance of difference, criminality over law, falsity over truth, death of those undesired by the ruling dispensation over life for all. This inversion appears to have reached the status of the mundane; obviously because resistance against it has been ineffectual. Is that because people still cannot believe this is happening, or because they want it?
The second is the purely surreal condition of India. There is something truly poisonous in wielding religion to turn the idea of an innocent beast into a weapon of polarisation and murder. The spread and rigour of laws against cow slaughter and sale for slaughter accompanied by the rise of vigilante 'cow protection' mobs have, while destroying the livelihoods and food patterns of numerous members of minority and less privileged groups, let loose hordes of stray cows on the fields and roads of the country. Dairy farming, even as a second source of income, has become difficult for many, because farmers are unable to sell their cows when they become unproductive. The seller, the trader or the buyer may be killed in the process. The disruption of the traditional cow economy has resulted in crops being eaten up, traffic obstructed and accidents caused by stray cattle. Desperate people are driving them into schools, hospitals, even cemeteries, to pen them, for there are not enough cow shelters — not that cattle are unfailingly cared for there. The cow is a major theme in national politics, news, pseudo-science — the curative properties of cow urine — and everyday problems. This is some kind of absurd fantasy land.
Yet a gun being raised in defence of the cow is not new, at least in literature. The Urdu story by Enver Sajjad from Pakistan, "Gae (The Cow)", has 15-year-old Nikka fiercely willing his father's old cow — "my cow, my gaumata" — not to budge when cattle traders try to take her away as it is clear she does not have long to live. When she is finally persuaded to get on the truck, Nikka rushes in to get his father's gun, lifts it to his shoulder and aims… The narrator does not know what happens next. Is he still standing there, aiming? he asks. This is, however, a little different from the gun that shot the police officer in Bulandshahr. The intimate relationship between man and the animal that sustains him, their mutual affection, devotion and respect, are intimately woven into the social existence of communities throughout the subcontinent. Literature merely helps us see the enduring bonds that are obscured by everyday light.
In Ansaruddin's Bengali novel, Go-Raakhaaler Kathakataa, a passage describes the return of cowherds to their employer after the waters of a terrible flood have receded. They have not only succeeded in saving all the cows but also, as the head cowherd, Fakir Ali, tells his master, the young apprentice, Hakimuddin, has managed a delivery in those conditions and carried the newborn calf like a tender baby all the way back. "Goghna", a Bengali story by Syed Mustafa Siraj, recounts the agony of Harai, a poor bullock cart driver, one of whose two beloved bullocks becomes too sick on the way to reach home, where Harai's wife is waiting to wash their hooves and feed them after their journey. His heart broken after a reluctant sale, Harai rests at a cart-drivers' camp. Suddenly realising at dinner that he was about to eat the halal flesh of the bullock he loved like a son, he howls and seems to retch up his heart — his poor-man's grief no less keen than the distant Thyestes's, tricked into eating his children's flesh. No community or region has a monopoly of attachment to cows and buffaloes.
This mutual devotion has inspired some of the most powerful writers in the region, whether it is Premchand in the slightly mischievous but deeply touching "Do bailon ki katha" in Hindi, or Bibhutibhushan Bandopadhyay in the Bengali "Budhir bari phera" written from the cow's point of view, or Tarashankar Bandopadhyay in the depiction of love and agony on an epic scale in the Bengali story of the buffalo called Kalapahar. The stories reflect an old bond, a traditional system with its own life-cycle, its transactions inextricable from attachment, its comfort of closeness and grief at parting. New-hatched, aggressive ideas of protection imposed from above have distorted these deeper connections, tearing out the entrails of established socio-economic and emotional relationships with effects that go far beyond political polarisation.
In Uttar Pradesh, one of the states overrun by stray cows, a farmer from Sarai Dangri village, who had four children, two cows called Radha and Bholi, two calves and a bull, Shankar, was forced to turn his cattle loose after wandering herds destroyed his entire field of standing wheat crop in mid-2018. He had to choose between feeding his children and feeding his cattle, he explained to his interlocutors from the media. The same dilemma is tragically etched in Saratchandra Chattopadhyay's Bengali short story, "Mahesh", where Gafur Mian, who loves the buffalo, Mahesh, like his own child but cannot feed him as he grows poorer, can no longer stand it when, starving and thirsty, Mahesh seizes the little water his daughter, Ameena, has brought. Gafur hits out wildly, and Mahesh dies. No reader of the story can ever forget Gafur's pain, or his passionate prayer for his Mahesh at the end.
But literature would be a waste of time for vigilantes.