Rohit Sharma deserves full credit, so do bowlers Jasprit Bumrah and Yuzvendra Chahal
With the victory, India gained its first point in the World Cup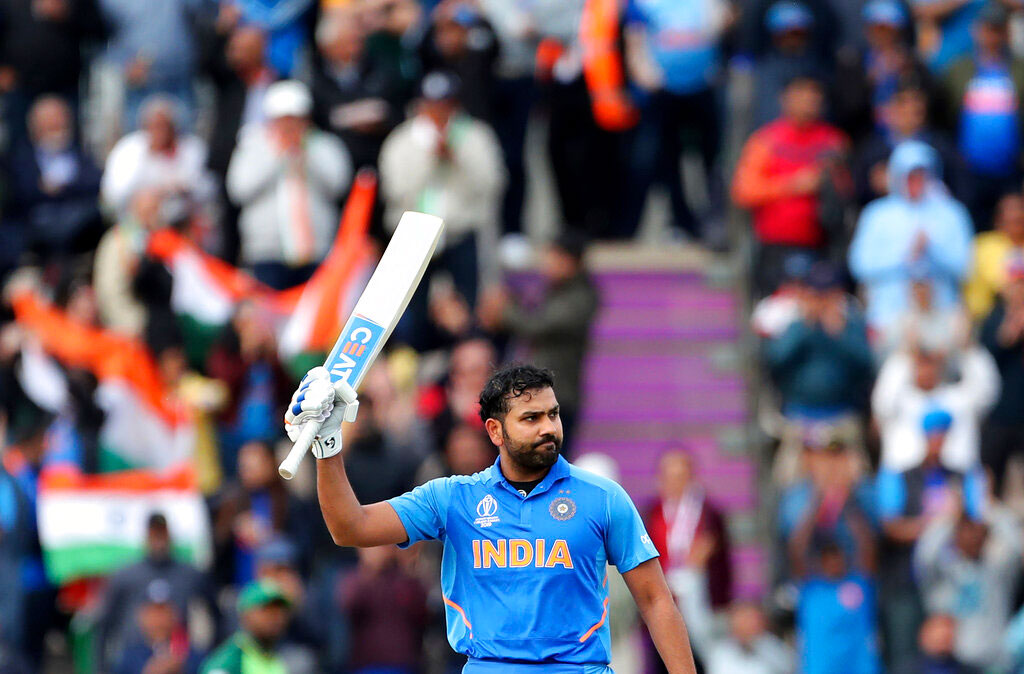 All is well: Rohit Sharma raises his bat to celebrate after scoring a century during the match against South Africa on Wednesday
Picture by AP
---
Published 08.06.19, 03:03 AM
|
---
Sir — Virat Kohli and his Men in Blue should be congratulated for triumphing over South Africa in India's first match of the ongoing World Cup. South Africa was already demoralized after their first humiliating loss in the tournament against the co-hosts, England. On top of that, the vice-captain, Rohit Sharma, scored an unbeaten century. With this victory, India gained its first point in the World Cup.
Although everyone expected Kohli to shine, it was Sharma who did. Credit should also be given to our bowlers, who put India in firm control of the game. Jasprit Bumrah accounted for both the South African openers, but it was Yuzvendra Chahal who essentially destroyed the batting line-up. The delivery with which he got the Proteas captain, Faf du Plessis, out was the bowling highlight of the match. One hopes that Chahal and Kuldeep Yadav will be able to befuddle opponents in the upcoming matches as well and help India seal a place in the finals.
N.V. Krishnan
Chennai
Sir — Critics, fans and the media have showered plaudits on India for its win against South Africa at the World Cup match at the Rose Bowl stadium in Southampton. However, the win was anything but convincing. South Africa's lower batting order did give us a scare. India's fielding and running between wickets are way below par. A drastic improvement is required if we are to beat better teams.
Shanmugam Mudaliar
Pune
Sir — Rohit Sharma must be commended for his sensible knock against South Africa; it saved the team from a batting collapse and a meagre total after the early dismissals of Shikhar Dhawan and Virat Kohli. The World Cup debutant, Yuzvendra Chahal, must be lauded for picking up four wickets in the tough overcast English conditions. As a leg spinner, it is said that drifting the ball on the pitch is more important than turning it. This drift was evident in Chahal's bowling at Southampton. He is going to be an important asset for the Indian team in the tournament.
Tushar Anand
Patna
Sir — Jasprit Bumrah's splendid bowling in Southampton got rid of both the Proteas openers, with the scoreboard reading 24-2. Yuzvendra Chahal also claimed four wickets for 51 runs. This was his fourth four-wicket haul, and his third against South Africa. Luck also favoured India, as catches were dropped.
For South Africa, the eighth-wicket partnership of 66 runs between Chris Morris and Kagiso Rabada was significant for it helped the team put up a decent total. The absence of Dale Steyn and Lungi Ngidi, however, was acutely felt.
N.R. Ramachandran
Chennai
Almost gone

Sir — It is appalling that there are only 150 great Indian bustards left in the wild. This critically endangered bird had once been in the running to become India's national bird, but lost out to the peacock. Had it won, would its numbers have dwindled to such shameful lows?
The disinterest of states and forest officials in conservation efforts have contributed to this dire state of affairs. Many bustards die on account of collisions with windmills and power transmission lines. The renewable energy ministry must devise ways to ensure that the remaining birds are not harmed.
Tarun Aneja
Calcutta
Not possible

Sir — I must point out a factual error in G.N. Devy's illuminating article, "Only a prelude" (June 6). The German writer, Heinrich Heine, breathed his last in 1856, and the lines quoted in the article appeared in a play written by him that was published in 1823. Thus, they could not have been a reaction to the Nazi Students' Association publicly burning books by German writers in 1933. These books included works by Heine himself: he was of Jewish descent, and the Nazis disapproved of his ideas.
A. Mukherjee
Calcutta