No surprises: V.K Sasikala quits politics
Her withdrawal must have helped the BJP's peace of mind; it can focus its calculations on other states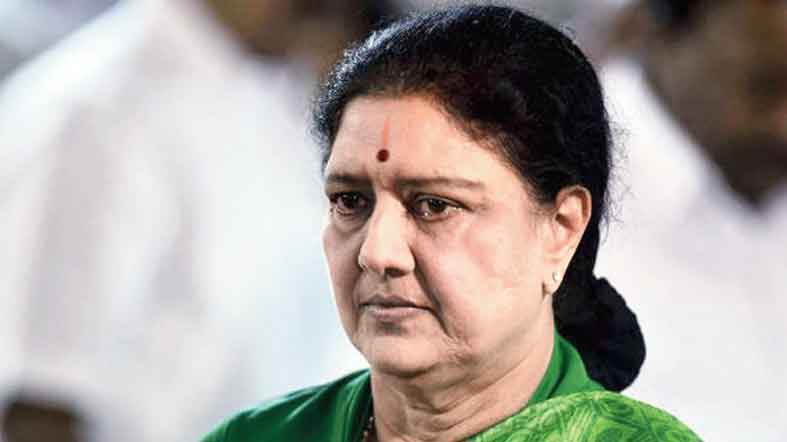 V.K Sasikala.
File picture
---
Published 16.03.21, 05:38 AM
|
---
Some questions are fated to remain unanswered. The ruling All India Anna Dravida Munnetra Kazhagam in Tamil Nadu, with its ally, the Bharatiya Janata Party, must be relieved that V.K Sasikala, former right-hand woman of J. Jayalalithaa, decided to step away from politics after being released from prison. How the chips would have fallen had she contested the assembly elections scheduled for April 6 is now an irrelevant question. Ms Sasikala could have divided the AIADMK. The present leadership, comprising the chief minister once anointed by Ms Sasikala, E. Palaniswami, and his deputy, O. Panneerselvam, an earlier rival who became a friend with the BJP's help, do not want her back. It seemed for a short while that she would draw on the popular support visible after her release and the gratitude of those legislators whom she had initially named as candidates to upset the apple cart. Reportedly, Ms Sasikala was talking quietly to supportive politicians and moving about with the AIADMK flag. Support would also come from her nephew, the once powerful T.T.V. Dhinakaran, and his party, the Amma Makkal Munnetra Kazhagam, formed when he failed to overturn Mr Palaniswami's leadership after his aunt was convicted in a disproportionate assets case. Both aunt and nephew were expelled from the party in which they were once heavyweights. Revenge is a strong spur, as is the desire for control.
Yet they did not work. Factionalism in the AIADMK could have been to the Opposition Dravida Munnetra Kazhagam's advantage, unless Ms Sasikala's presence, evoking memories of the larger-than-life Jayalalithaa and the loyalties she cultivated turned the tide fully towards a new leadership in the AIADMK. The BJP could have supported the winning side: all it wants is to establish itself in the state. But Ms Sasikala's withdrawal must have helped the BJP's peace of mind; it can focus its calculations on other states. Mr Dhinakaran, disappointed, has led his party into an alliance with Asaduddin Owaisi's All India Majlis-e-Ittehadul Muslimeen. It is not clear what this will achieve apart from eating into the DMK's assured minority community base. The battle remains, ostensibly, between the two parties that have traditionally alternated in ruling the state. But the old glamour is gone; the BJP's presence evokes grey arithmetic, not the colourfulness of the leaders who have passed.