New Race: Editorial on the Constitution envisioning a neutral figure as the President
However, the choice of presidential candidates by any political party or alliance is coloured by its political or electoral goals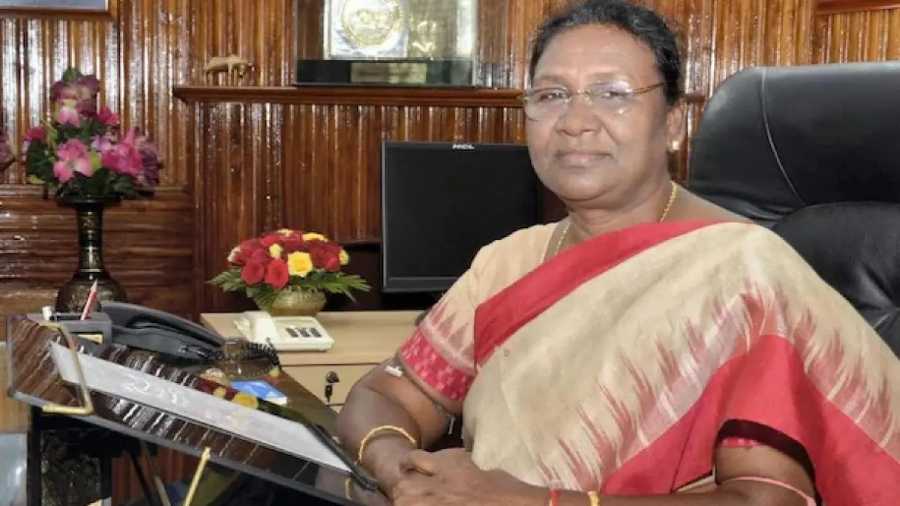 Droupadi Murmu, if elected, she would be India's first tribal and the second woman president.
File Picture
---
Published 24.06.22, 03:10 AM
|
---
As the head of state, the president of India upholds the Constitution. At a time when there are fears that the Constitution is being undermined by the ruling regime, the role of the president acquires a definition that may not be entirely desirable. The Constitution envisions a neutral figure above political preferences and intentions. The journey of Indian politics, however, has been towards increasing politicisation. Even the choice of presidential candidates by any political party or alliance is coloured by its political or electoral goals; the symbolic import of the choice, if any, becomes subservient to political expediencies. This unfortunately reflects back on the candidates, who should be nominated on their own merit. The National Democratic Alliance has named as presidential candidate Droupadi Murmu, a former governor of Jharkhand coming from a tribal family in Odisha, an organisational and administrative leader in the Bharatiya Janata Party, a former councillor and a former Odisha minister. If elected, she would be India's first tribal and the second woman president. She would then also be taking over from the present president, Ram Nath Kovind, who is a Dalit.
The BJP is quite frank about the politics behind the NDA's nomination: Constitutional proprieties are never its headache. From a Dalit to a tribal member — its choices indicate the groups it would like to please when election results suggest that these are yet to be won over. Not only do the prime minister's remarks suggest that Ms Murmu's nomination shows the BJP's choice of someone who works for the disenfranchised — the BJP is all for the poor — but the Union home minister has also held out the nomination as proof of Narendra Modi's commitment to women's empowerment and tribal development. A group of Opposition parties including the Congress and the Trinamul Congress has nominated a candidate with a different kind of symbolism. Their choice, Yashwant Sinha, once a bureaucrat and later a minister in the earlier BJP government, had left the party in 2018 and was vocal in criticism. Mr Sinha is not a representative of identity politics, but a figure of resistance to unfair political practices who can be cast as an upholder of the Constitution. The unlikeness of the competing symbolisms is perhaps the most striking feature of the forthcoming presidential election.