New churn: Editorial on Narendra Modi attending back-to-back global summits
For India, it showcases the balancing act that New Delhi is attempting between its friends in the West and its traditional role as a key voice of the Global South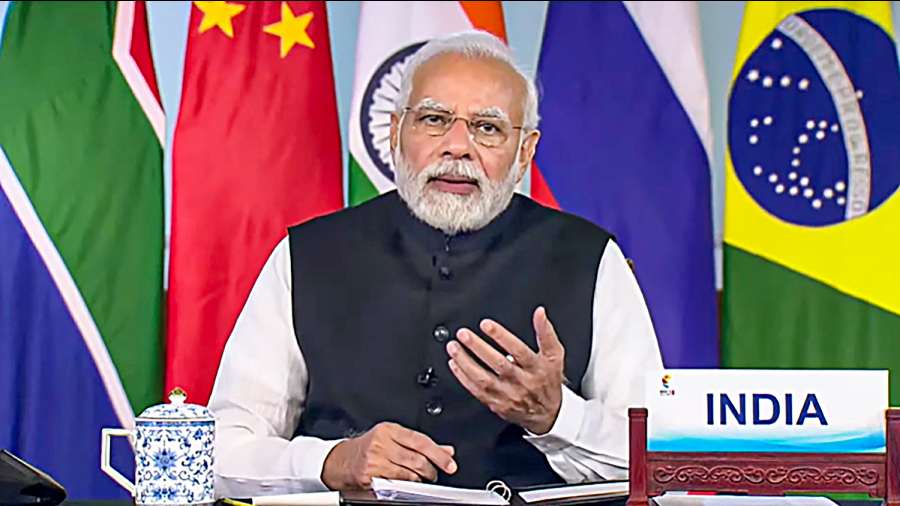 Prime Minister Narendra Modi addresses the BRICS Summit through a video conference, in New Delhi.
File picture
---
Published 30.06.22, 02:35 AM
|
---
Global summits are often as much about symbolism and messaging as they are about well-defined outcomes. Last week, Prime Minister Narendra Modi attended, virtually, a meeting with leaders of Brazil, Russia, China and South Africa — the BRICS grouping. Then on Monday, he joined leaders of the G7 group of major industrialised economies and counterparts from Indonesia, South Africa, Argentina and Senegal in a physical summit in the Bavarian Alps. The back-to-back conclaves underscored the churn in the world, with a war in Ukraine, inflation rising globally, and the threat of a recession looming in the United States of America and parts of Europe. For India, they also showcased the balancing act that New Delhi is attempting between its friends in the West and its traditional role as a key voice of the Global South. The advantages of such an approach for India are many. It can strengthen cooperation with the West against threats posed by China without ceding leadership of the developing world to Beijing. At the same time, New Delhi and Beijing can speak in one voice on some issues, such as climate change. India can likewise enjoy the benefits of warm ties with both the US and Russia.
But the recent summits also highlighted the risks of India's tightrope walk. New Delhi is believed to have played a role in ensuring that the BRICS declaration issued at the end of that meeting was not critical of the West. Meanwhile, a 'Resilient Democracies Statement' released by the leaders of the G7 and their five guests after the summit in Germany was completely silent on the war in Ukraine, with no criticism of Russia. It would be easy to view this as an example of how India's neutral role in world affairs helps its friends on both sides of the debate. But in a world that is more polarised than it has been since the end of the Cold War, those trying to restrain broad groupings from asserting aggressive postures can as easily be seen as roadblocks or liabilities. India must remember the domestic strengths that have brought it repeated invitations from the G7 since 2003 and have made it a pillar of the BRICS: economic promise and a stable society committed to democracy and pluralism. If it flounders on those at home, it will not be able to stay surefooted abroad.