The death penalty is never the answer
India has a more humanitarian approach towards drug offenders than its neighbours Bangladesh and Sri Lanka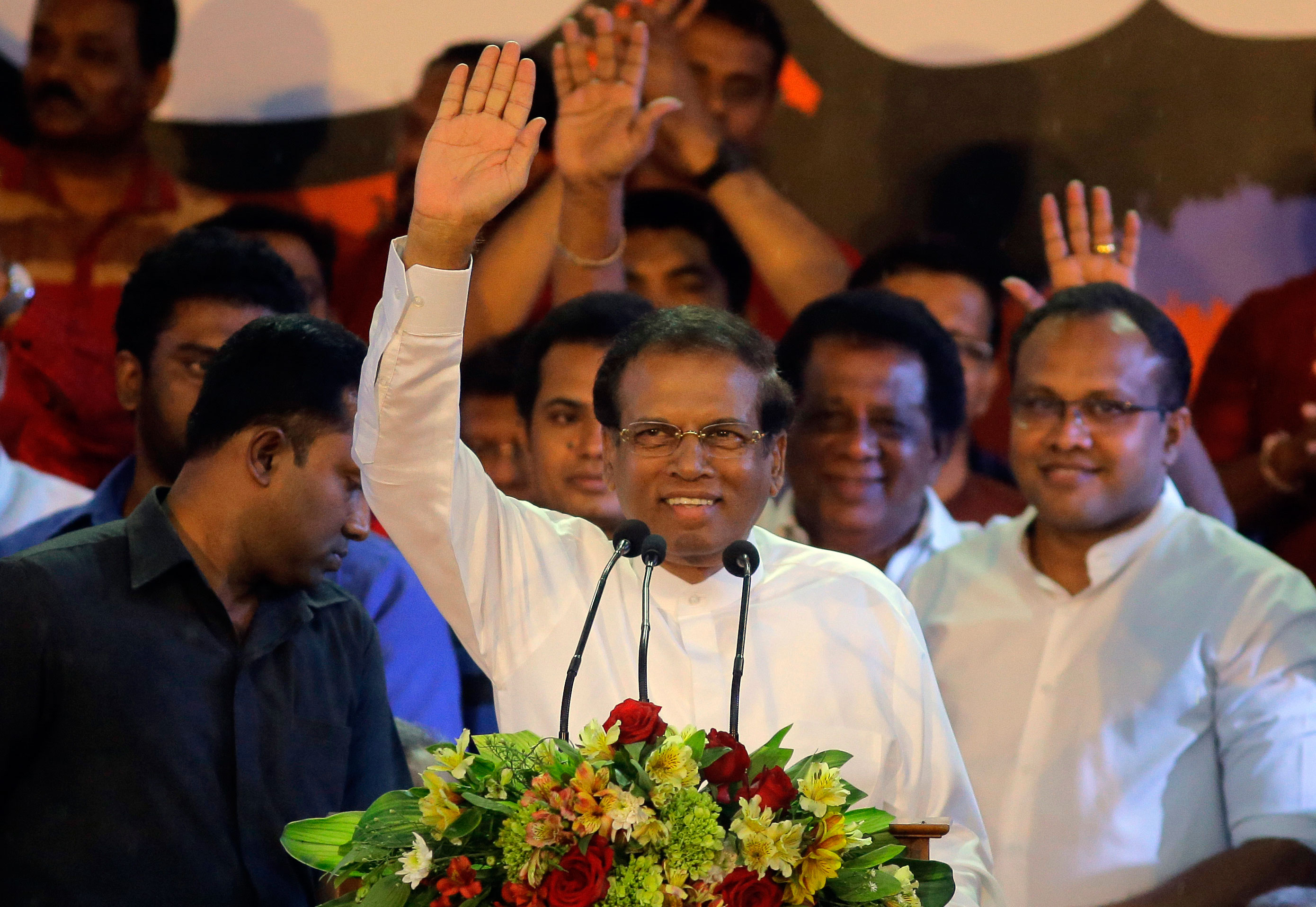 It is only an interim relief for the convicts, as Maithripala Sirisena, who is likely to fight a re-election in December, looks adamant upon imposing the death penalty.
AP photo
---
Published 07.08.19, 03:18 PM
|
---
After a moratorium of 43 years, the gallows were getting ready in Sri Lanka. Two executioners with 'excellent moral character' and 'mental strength' were appointed. A list of four convicts — involved in drug offences — to be hanged was prepared. On June 26 — the International Day Against Drug Abuse and Illicit Trafficking — the Sri Lankan president, Maithripala Sirisena, announced that he had signed the requisite documents for the imposition of the death penalty for drug-related offences.
But these executions had to be stalled. The country's Supreme Court, on July 5, issued a temporary injunction against the execution of the four convicts until October.
It is only an interim relief for the convicts, as Sirisena, who is likely to fight a re-election in December, looks adamant upon imposing the death penalty. A week after the parliamentarian, Bandula Lal Bandarigoda, submitted a private member's motion seeking to block the return of capital punishment, Sirisena, on July 14, said he will declare a national day of mourning if the Sri Lankan Parliament blocks his proposal to reinstate the death penalty. Sirisena, it seems, wants to rely on the populist rhetoric against the threat of drug use and convince people about his 'social commitment' to eradicating the menace before the elections. He wants the hangings to be a 'powerful' message to the illegal drug trade.
According to government data, 60 per cent of the 24,000 prisoners in Sri Lanka are drug offenders. Currently, 48 people have been convicted of drug offences. All death penalties for drug convicts in Sri Lanka were commuted to life imprisonment for the past 43 years. The death penalty for drug-related offences is a violation of Article 6 of the International Covenant on Civil and Political Rights, to which Sri Lanka is a party. Ironically, last year, Sri Lanka was among the 121 countries that endorsed a United Nations general assembly resolution calling for a moratorium on the death penalty.
Human rights bodies argue that punitive drug policy has not acted as a deterrent anywhere. Over 170 countries are said to have either abolished the death penalty or taken a position in favour of ending executions. But Sirisena is in no mood to listen. He even rejected an appeal by the UN secretary-general, António Guterres, to reconsider his decision. He has also demanded the death penalty for the perpetrators of the Easter Sunday attacks in April that killed over 258 people by calling the attack the handiwork of "international drug dealers" who wanted to "discourage [his] anti-narcotics drive".
Besides Sri Lanka, Bangladesh is another south Asian country which imposes the death penalty for drug offences. Last year, its Parliament passed the narcotics control bill, 2018 which, alongside the life sentence, also has a death row provision for producing, trading and using 200 grams or more of yaba, or more than 25 grams of heroin and cocaine. Human rights bodies demanded a revocation of the law but their voices remained unheard. Two death sentences for drug trafficking were pronounced last year. Ahead of the general elections in December 2018, the prime minister of Bangladesh, Sheikh Hasina Wajed, adopted a populist anti-drug stance by launching a campaign to toughen punishments for drug crimes. More than 250 people were killed in anti-drug operations between May and December in 2018. The Philippines-style 'war on drugs' campaign has targeted the poor and underprivileged. In some cases, human rights activists alleged, the killings may have been 'politically motivated'.
In contrast, India has a more humanitarian approach towards drug offenders. In 2011, the Bombay High Court declared Section 31A of the Narcotic Drugs and Psychotropic Substances Act, 1985, that imposed a mandatory death sentence for a subsequent conviction for drug trafficking, 'unconstitutional'. Later, it made the imposition of capital punishment on a person convicted only for a subsequent offence involving possession, production or transportation of specified drugs and quantities optional and not obligatory.
The Death Penalty for Drug Offences: Global Overview 2018, published by Harm Reduction International — a London-based NGO working on social and legal impacts of drug use and drug policy — stated that only six of 915 death sentences pronounced in India from 2011 onwards were for drug offences. Last year, the Punjab government called for expanding the death penalty that is currently applicable for child rape convicts to first-time drug offenders. But the Central government rejected it, arguing that the UN office on drugs and crime opposes the imposition of the death penalty for drug offences. Moreover, last year, the Congress parliamentarian, Shashi Tharoor, introduced a private member's bill in Parliament seeking a total abolition of the death penalty.
But the Indian Parliament, last week, passed the protection of children from sexual offences (amendment) bill, 2019, seeking to impose the death penalty for aggravated sexual assault against children. This bill has been passed at a time when a girl, allegedly raped by a former leader of the ruling Bharatiya Janata Party when she was a minor in 2017, is battling for life in hospital. Ironically, the BJP, which supports the death penalty and proclaims its love for the 'betis' of India, expelled the rape accused from the party only last week, more than a year after his arrest.