Lockdown: The year in a word
Does language's responsibility end with merely identifying a word that has acquired currency across cultures?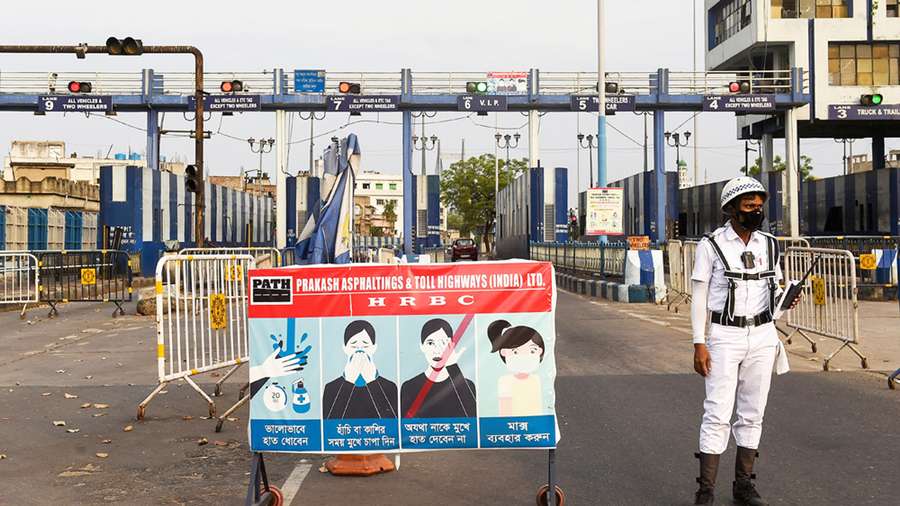 A policeman stands guard at a toll plaza during a nationwide lockdown, imposed in the wake of coronavirus pandemic, at Santragachi in Howrah, West Bengal Friday, April 10, 2020.
PTI
---
Published 14.11.20, 01:57 AM
|
---
The realm of language need not be democratic. Thousands of new words are added to, say, English each year: as many as 1,100 were incorporated by the Oxford English Dictionary two years ago. But there is a pecking order among words. Some words and phrases occupy a higher perch in language and in the dictionary — a textual alignment of truth in the alphabetical order — because they are mirrors of the times. The hierarchy, even though it seems anti-democratic, is thus a necessity.
Collins Dictionary has adjudged 'Lockdown' to be its Word of the Year. Very few would contest the wisdom behind its choice. Countries around the world locked themselves up in a bid to gain protection from the dreaded coronavirus pandemic, lending the word immediacy, context, even poignancy. It has been estimated that by April this year, citizens of more than 90 countries — around half the population of the world — had been ordered by their governments to stay indoors. Little wonder then that lexicographers found a corresponding, exponential rise in the use of the word, lockdown: there were over 250,000 registered instances of usage of 'lockdown' this year, up from 4,000 in 2019. 'Lockdown', more than any other word in a list that also includes such words as 'furlough', 'social distancing' and 'self-isolate', has bound the global community in a shared embrace.
But then language is also a bit of a trickster. Linguists may insist that language and words are the proverbial measuring rods of reality. This proposition has some truth in it. But while pointing to the universality of a phenomenon — lockdown is one notable example — language may not always be mindful of the variations — creases — within a shared experience. Consider the experience of India's lockdown — the most stringent and, arguably, the most chaotic — from the perspective of the country's informal workforce. The lockdown coincided with unprecedented disruptions in their lives and livelihoods. The economic distress brought about by the loss of jobs was compounded by the horror of physical displacement: India's highways were dotted with migrants undertaking perilous journeys home. Those who managed to make it had to battle the stigma of contagion, competition — welfare initiatives, such as the MGNREGA, were not robust enough to accommodate the sudden surge in hands — as well as renewed unemployment, forcing many to return to their migratory routes. Their sufferings were amplified by an insensitive, parsimonious government that relied on credit-based stimulus instead of cash transfers to assist the needy.
Does language's responsibility then end with merely identifying a word that has acquired currency across cultures? Certainly not. The challenge for language is to communicate, seamlessly and effectively, the layers of experience — lived and imagined — that such a word entails. Only then will words acquire a mnemonic edge, a kind of immortality. At a time when public sensibility is turning drowsy under the spell of false consciousness, words, especially the Word of the Year, need to be read like ciphers.