Limited ties: Editorial on why India must keep ties with NATO limited
For deeper ties with the alliance are not a guarantee of safety from potential punitive moves by Washington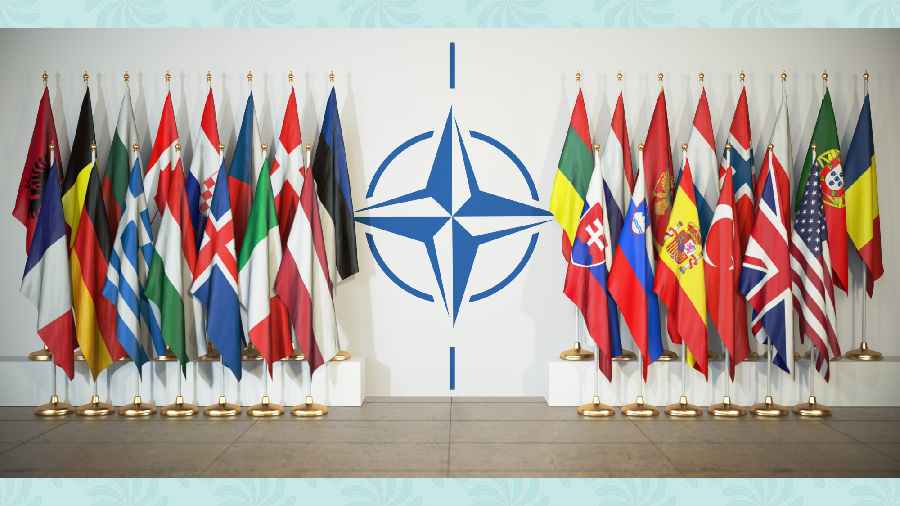 Flags of memebers of North Atlantic Treaty Organization and symbol.
File Picture
---
Published 17.08.22, 03:44 AM
|
---
Since it gained independence in 1947, India has consciously steered clear of all military alliances, insisting on strategic autonomy as the cornerstone of its foreign policy. Recent reports, suggesting that India has engaged in political talks with the North Atlantic Treaty Organization, shed light on New Delhi's changing geopolitical calculations. However, while it is important for the Indian government to communicate with all major groupings, including NATO, it is vital for New Delhi to be transparent about any major agreement with the 30-nation alliance that is led by the United States of America. It is also critical that New Delhi stays cautious about maintaining its distance from commitments that could limit India's strategic freedom. As the ministry of external affairs has said, India has been coordinating with NATO for several years now. In Afghanistan, India's ambitious development projects between 2001 and 2021 depended on security support from NATO forces. In hotspots of maritime piracy, India partners with NATO to keep shipping lanes safe. Indeed, India's biggest security concerns, China and Pakistan, have their own dialogues with NATO. At a time when the Brussels-headquartered alliance is finally focusing more on threats posed by China, it makes sense for India to engage with NATO.
But the present moment is also a reminder of why India must keep ties with NATO limited to an arms-length handshake and not an embrace. The war in Ukraine increasingly threatens to formally expand into a Russia-NATO conflict, as the West continues to pump in high-technology weapons systems with the aim of defeating Moscow. With that military hardware helping Ukraine launch audacious attacks on Russian installations, including those in Crimea, the line between NATO's external support for Kyiv and active participation in the war is getting blurred. Article 5 of the alliance's rules mandates that all member nations must together fight back against an attack on any one among them. Given America's appetite for dubious wars, India must ensure it does not get drawn into conflicts that are unrelated to its own national interests. Even full-fledged NATO members, such as Turkey, have faced US sanctions; so deeper ties with the alliance are not a guarantee of safety from potential punitive moves by Washington. A very tight relationship with NATO would also undermine India's stated goal of working towards a multipolar world, while prompting concern among New Delhi's friends in Moscow. India must seek new partners, but only on its terms.