New-age kids preferring hot wheels over raths
Readers write in from Nadia, Tamil Nadu, Madhya Pradesh and Ludhiana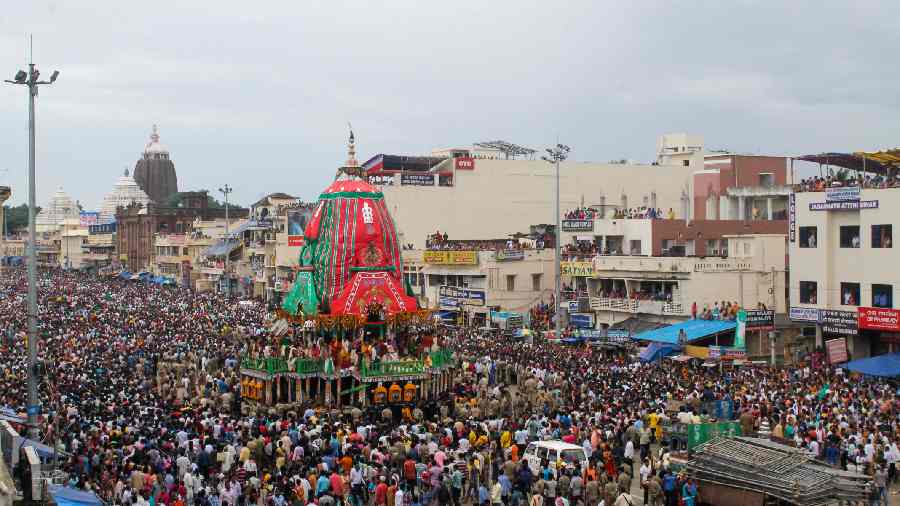 Puri Jagannath temple and Rah Yatra.
Shutterstock
---
Published 10.07.22, 04:10 AM
|
---
Hotter wheels
Sir — Gone are the days when children would get excited about rath yatra. Even a few years ago, most bylanes in Calcutta would have children enthusiastically pulling beautifully decorated raths. They would spend hours beautifying their beloved rath and adult family members were often compelled to pull the chariots and contribute some money in return. Rath yatra was also a gastronomic affair — jilipis, malpuas and papads sold at melas were enthusiastically gulped down by one and all. But children no longer seem interested in these traditions, preferring battery-operated cars over wooden chariots.
Turjo Banik, Nadia
Shocking end
Sir — The assassination of the former prime minister of Japan, Shinzo Abe, by a gunman while he was campaigning for the Liberal Democratic Party before the elections to the upper House of Parliament is shocking. This incident was even more astonishing because gun violence is a rarity in Japan ("Abe gunned down in trigger-wary Japan", July 9).
The contributions of Abe, the longest-serving Japanese prime minister in post-War history, to that country have been tremendous. He was not only responsible for restoring political stability in Japan but also pushed for a 'rules-based order' in the Indo-Pacific region. Abe ushered in bold economic reforms and Indo-Japan ties went from strength to strength during his stint in power. Abe will always be remembered for his administrative prowess and exemplary commitment to democracy. The world has lost a true statesman.
M. Jeyaram, Sholavandan, Tamil Nadu
Sir — The demise of Shinzo Abe is not only an irreparable loss for Japan but also its allies. Abe is perhaps best known for his plans to revive Japan's flagging economy through unprecedented monetary easing and regulatory reform, an approach that was famously dubbed 'Abenomics'. With his demise, India has lost a friend. During the Doklam border stand-off with China, Abe unequivocally supported New Delhi. He will be missed.
Minashu Masta, Shahdol, Madhya Pradesh
Think again
Sir — The environment ministry has proposed the removal of imprisonment as a penalty for violating the provisions of the Environment (Protection) Act, 1986. This is likely to embolden those who pollute the environment for material gain. Many of India's water bodies are dangerously polluted. For instance, untreated sewage and industrial waste have poisoned the Sutlej, posing immense health risks to the common people. The government must rethink its decision.
Brij Bhushan Goyal, Ludhiana
Poisoned sip
Sir — At least four people died in Burdwan town allegedly after consuming country liquor ("Four die in Burdwan, glare on country liquor", July 9). Liquor sales make for a considerable portion of the revenue earned by the state exchequer — the West Bengal government earned a massive revenue from the sale of alcohol during the Durga Puja and the year-end festivities last year. In recent years, liquor shops have mushroomed in the state. Do all of these shops have a licence? The authorities should crack down on illegal liquor shops.
S.S. Paul, Nadia
Careless attitude
Sir — The directorate general of civil aviation has issued a show-cause notice to the low-cost carrier, SpiceJet, for failing to maintain safety protocols. A recently-conducted safety audit revealed that there were eight malfunctions in the carrier's fleet in just 18 days. SpiceJet must constantly monitor its internal safety systems. If there are any indications of technical defects, they should be promptly rectified.
Sunil Chopra, Ludhiana