Intangible cultural heritage?
And this happened in the year when Durga Puja in Calcutta celebrated its newly ascribed status bestowed by the Unesco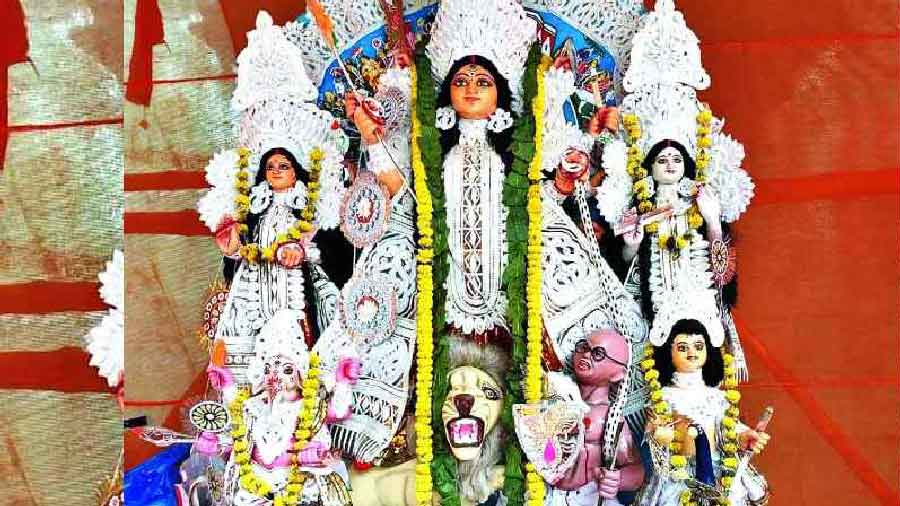 The Akhil Bharat Hindu Mahasabha reportedly organised the puja in question.
File Picture
---
Published 09.10.22, 03:29 AM
|
---
Sometime between the Unesco's announcement around end-2021 and Prime Minister Narendra Modi saying this Gandhi Jayanti was even more special because India is celebrating Azadi Ka Amrit Mahotsav, the organisers of the puja at Calcutta's Ruby crossing would have placed their order. For? For the idol, of course. The one where Mahishasura was portrayed as a bald man with round-rimmed spectacles cowering at the feet of the goddess. The Akhil Bharat Hindu Mahasabha reportedly organised the puja in question. The working president of the state unit of the organisation, Chandrachur Goswami, said, "Any resemblance of the asura with Gandhi is purely coincidental."
Beyond the coincidental
Let's say Mr Goswami was telling nothing but the truth. Then the natural thing to ask would be: so who did the asura represent? If it only resembled Gandhi, who did it actually depict? No, no one from the current lot of politicians in India comes to mind; any resemblance is, to use Mr Goswami's words, 'purely coincidental'. So would it be Ben Kingsley? Or Yul Brynner? Or Anupam Kher? Was it Feroz Khan? Or Winston Churchill? Or Dwayne Johnson? Or Jeff Bezos? Or Lenin on a day his barber fell asleep on the job? The thing is, even if it were any of these men, the depiction would remain problematic. It would take away from the essence of an iconography and an occasion which is about a larger good triumphing over a larger evil and not a projection of mortal dissensions. And if it was indeed representing no actual person but the essence of evil, and Mr Goswami had some reason for imagining Evil with severe hair deficit and eyesight issues, then he should come out and say why.
Don't look away
But if the asura was deliberately made to order in the likeness of the Mahatma, then the people of India have to recognise there is a serious problem. A problem with those who think this representation is acceptable in civil society and with those who think it is okay to look away and also those who bracket their condemnation of this episode with "ifs" and "buts". Mr Goswami reportedly said: "It is true that we don't comply with Gandhi's ideology and do not believe he is the nation's father. However, any resemblance... is purely coincidental." It is one thing to have a contrary view, quite another to put a trident through the heart of views and personalities we don't agree with, even long departed ones and their resemblances. And to put a wig on the effort and moustache too and carry on as if nothing happened is called, in very earthly terms, getting away with murder.