Rs 2,989 crore went into making Sardar Vallabhbhai Patel's statue, billed to be the tallest in the world. To behold it from up close, an ordinary adult Indian will have to shell out Rs 120, and another Rs 350 to stare down at the Sardar Sarovar dam from the statue's viewing gallery.
The government website dedicated to the Statue of Unity does not mention how much was donated, and by whom, to make the statue possible. The site seeks donations but does not clarify how the money would be used. Various media reports had earlier said that public sector oil companies made donations for the project from their CSR funds.
The expense incurred and the possibility that tax payers' money was used are not the only points of doubt and discord around the Statue of Unity.
The statue stands in Gujarat where communal polarisation and the cornering of minority communities is no secret.
Earlier this month, thousands of Hindi-speaking migrant labourers from Uttar Pradesh and Bihar fled Gujarat after a backlash following reports that a migrant had raped a 14-month-old girl.
The BJP's interest in promoting Patel's life and work seems to hinge on what free India's first home minister was not. He was not Nehru.
The BJP, which has relentlessly tried to thrust uniformity on India's diverse civilian life, often speaks of how Patel, one of the most prominent faces in the Congress during the freedom movement and after, united the country by bringing over 500 princely states under the flag when they were released from British rule. But Patel, often called the Iron Man of India, also banned the RSS, the BJP's ideological parent, after Mahatma Gandhi's assassination. It is a fact rarely mentioned by the ruling party.
October 31 is Patel's 143rd birth anniversary, the day Prime Minister Narendra Modi will dedicate the 240-metre-tall statue to the nation. He initiated the project when he was the chief minister of Gujarat.
The BJP wants people to be proud of the statue. Minister of state for information and broadcasting Rajyavardhan Singh Rathore, while speaking about the Statue of Unity on October 25, said: ' It is the world's highest statue and yet I hear a few people say, 'what is the need of a statue?' There are some things, I think, we should take pride in.'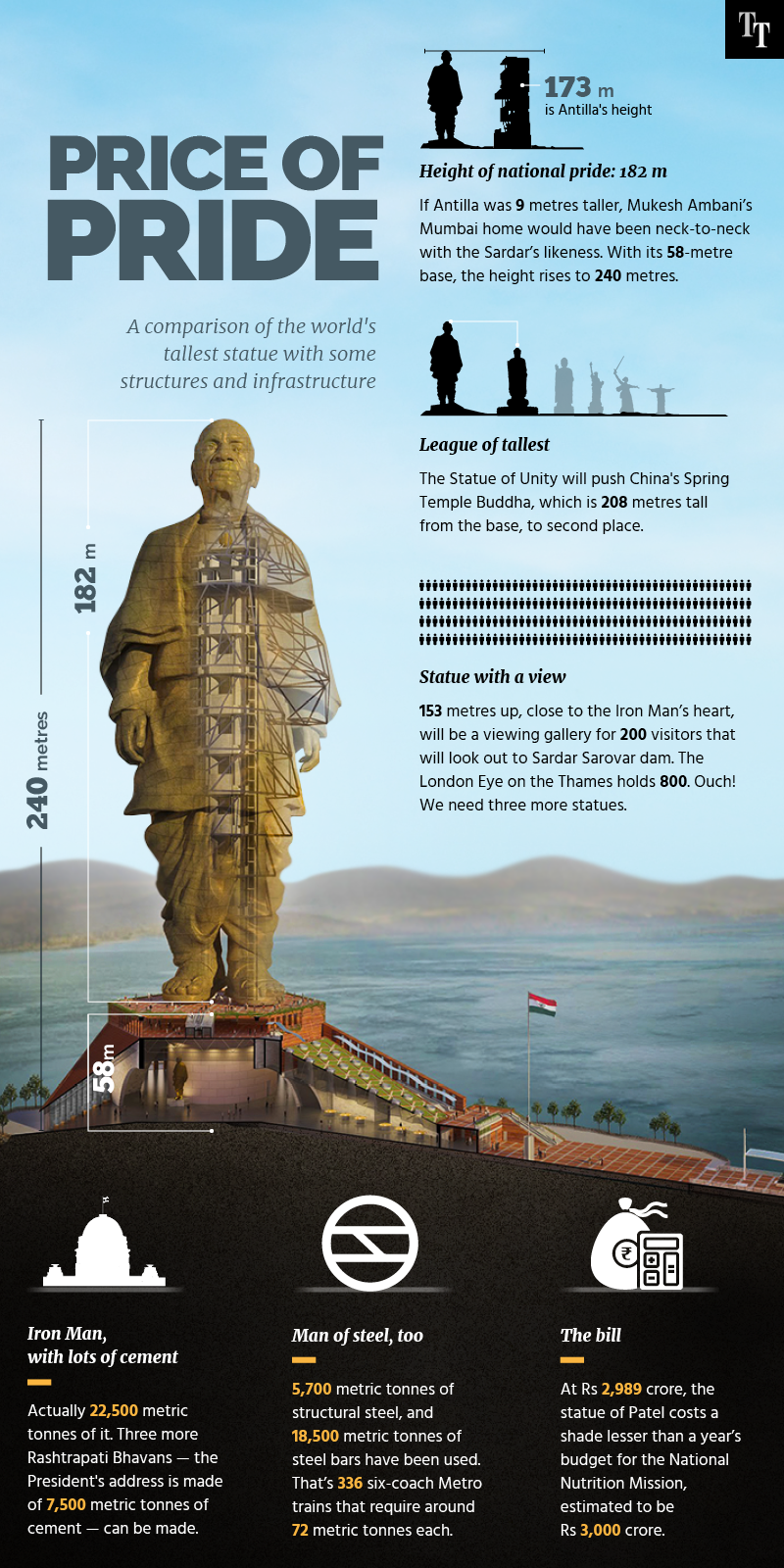 Sources: `www.statueofunity.in`, Press Information Bureau, Ministry of Women and Child Development, Indian Stainless Steel Development Association