India's media are being systematically subdued into silence
India is now ranked 140 out of 180 countries on the World Press Freedom Index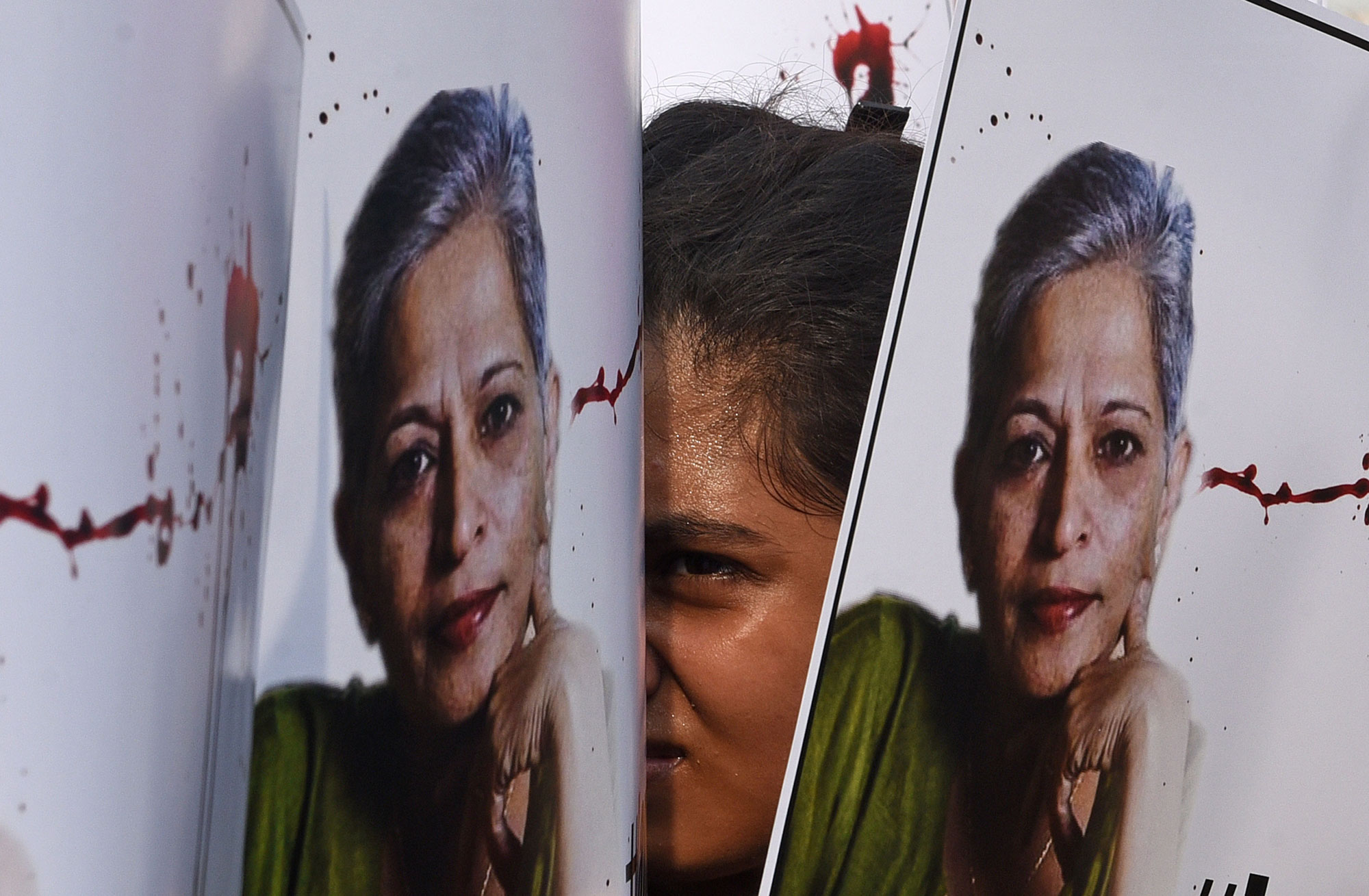 A student participates in a protest against the murder of journalist Gauri Lankesh on September 7, 2017. India is one of the nations with the highest number of murders of journalists still pending investigation.
Telegraph file picture
---
Published 23.04.19, 03:22 AM
|
---
If there is a rare accomplishment that the Narendra Modi-led government at the Centre can boast of, it is consistency in areas critical to democracy. On its watch, India has, once again, slipped two notches down on the World Press Freedom Index. It is now ranked 140 out of 180 countries. In 2017, it dropped three places, from 133 to 136; last year, it fell by two spots again, to 138. This steady deterioration ought not to be surprising; India was found to be one of the nations with the highest number of murders of journalists still pending investigation. The International Press Institute's Death Watch report last year revealed that 12 journalists in India died in targeted killings, with few arrests having been made. Not only does this highlight the sluggish pace of investigation and justice delivery in the country, but it also brings into focus the manner in which the media — the biggest platform for voicing opposition — are being systematically subdued into silence.
There is no doubt that political intimidation plays a significant role in the disintegration of press freedom in India. In the recent past, this was most prominent in the brazen, brutal killing of Gauri Lankesh, an outspoken critic of right-wing politics. At the same time, there is a case for further investigation in order to uncover other avenues that contribute to the undermining of freedom — areas that can even be found within the institution itself. It can be argued that sections of the media often agree to cede their autonomy on account of a number of factors. The pressures of the market and intense competition, combined with depletion in advertisement revenue, have forced media concerns to explore newer business models in order to remain profitable. The imperative to monetize business has allegedly opened links of patronage with influential institutions — the political establishment? — that strip the media of crucial liberties, compromising its responsibilities to the people of the country. Thus, while it is important to identify and question the nature of authoritarian interventions in the freedom of the press, the latter's own policies must also be examined rigorously. This introspection will help devise ways in which the business models for media outlets ensure profitability without the fourth estate having to compromise on the honesty of expression and dissent.