Editorial: Bach versus bombs
What does it mean when classical musicians take up the violin in ruined Kharkiv?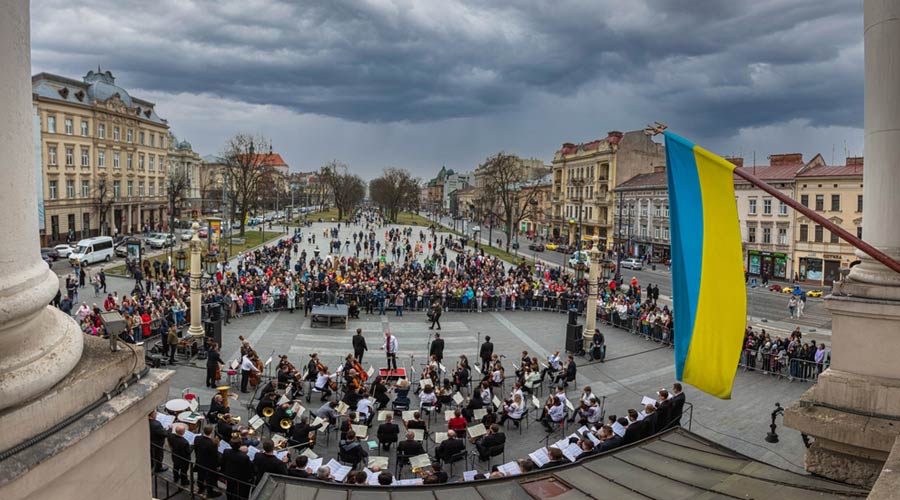 Concert near Lviv National Opera during Russian war
Shutterstock
---
Published 02.04.22, 12:02 AM
|
---
The sounds of conflict are jarring. From the war drums and bugles of medieval warfare to the medley of air-raid sirens, the shrill, screaming shells, the deafening blasts of bombs, the crash of falling edifices, the ominous thunder of approaching enemy aircraft that make up the music of modern war, each note is an aural signifier of all that ails civilization. But in the course of history, war has spurned the creation of an equally fierce, audible music: the music of resistance. Russia's bloodfest in Ukraine has not been an exception. Among the many haunting images that make up the visual register of the Ukraine war are the photographs and footages of impromptu concerts that an embattled, patriotic people have organized against insurmountable odds. Bombed-out Kharkiv's 'Concert in between explosions' saw musicians perform compositions of Johann Sebastian Bach and Antonin Dvorak along with Ukrainian folk songs. Several other contemporary theatres of conflict have also witnessed similar, unbelievable acts of individual and collective courage. Ayham al-Ahmad caught the world's attention when he played the piano in Yarmouk in a Syria that had been reduced to rubble. Then, there was the Cellist of Sarajevo: Vedran Smailovic would turn up unfailingly every evening in a ruined square and play Albinoni to commemorate those who had fallen victim to the fire that was raging around him in Sarajevo.
Unsurprisingly, a number of possibilities have been cited to explain these interludes of harmony among horror. Music, especially classical music, transcends the narrow boundaries of entertainment. It is a code for the most enduring, civilizing values: freedom, liberty, humanity et al find expression in these lilting, uplifting concertos. As with all ciphers, the messaging is layered. The argument that the preference for Bach, as opposed to, say, Tchaikovsky, is, in fact, a message from the people of Ukraine to Vladimir Putin that the country endorses an organic relationship with West Europe as opposed to an aggressive Russia in spite of a shared history cannot be dismissed. These concerts, among bloodied, torn cities, inside bomb shelters, amidst unprecedented paucity of the basic needs of sustenance, are also an expression of fortitude: that humanity, in spite of its fundamental flaws and follies, also retains the ability to rebuild from ruin, spot light in darkness, mobilize a sense of community in a fractured land.
There is, of course, the larger — critical — question. Is the artist a political figure? Apart from global exponents, several Russian artists — they reign supreme in the realms of ballet, classical music and theatre — have spoken out against Mr Putin's perversities. Or should the arts aim to remain 'pure' — sanitized? — untouched by the periodic blemishes of mankind? The genesis of human imagination, the fire that kindles artistic vision and sensibilities, lies in lived experiences. In that sense, no art or artist is apolitical. Art's tryst with justice would be ruptured by its complicity with neutrality. The rising notes of the violins in Kharkiv are a reminder to all artists of their august responsibility.