Creativity galore at this year's Met Gala
AMERICAN DIARIES: Companies focus on sustainable living on Earth Day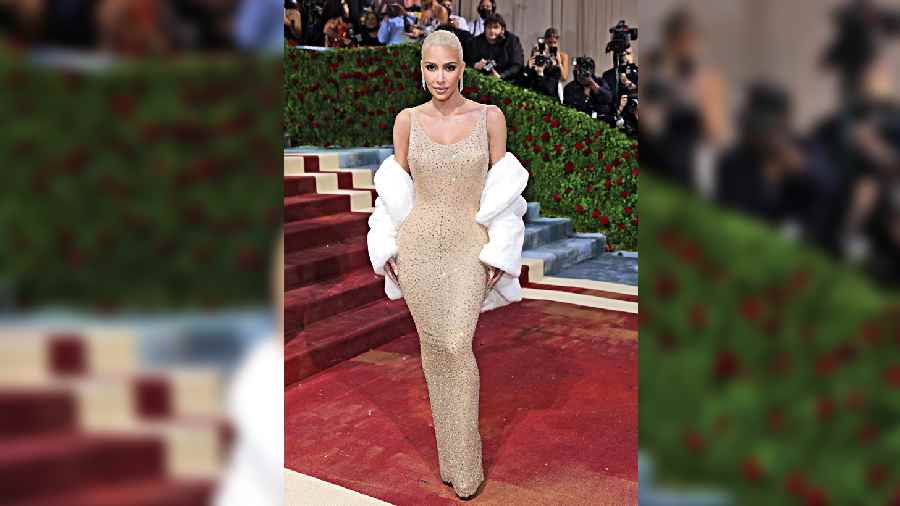 Glamourous event
Sourced by The Telegraph
---
Published 07.05.22, 02:18 AM
|
---
Gilded glamour
The Metropolitan Museum of Art's Costume Institute charity gala, colloquially known as the Met Gala, was held on May 2 and, as usual, it was a star-studded affair. The theme for this year was "In America: An Anthology of Fashion".  Since it was a historic theme, many of the guests acknowledged America's sartorial transformation with vintage outfits and accessories. Anna Wintour, the editor-in-chief of American Vogue, wore a vintage tiara. Blake Lively, who was a co-host for the evening, dramatically unraveled the large bow on her Versace gown to reveal a copper-coloured train, which together paid tribute to New York City's gilded age architecture.  Tommy Hilfiger, a fashion icon himself, told CNN, "The Met Gala is all about having an open mind and thinking outside the box." And that creativity certainly is unleashed during the gala inaugurations.  Kim Kardashian arrived with Pete Davidson in a sparkling gown with 6,000 hand-sewn crystals. It was the same dress that was worn by Marilyn Monroe when she sang "Happy Birthday" to President John F. Kennedy in 1962. The dress was loaned to Kardashian by the Ripley's Believe It Or Not! museum which had bought the gown for almost $5 million. Hillary Clinton also showed up for the first time in 21 years. She wore a deep red gown with 60 women's names embroidered along the neckline and hem, including Rosa Parks, Lady Bird Johnson, and Clinton's mother, Dorothy Rodham.
Timely offer
Earth Day was on April 22 and many companies made sure that people were aware of it  through various declarations and deals. Google marked the day with a doodle of four satellite images showing melting glaciers, deforestation, coral bleaching and receding snow. The Ocean Agency rotated the images throughout the day.  The American electronics chain, Best Buy, announced it was launching a new category devoted to sustainable living, including gardening, composting, and other eco-friendly activities. Uber released an Uber Green option that pairs passengers with hybrid or electric vehicles for the same price as an UberX trip. CNET reported that Uber Green cars in Miami, Washington, and Los Angeles offered riders virtual journeys with screens depicting scenes from the Serengeti, the Great Barrier Reef and other such locales. The National Aeronautics and Space Administration hosted all kinds of virtual and in-person events. It kicked off the celebration by encouraging people to post images on social media and use the hashtag #NASAEarthling. Arbor Day, celebrated by many Midwestern states, comes after Earth Day, that is on the last Friday of April. But with the advent of Earth Day, the celebration of Arbor Day has taken a backseat even though it dates back to 1872.
Summer plans
It is summer in New York City and there are plenty of new things to experience  this year. As the residents of the city have to live in closet-sized apartments, Pier 17 is trying to bring a taste of the suburban life (and space) to the people. You can rent a backyard with umbrellas and chairs for up to eight people.  The 30 Rockefeller Plaza announced the creation of a new 'skylift' that will take visitors above the 70th floor and give them a complete view of the city. The 69th floor will feature a new experience based on the iconic 1932 photo of 11 ironworkers eating lunch on a steel beam during its construction. Visitors will get to sit on a similar 'floating' bench to photographically recreate the original scene.  Outdoor concerts, plays and shows will be hosted all summer. But if you are looking to get away from the city, a new train route will take you to the Berkshire mountains of Massachusetts. 
Good fun
The annual White House Correspondents' Dinner was held in April at the Washington Hilton Hotel and was hosted by comedian, Trevor Noah. It is typically a night when the press, celebrities, politicians and even the president of the United States of America show up for an evening of humour and mockery.  President Joe Biden attended the event in person, the first time for a president in six years. Biden made fun of Fox News, mocked the former president, Donald Trump, and even the Republicans for using "Lets Go Brandon" as an under-handed anti-Biden phrase.  In the past, the headlining comedians for the event have been considered either too tame or too discomfiting. However, Noah was generally perceived to have hit the right tones. 
Footnote
Star Wars lovers can get a taste of what that life could be like in their favourite alternate universe without actually travelling to a galaxy far, far away. A newly-launched glamping style campsite, R2, in upstate New York, offers people a Star Warsthemed experience and memorabilia in the midst of a lush forest and a nearby creek. Even though the campsite is in the middle of a forest, people can sleep on comfortable bunk beds and enjoy nature as well as the Star Wars-inspired decor all around them.