All Play: Editorial on Didi's sustained strategy to use Durga Puja as a diversion
TMC's promotion — virtual takeover — of the festival signals yet another instance of political encroachment on public life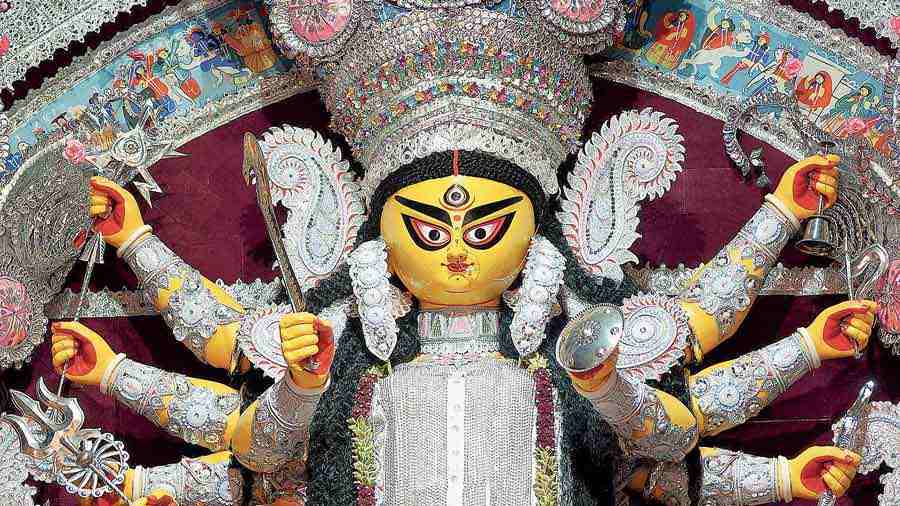 Financial assistance for clubs organising Pujas has been increased over the years.
File Picture
---
Published 25.08.22, 04:04 AM
|
---
Durga Puja, undoubtedly, is the most popular festival in Bengal. It can now be said that with the blessings of the chief minister, Mamata Banerjee, the festivities have been transformed into a perfect occasion of populism. At a recent meeting with Puja organisers, Ms Banerjee announced a slew of measures by way of support. Financial assistance for clubs organising Pujas has been increased. The subsidy on their electricity bill has been raised to 60 per cent. Given that the number of government-recognised Puja committees is around 40,000, it is being estimated that the state, on account of the largesse, would be saddled with an additional expenditure of over Rs 240 crore. This profligacy is a matter of concern, especially at a time when the Bengal government has stated, on more than one occasion, that the state's financial health is not at its best. There are numerous manifestations of this duress — recruitment to fill posts has had to be stalled on account of the paucity of funds; dearness allowance has not been paid to sections of government employees; the repair of embankments, crucial in riverine Bengal, remains incomplete because of fund-crunch.
Ms Banerjee's sustained strategy to use the festival as a diversion as well as political capital has been necessitated by strategic imperatives. In spite of its comprehensive electoral triumph last year, the Trinamul Congress has suffered dents to its image in recent times. Several leaders have been arrested on charges of corruption; the party's attempts to create a niche for itself on political turfs outside Bengal have come to a nought; there are also rumbles of unrest between the party's Old Guard and an emerging younger leadership. Moreover, by turning the Pujas into an extravaganza, Ms Banerjee would be hoping to blunt the allegations of the Bharatiya Janata Party about her alleged indifference to the sentiments of the majority community. Then, there is the quid pro quo with the minders of the community: neighbourhood clubs have been turned into effective mobilisers of local support by the TMC. That explains the patronage in spite of a depleted purse. But political needs may be quite divergent from the template of public welfare. The TMC's promotion — virtual takeover — of the Pujas signals yet another instance of political encroachment on public life. This is best avoided.