A world of meaning in the name Ashok
The name may now be passé, but the future of Ashoka's heritage in India calls for concern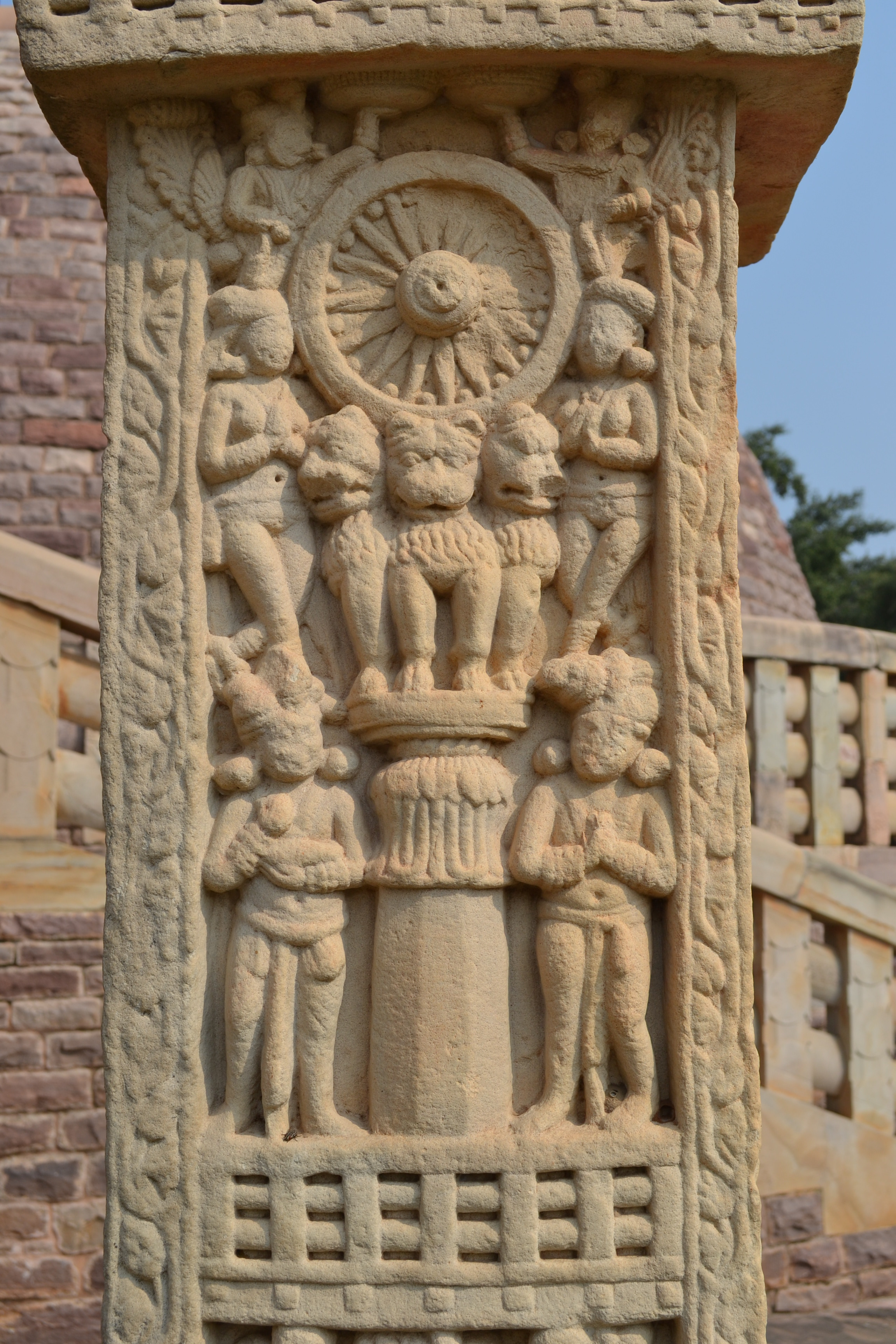 Detail of carving on Ashoka pillar at Sanchi
nandanupadhyay / Wikimedia
---
Published 18.11.18, 03:11 AM
|
---
We bear the names we bear forever. They are us, our identity. And yet they are the one thing about us we are not responsible for. They have, after all, been thought of, chosen for us by those who have named us — our guardians, parents, grandparents. In fact, by our generations.
And they have been determined by current trends, styles, preferences.
Ashok, as a name, is now passé. This is not said statistically but impressionistically. The school in New Delhi where I studied in the 1950s had many Ashoks in it. My own class of some thirty had three, one of them, Ashok Dilwali, being one of India's greatest photographers today. In the class of a hundred where I teach today, there is not one Ashok. Nor, for that matter, in the university itself — of 1,400 students.
It could be just a 'vogue' thing. Ashoka as a name does not appeal any more.
But, first, to look at the naming of the first Ashoka.
The rock inscription at Maski in Raichur, Karnataka, discovered in 1915 by C. Beadon, a British gold-digger, that first shone a light on his name and honorifics, calls him: Devanamapiyasa Ashokasa. The one in Gujjara, Datia, Madhya Pradesh gives it more fully: Devanamapiya Piyadasi Ashokalaja.
Devanamapiya (Beloved to the Gods) and Piyadasi (Dear to Behold) are obviously names that he acquired during his regnal years. But Ashoka, meaning 'One Without Sorrow', obviously, was given to him by his family. Legend says, by his mother.
Generations of Indians named their sons and daughters after him.
Daughters? The 'a' ending in Ashoka when pronounced 'aa' acquires the feminine gender as in the case of the noble Ashoka Gupta (1912-2008). And she certainly did more than anyone can to stem sorrow. Born to the writer, Jyotirmoyee Devi, and Kiron Chandra Sen, Ashokadi was a freedom fighter and rescuer of women victims of the genocide in Noakhali. Later, she did more than any woman I know in our times to alleviate sorrow and distress among neglected and exploited women and girls through the Mahila Seva Samity that she founded. Jawaharlal Nehru was a student of history before he was a maker of his destiny. His daughter, Indira Priyadarshini, known to history as Indira Gandhi (1917-1984), invokes the Mauryan's title. I do not think her father could have conjured that name without the Ashokan nomenclature in his mind.
Until a few decades ago, boys in Gujarat used to be quite frequently named Ashok. The first 'Gujarati Ashok' who comes to my mind is Asoka Mehta (1911-1984). The great socialist was born to the distinguished thinker, historical-novelist and writer, the short-lived Ranjitram Vavabhai Mehta (1881-1917), who is specially remembered for his as yet untranslated Gujarati novel, Ahmed Rupande, about a Hindu girl marrying a Muslim boy. And as the Gujarati litterateur, Tridip Suhrud, has unravelled, this Asoka's mother was Shanta. Perhaps she it is who named him. A founding member of the Congress Socialist Party, Asoka Mehta kept a certain distance from Jawaharlal Nehru but accepted, curiously, a rather light ministerial office under Indira Gandhi. The other eminent 'Gujarati Ashok' is Ashok Desai (b. 1942), the distinguished barrister and former attorney general of India, whose appearance in Sakharam Binder famously led to the striking down of State pre-censorship of dramatic performances. More recently, his advocacy in Nandini Sundar led the court to pass defining orders on the dilemma that surrounds the crossfire between violent Naxalites and vigilante groups supported by the State.
India's other end, Bengal, has also had notable Ashoks.
Ashok Kumar (1911-2001), the great film star, was not Ashok to start with. His lawyer father, Kunjlal Ganguly, and mother, Gauridebi, named him Kumudlal but Bollywood renamed him Ashok. Not a bad idea, that, for Kumudlal and Devika Rani would not have quite clicked as a pair in Achhut Kanya (1936). Ashok Mitra (1928-2018), a pre-eminent Marxist economist and political leader, was Indira Gandhi's chief economic adviser, being succeeded there by Manmohan Singh, and then Jyoti Basu's finance minister for 10 years. Ashokbabu's acuity was matched only by his acerbic tongue, be it in explaining a nuance of economic policy or analysing recent history.
We are fortunate to have amidst us today, another 'Bengali Ashok', the theoretical physicist, Ashoke Sen FRS (b. 1956). His parents, Anil Kumar Sen (himself a former professor of physics), and Gauridebi, chose for their son a name from history over another from the world of science. Working in the Harish-Chandra Research Institute in Allahabad and recipient, in 2012, of the world's biggest science award, the Fundamental Physics Prize (three million dollars), Ashoke Sen is working on the 'string theory'. I do not know and (given my cerebral limitations) can never know what the 'string theory' means.
But I am sure Ashoke Sen knows that in the city — Allahabad — where he and his wife, the physicist Sumathi Rao, live, is situated one of Emperor Ashoka's most famous pillar edicts. And the life-career of this pillar contains what may be called its own 'string theory' — about a string of historic vandalisms.
The Ashoka pillar at Allahabad was used as a writing slate in the 4th century CE by Samudragupta of the Gupta Empire to write his own panegyrics in Sanskrit, describing himself as 'Parakrama' and the owner of a body which (in D.R. Bhandarkar's English rendering) was "most charming, being covered over by the plenteous beauty of the marks of hundreds of promiscuous scars, caused by battle-axes, arrows, spikes… and many other weapons" received during his wars and conquests, including those of the south of India. The Great Gupta's space-snatch was followed by that of the Grand Moghul, Jahangir. In beautiful Persian, this one was carved — jabbed, one should say — by the then Prince Salim's favourite calligrapher, Qalam, to describe, in vainglory, Moghul lineage and a visit in 1575 to the sangam, of Akbar's minister, Birbal. Actually, it does worse than Samudragupta's engraver. It superscribes this right onto Ashoka's text. It overwrites, by cutting its usurping text with cynical contempt on the Ashokan Edicts III and IV in the original Ashokan Brahmi. Qalam did not know — could not have known — what that Pillar Edict III says in Magadhi Prakrit. It says: "The following lead to sin — fierceness (candiye), harshness (nithuliye), anger (kodhe), pride (mane), envy (isya)." But if Jahangir had come to know it, he is unlikely to have been impressed.
Ashoka's pillar in Allahabad became just a surface for others to try to immortalise themselves on.
And now, not on the pillar but on the city that hosts it comes the latest 'bead' on the 'string' of gratuitous replacements, displacements — the re-naming of Allahabad as Prayagraj. No one contested the place of Prayagraj in our psyche, least of all Allahabad. But there it is: Allahabad out, scratched out. Prayagraj scratched in.
This is not how it used to be.
The Republic of India adopted Ashoka's lion capital for its national emblem. It adopted his 'chakra' for the central motif of its national flag. Its first president, Rajendra Prasad, renamed the Ball Room of Rashtrapati Bhavan as Ashok Hall. And the nation's 'peacetime equivalent of the Param Vir Chakra, awarded for the most conspicuous bravery or some daring or pre-eminent valour or self-sacrifice other than in the face of the enemy' is named the Ashoka Chakra — hugely imaginative! The future of Ashoka's heritage in India calls for concern.
For a certain kind of politician the Pillar Edict III quoted above will have no effect. And the following edicts of Ashoka would be a no-go: "It is verily concord of all religions that is meritorious (shamavaye va shadhu)." (Rock Edict XII)
"King Priyadarsin reverences persons of all sects… But the one root is the guarding of one's speech so as to avoid the extolling of one's own religion to the decrying of the religion of the other." (Rock Edict XII)
"For upholding the dhamma I shall send once in every five years a class of officers who are not harsh (akhakhase), not cruel (achande), and are of gentle disposition (sakhinalambhe)." (Kalinga Edict I)
And he is most unlikely to name his son Ashok.
Vikramaditya, yes, or Harsha, Kanishka, Ranjit, Pratap.
But Ashoka?
As one may say in Tamil-English — chance-ay-ille.