A long life
Blanket ban has targeted those single-use plastic items that are seen to have low utility and carry high littering potential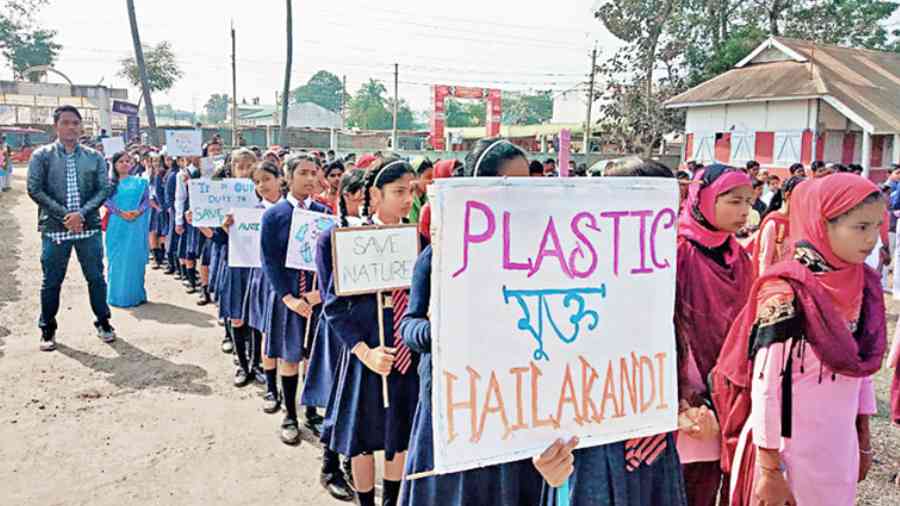 Following India's plastic ban, single-use plastic is now banned in all South Asian countries.
Sourced by The Telegraph
---
Published 14.11.22, 04:43 AM
|
---
The Indian plastic industry has been operating since 1957. Yet it took more than six decades to legislate a blanket ban on single-use or disposable plastics despite a vast array of alternatives available in India's rapidly growing consumer market. As issues surrounding the recycling and mismanagement of plastic use remain largely unaddressed, it is likely that the recent blanket ban might just overpromise and underdeliver. 
Plastic manufacturing giants like Parle Agro and Dabur as well as organisations such as the All India Plastic Manufacturers Association had sought an extension to the ban for a duration of six-twelve months as a result of which the plastic ban's original deadline that was to be August 2021 had to be extended to July 1, 2022. They cited issues such as the lack of time and alternatives and a demand-supply gap, culminating in increased costs in product packaging. To this end, the Indian government must incentivise the industry to adopt alternative packaging and encourage the taking up of eco-friendly, innovative measures that are not only cost-effective but also ensure economic feasibility apart from promptly meeting the growing demand. The government must take into account the livelihood concerns of segments of the population, such as waste-pickers, that are dependent on the single-use plastics industry and provide crisis support via incentives for redeployment.
The blanket ban has targeted those single-use plastic items that are seen to have low utility and carry high littering potential. Plastic manufacturing giants have shown their discontentment with the list and asked for certain items to be exempted from the ban. They have also struggled to find eco-friendly options. However, on the bright side, there exists better and low-cost alternatives to these items that could, in turn, empower small enterprises in the country and fulfil rising demands in India's fast-growing consumer markets. The list also fails to bring under its purview several plastic items that pollute terrestrial and aquatic ecosystems. The lion's share of India's plastic waste comes from the plastic packaging material used for fast-moving consumer goods like chips and biscuits, which the ban fails to exclude. In a study conducted by the National Centre for Coastal Research, higher concentrations of microplastics were discovered ten kilometres into the Bay of Bengal waters as compared to three kilometres from the Indian coast. The plastic waste found mostly included particles like polyethene and polypropylene that are used widely for packaging.
Significantly, as rising Covid-19 cases and lockdown restrictions increased one's reliance on face masks, PPE kits and food delivery services, the dependency on disposable plastics increased simultaneously. For instance, when coronavirus cases peaked in May 2021, biomedical waste generation skyrocketed to about 203 tonnes per day.
Following India's plastic ban, single-use plastic is now banned in all South Asian countries. However, World Bank data show that such bans have failed to secure the desired results. High consumption rates due to population density and inadequate waste management practices have been common causes behind the phenomenal plastic pollution levels in South Asia. This shows that plastic pollution can emerge as a baseline for cooperation among India and its South Asian neighbours and that the only way to tackle plastic pollution is through a coordinated regional approach.