Orissa HC lawyers set deadline
Lawyers who have been on an indefinite strike since Aug 29 set a deadline for the govt on Oct 30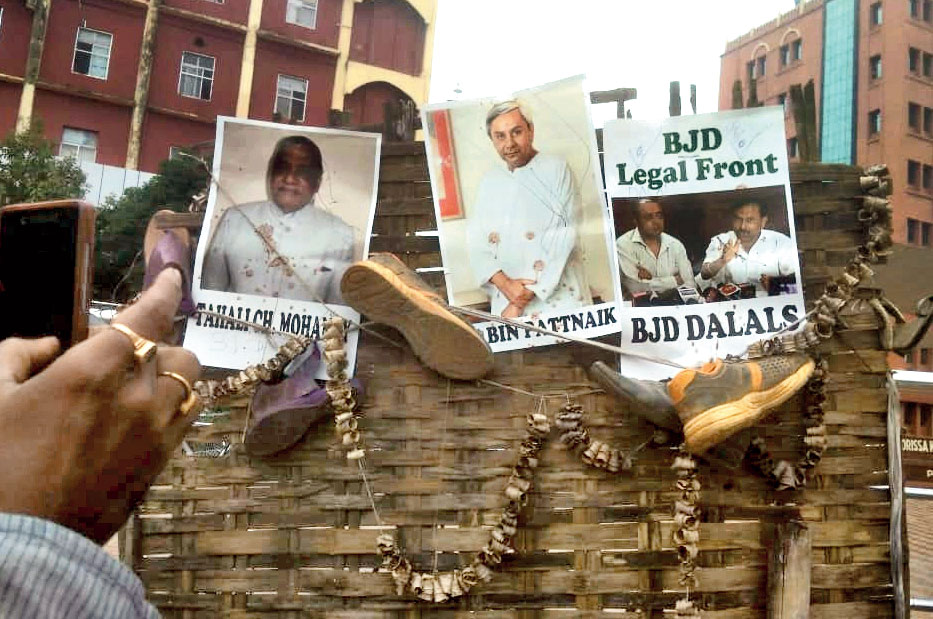 ---
|
Cuttack
|
Published 28.10.18, 06:32 PM
---
Lawyers of Orissa High Court said that they would burn the effigy of chief minister Naveen Patnaik if the state government did not take a decision on their demand by 12 noon on Tuesday.
The high court lawyers have been on an indefinite strike since August 29 following the alleged assault on their colleague Debi Prasad Pattnaik near the fish market at Nuabazaar on the previous day. They have been demanding arrest of all the police personnel "involved in the assault".
Orissa High Court Bar Association secretary Satyabrata Mohanty said on Sunday that the decision to burn the effigy of Naveen was taken at their general body meeting on Friday. "We have decided to continue with our cease work till the other three erring policemen involved in the assault on our colleague are arrested," Mohanty said.
The association on Sunday reiterated its ultimatum despite the BJD legal front's decision on Saturday to dissociate itself from the ongoing cease work "due to politicisation of the agitation".
Convener of the BJD legal front Milan Kanungo said: "Members of the front, who are also members of the Orissa High Court Bar Association, will go back to duty on Tuesday as we felt the agitation has moved away from its objective of bringing to book all the police personnel involved in the assault." The front's decision triggered resentment among a section of lawyers who took to the streets and paraded with effigies donned with pictures of Naveen and leaders of the BJD legal front with shoes thrown around them.
Mohanty said that the pulling out of the lawyer members of the BJD legal front from the cease work will have little effect on the ongoing agitation.
"It's most unfortunate that the front members have taken such a decision. As we cannot stop them from joining work, we will request them with folded hands to maintain solidarity of the lawyers' fraternity," he said.
The section of the lawyers who paraded the effigies also submitted a representation to the Odisha State Bar Council on Sunday urging it to "take prompt and immediate necessary action to strengthen the unity of legal fraternity and do the needful to pressurise the state home department to fulfil the genuine demand of the striking lawyers".
The Odisha State Bar Council considered the representation on Sunday and passed an unanimous resolution appealing to the lawyer's fraternity in general "to maintain solidarity" and refrain from doing anything "to create fraction" among the lawyers.
In the resolution, the council further appealed to the state government "to meet the demand of the Orissa High Court Bar Association at an early date considering the gravity of the situation".
The Orissa High Court Bar Association has scheduled its next general body meeting at 2pm on Tuesday to decide their future course of action.