Odisha farmers defy prohibitory order
Naba Nirman Krushak Sangathan tried to enter Bhubaneswar to demand price, prestige and pension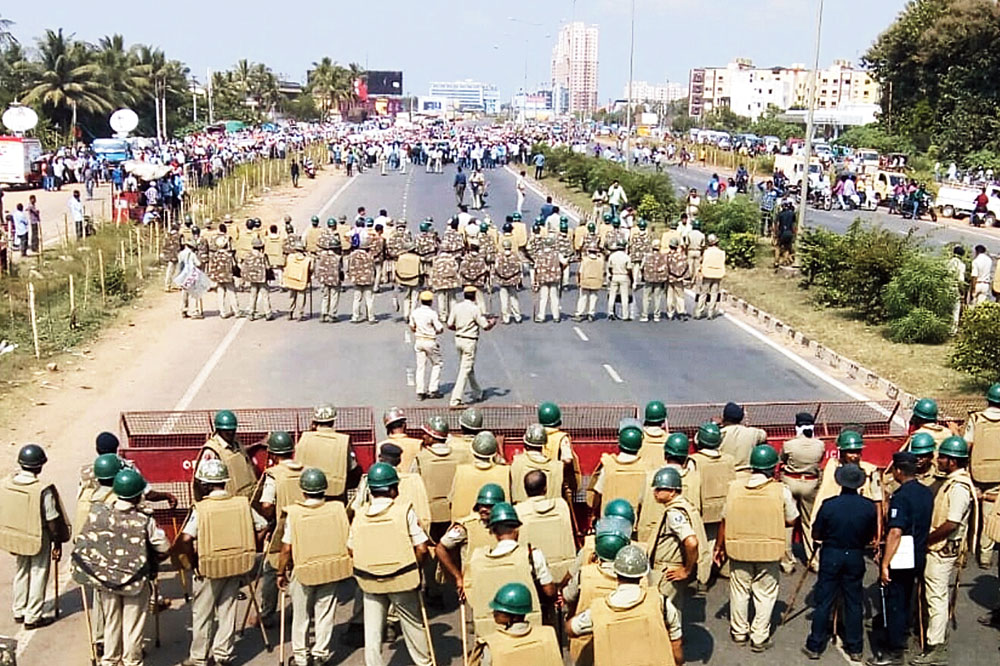 ---
---
Hundreds of farmers, under the banner of Naba Nirman Krushak Sangathan, on Monday defied prohibitory orders, broke police cordon and tried to enter the city to press their demands for price, prestige and pension.
Their proposed rally in the city could not take place with sangathan chief Akshya Kumar and other farmer leaders being arrested. However, the state government formed an inter-ministerial committee, headed by finance minister Sashi Bhushan Behera, to look into their demands. The other members of committee are agriculture minister Pradeep Maharathy and co-operation minister Surya Narayan Patra.
For the past six months, the sangathan members have been organising rallies in various parts of the state in support of their demands. They had launched a statewide Jana Satyagraha Yatra programme from October 29. Farmers from various parts of the state were marching to the city under the programme.
The farmers tried to enter the city from two sides — Tamando and Hanshpal. While those coming from Berhampur and nearby places were stopped at various points, including Tamando and Khandagiri, the farmers marching from the Cuttack-side were detained at Hanshapal. Police commissioner Satyajit Mohanty said: "We arrested them in the larger interest of the state."
On the other hand, Kumar said: "If the farmers are not allowed to enter the city, we will not allow the ruling party leaders to enter our villages. The basic issues of the farmers should be addressed."
Congress leader Pradeep Majhi and expelled BJD leader Baijayant 'Jay' Panda were seen talking to farmers and marching with them in an expression of solidarity. The BJP and the Congress condemned the arrest of the farmers.
Behera said: "We are one of the first states to introduce an agriculture budget for farmer empowerment. We are providing loans to farmers at 1 per cent. As for the minimum support price of farm produce, the state government has been demanding that it be fixed at one-and-a-half times the cost of production. Farmers should come to the negotiation table."