Bhubaneswar lets old buses die a rusty death
More than 100 such buses, introduced by the erstwhile Bhubaneswar-Puri Transport Services Ltd, are lying idle at Pokhariput depot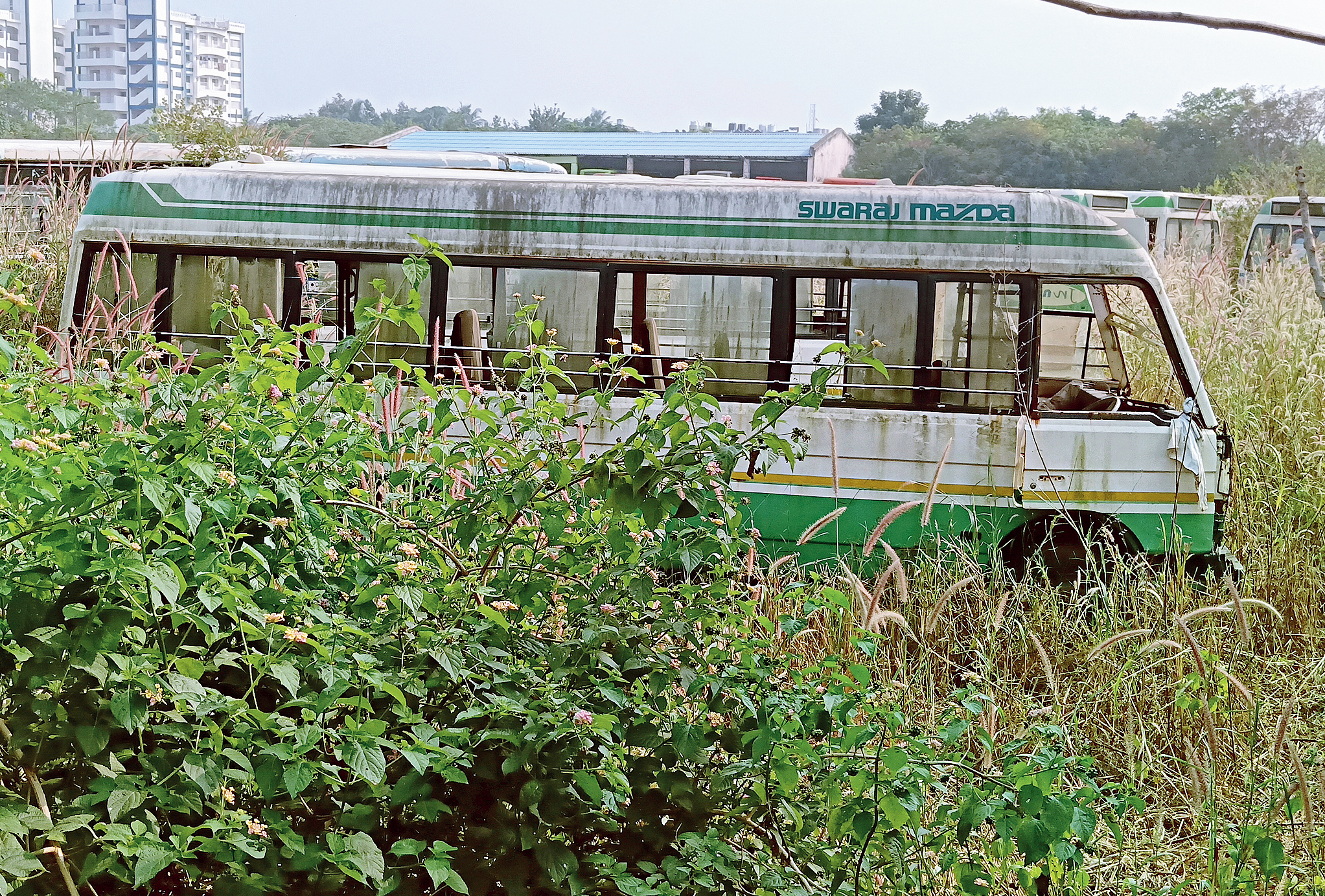 A bus in the old fleet: wasted taxpayers' money
Picture by Ashwinee Pati
---
Bhubaneswar
|
Published 11.12.18, 06:59 PM
|
---
The newly formed Capital Region Urban Transport has changed the mobility scenario in the city by introducing hi-tech buses, but the new entity has failed to maintain the old buses, which are now rusting at the depots.

More than 100 such buses, introduced by the erstwhile Bhubaneswar-Puri Transport Services Limited, are lying idle at Pokhariput depot as the authorities have failed to maintain or refurbished them. Some of the buses remain in a dilapidated condition, while some others have housed wild creepers.
Moreover, some of the buses, which had remained in a running condition a year ago mainly during the Asian Athletic Championships, now found place at the depot. "We have asked for more manpower and equipment to fix the buses," said a depot official.
Soon after launching of the new Mo Bus service, drivers of the old city buses hit the streets, protesting against the government decision to allow the old buses to ply on six routes instead of earlier 14. This has led to confusion among the commuters.
"The decision was taken keeping in view the recently launched Mo Bus services. In the first phase of the initiative, 100 new buses have started running on nine routes in the city. Now, it is increased to 16 routes. We have also refurbished 79 old buses and will do it with the other ones too," said a transport body official. A city bus driver requesting anonymity said the government should have informed them earlier if it was decided to stop the old bus service. "If they want to stop the service they should refund our security deposit, which is Rs 10,000 taken from conductors and Rs 5,000 from drivers," he said.
Pratima Jena, a passenger, said it was good that they had introduced new buses. "The administration should think of fixing the old buses, which are lying idle. It is sheer waste of money of the tax payers," said Jena.
Bridge date
The officials of irrigation department on Tuesday informed that the work on the proposed bridge over Taladanda canal from Settlement Office to SCB Medical College and Hospital in Cuttack would be completed by March 2019. The deadline was announced by Choudwar-Cuttack MLA Pravat Ranjan Biswal who visited the construction site and held discussions with officials.