Zubeen Garg out of hospital
BRIEFS: Zubeen was admitted to Nemcare Hospital on February 27 after he fell unconscious while talking to the media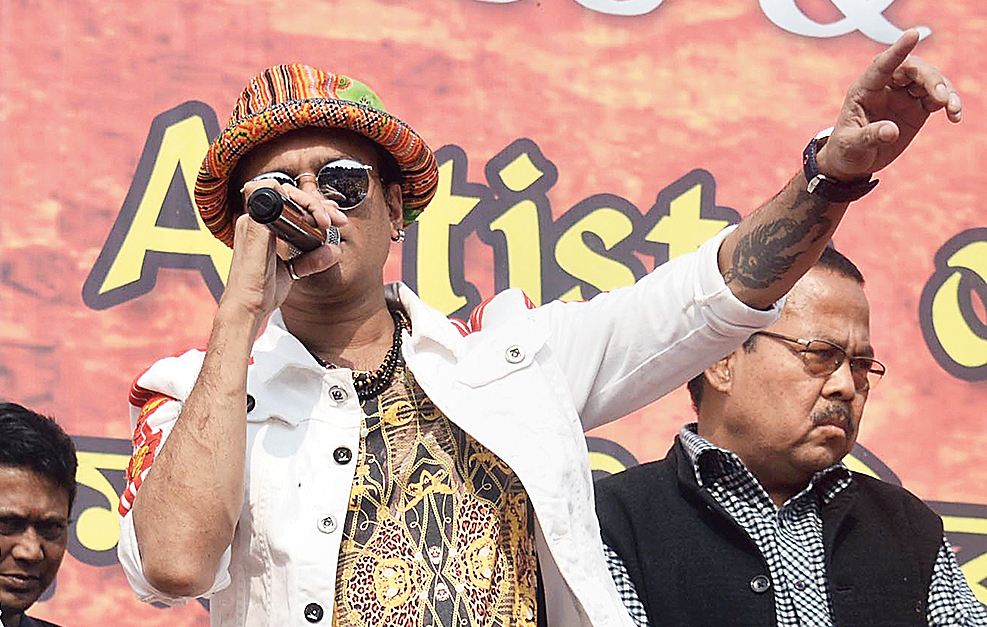 ---
Dimapur
|
Published 08.03.20, 06:41 PM
|
---
Singer Zubeen Garg was released on Sunday after being hospitalised for almost 10 days. Zubeen was admitted to Nemcare Hospital on February 27 after he fell unconscious while talking to the media here. After observation, doctors said he had fallen ill for lack of sleep. Soon after his release, Zubeen went to Mumbai with his wife Garima Saikia Garg.
He will consult doctors in Mumbai for better treatment and also take a break from his busy schedule. Zubeen was greeted by his fans on being released from hospital.
Trader rescued
Raju Mishra, 32, a small trader and a resident of Kanchiwala village, abducted by an armed group of suspected Bru Revolutionary Army Union cadres on March 2, was rescued on Sunday, police said. Mishra, along with five other persons who were going to Gutguti in a Bolero car, was abducted near Riflemarra. Five hostages were rescued on March 2 itself.
CM greets people on Holi
Assam chief minister Sarbananda Sonowal on Sunday greeted the people of the state on Doljatra and Holi. He said the celebrations would strengthen the bond of brotherhood, friendship and harmony. In view of the novel coronavirus outbreak, he urged the people to celebrate taking adequate precautions. Chirang additional district magistrate Karmadev Brahma on Sunday issued an order under Section 144 CrPC restricting use and sale of toxic powder and other colour materials.
Child labourers
Labour department officials and Demow police conducted a search operation in hotels and restaurants at Rajmai near here on Friday and rescued five child labourers. An FIR was lodged at Demow police station against the owners of the eateries for violating child labour law.
Aid for school
Assam chief minister Sarbananda Sonowal on Sunday announced Rs 20 lakh for building a playground and another Rs 20 lakh for construction of extra classrooms, during the closing ceremony of the golden jubilee celebrations of Na Bhanga Bapuji High School in Golaghat district.
Donated
The army and Assam Rifles donated mattresses, pillows, bedsheets, recreational sports items, water dispensers, computers and printers, valued at Rs 5 lakh, to two de-addiction centres here on Saturday, a release said on Sunday.
Festival concludes
Chief minister Sarbananda Sonowal on Sunday said at a time when information technology was calling the shots, the Mising Youth Festival had showcased people's inherent ties with their culture, during the closing ceremony of the event at Jengraimukh in Majuli.
Condolence
Nagaland PCC president K. Therie on Sunday condoled the death of former minister C. Noklem Konyak.
Kamargaon win
Kamargaon College won the 16th Captain Jintu Gogoi, Vir Chakra, Memorial Football Tournament, defeating Dao Division 3-1 in a penalty shootout in the final here on Sunday.