Woof! Here's some help for paws on streets
The volunteers were seen round the clock in different parts of the city searching for and feeding the animals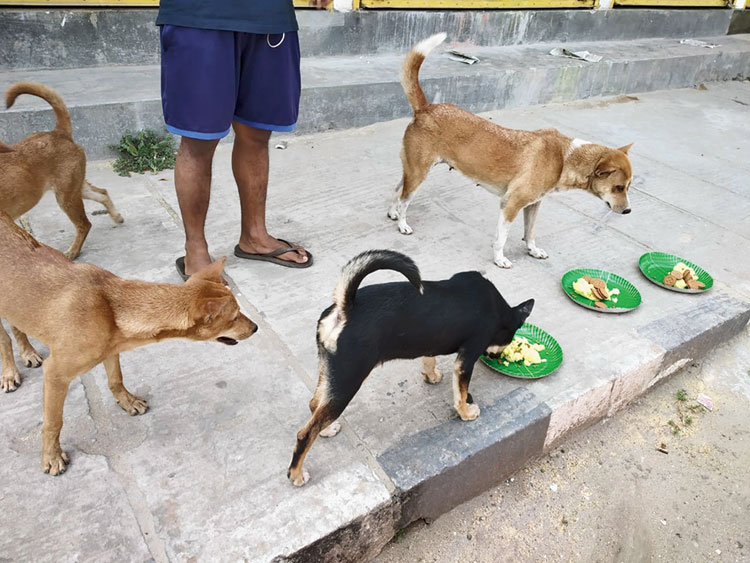 Volunteers feed stray dogs in Guwahati
Telegraph picture
---
Guwahati
|
Published 31.03.20, 06:52 PM
|
---
The stray dogs of the city now have a helping paw.
Over 80 volunteers of The Paw Foundation, an animal welfare organisation, have been braving odds to feed stray animals in the city to make sure the strays don't stay hungry during the 21-day lockdown period.
The volunteers were seen round the clock in different parts of the city searching for and feeding the animals.
The managing trustee of the Foundation, Indira Amma, told this correspondent that it has been stepping up its efforts for the greater cause of stray animals in and around the city as soon as it got a nod from the district administration.
It got permission from the Kamrup (metro) deputy commissioner's office on Thursday to carry out the drive.
The Foundation, formed in March last year, has been leading the drive on its own.
"As soon as the lockdown was announced, I called every acquaintance I know to churn out ideas to feed the stray animals. I had a chance to meet director-general of police Bhaskarjyoti Mahanta and told him about feeding the strays and sought his permission. Somehow the Kamrup (metro) deputy commissioner got to hear of it. A day later we were granted permission," Indira Amma said.
The Foundation was open to donations in the form of food, she added.
Passes are provided to the volunteers according to the district administration rules and they were asked to wrap up the drive before noon.
"On the first day, I, along with two female volunteers, searched for the strays in the Narengi area. Volunteers have fed the strays in far off areas like Jorabat and Garigaon. There is no specific number of volunteers designated per place. Rather, we are taking into account the number of strays," she added.
The foundation is initially targeting the areas near the main roads and highways like Adabari and Gorchuk, among others, where the number of eateries and restaurants are comparatively higher, as it increases the presence of strays in those areas.
The foundation has received around 200kg of rice and dog food in large quantities. They are in need of pulses and eggs as meat is unavailable, Amma said.
To cater to the need of cooked food for the dogs, the foundation has a dedicated kitchen at Dhirenpara here.
"We are searching for more such places as it is often difficult to transport from a single place," she said.
It is running with 42 volunteers and has rescued more than 300 animals.
The foundation is running without a shelter and does not have a vehicle to carry out rescue operations.
"We take our cases to Khanapara veterinary hospital or to a private clinic. We are running this trust from our pockets and with donations from animal lovers," she added.