Won't be swayed by sops: Tea union
ACMS secretary Rupesh Gowala said the Sangha would continue its protest till the Act is withdrawn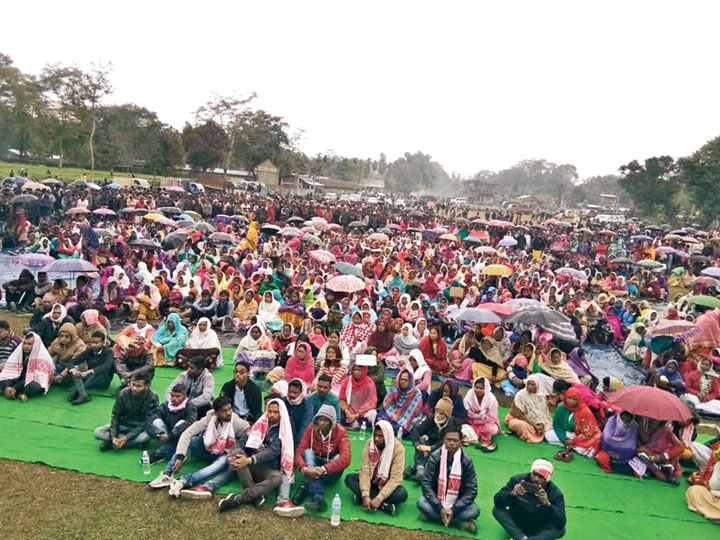 ---
---
The Assam Chah Mazdoor Sangha (ACMS) on Sunday said the tea community would not be "swayed by schemes announced by the state government in a bid to defuse the movement against the Citizenship (Amendment) Act".
"We have taken out anti-CAA protest rallies at each and every tea estate in Assam at least twice. We organised big rallies in 22 garden areas. The tea community will not be swayed by government schemes to defuse the anti-CAA movement. The ACMS, along with tea workers, is always one step ahead in the protest," Sangha general secretary Rupesh Gowala told The Telegraph.
"We have been also paying tribute to the martyrs of the CAA protest in all the tea gardens," he added.
Five persons died in alleged police firing during violent protests in Assam after Parliament passed the citizenship law in December last year.
Gowala said the Sangha would continue its protest till the Act was withdrawn. "We are equally worried about CAA, like other communities. If there is a crisis, we will protest in a peaceful and democratic way in solidarity with all communities. According to data, everyday at least 10 lakh people are protesting against CAA in different parts of the state. Not only one or two organisations, but all people, including teachers, lawyers, bankers, government and private sector employees, are protesting because it is an anti-Assam Act. The law violates the Assam Accord and the secular nature of the Constitution. We will never accept it under any circumstance. If Assamese language, which is also our mother tongue, and Assamese identity are affected, we will always come forward to safeguard them," he said.
The ACMS has called a shutdown of all tea estates in Assam on Wednesday as part of the nationwide general strike called by central trade unions against the Act and other issues.
"Barring the RSS-affiliated Bharatiya Mazdoor Sangh, all trade unions will be participating in the general strike. The protest will be organised peacefully but on a massive scale. All tea gardens will remain closed on January 8," ACMS president and former Union minister Paban Singh Ghatowar said.
All India Trade Union Congress (Aituc) state secretary Ranjan Chowdhary said at least 10 central trade unions and their affiliated bodies would join the general strike against the anti-worker policies of the government.
On the other hand, thousands of tea workers attended a rally against CAA at Kumsang-Selengguri Dumka Line Khelpathar on Sunday from 10am till evening.
Besides ACMS and Assam Tea Tribes Students Association (ATTSA), All Adivasi Students Association of Assam (AASAA), Adivasi Suraksha Samiti, Chah Janajati Mahila Samiti, Adivasi Mahila Samiti and several other organisations took part in the rally.
"We have come here braving the heavy rain to protest against CAA, which is bad for Assam and tea community people," tea worker Sumitra Tanti said.