Trinamul rakes up lawlessness & unemployment issue in Tripura
The party has launched a sustained campaign to expand its base over the past four months with the objective of ousting the BJP from power in 2023 Assembly polls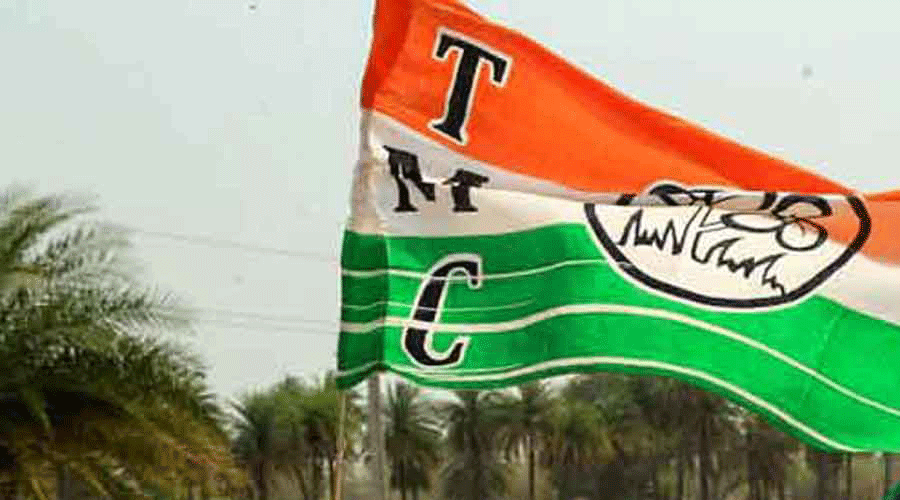 Representational image.
File photo.
---
Guwahati
|
Published 06.01.22, 01:21 AM
|
---
Trinamul members in Tripura on Wednesday protested against the "complete" lawlessness and "rising" unemployment, a day after Prime Minister Narendra Modi asserted how Tripura was transforming itself under the "double engine" government headed by the BJP at the Centre and in the state.
The Trinamul had last month announced a march to Raj Bhavan to submit a 15-point memorandum, seeking action against the "deteriorating" law and order situation, "rising" unemployment, "lack" of proper" education and health services in the state.
Hundreds of Trinamul members on Wednesday afternoon took out a march from Astabal Ground to Circuit House in Agartala but were stopped about 500m from the Raj Bhavan. Governor Satyadeo Narain Arya later "declined" to meet the AITC delegation on health ground.
The memorandum was later submitted to a Raj Bhawan official, Trinamul leaders told The Telegraph.
The death of a party leader Majibur Islam Majumder, who was assaulted by suspected BJP members on August 28 in Agartala, at a hospital in Calcutta on Wednesday morning added teeth to the protest. Trinamul leaders were seen with placards seeking justice for Majumder and justify their claim of lawlessness in the state.  
AITC Tripura unit tweeted, Majibur Islam Majumder. REMEMBER THE NAME, @BjpBiplab since YOU have his blood on YOUR HANDS. On TMCP Foundation Day, @BJP4Tripura goons BRUTALLY & MERCILESSLY beat him up. He was admitted in SSKM and was undergoing treatment but unfortunately passed away today" and "There is ABSOLUTELY NO LAW AND ORDER IN TRIPURA. The state has collapsed into its darkest days under BJP's misrule. WE DEMAND JUSTICE for Majibur Islam Majumder."
AITC Tripura state convener Subal Bhowmik said they got to know that the governor was unwell. 
"We could see the governor walking around on Tuesday during the PM's programme. He doesn't meet the Opposition. Hence, we are protesting here today. We need to fight for our rights," Bhowmik said, adding hundreds of party workers, including him, were arrested by the state police and forcibly removed from the protest site, under the "orders" of chief minister Biplab Kumar Deb.
A police officer told mediapersons that 120 persons were placed under preventive arrest but they were released around 4.45 pm. Another said they had to clear the site outside Raj Bhavan.
Accusing the state government in Tripura of doing everything possible just to remain in power and routinely attacking the Opposition leaders, intellectuals and local residents Bhowmik said: "There is lack of development, unemployment is rising. The education system in Tripura is in shambles and there no vision for future of our young children. Before coming to power, BJP had promised to fix all such issues, but nothing has happened."
Baptu Chakraborty, another Trinamul state leader, said the state administration has been disrupting and cancelling their events because "they know people are with us".  
Trinamul claims were in sharp contrast to the assertion made by Modi at a massive rally in Agartala on Tuesday where he painted a bright future for the state under its rule. He said Tripura would become a business hub of the Northeast under the development policy pursued by the BJP-led double engine government.
"Earlier, the wheel of corruption did not stop moving here while the brakes were put on the vehicle of development. The government, which was here earlier, had neither the vision nor the intention of developing Tripura. Tripura was made to live in poverty and backwardness.
"To change this situation, I had assured HIRA to the people of Tripura. H for highway, I for Internet way, R for railways and A for Airways. Today, based on the HIRA Model, Tripura is improving and expanding its connectivity," Modi had said, while praising the chief minister.
"This government is dedicated towards the happiness of the common man," the Prime Minister said.
The Trinamul, which has launched a sustained campaign to expand its base over the past four months with the objective of ousting the BJP from power in 2023 Assembly polls, have been constantly attacking the ruling party for lack of development and lawlessness, charges which are dismissed by the ruling party.
"One just has to go to Bengal to see what lawlessness is. Things have improved under the BJP-led government and will improve further. It was reflected in our comprehensive win in the recently-concluded urban body polls," BJP spokesperson Nabendu Bhattacharya said.