The subtle art of serving tea
Third edition of Assamese Tea Ceremony will be held at Pabhojan tea estate at Borpathar in Golaghat dist on February 8-9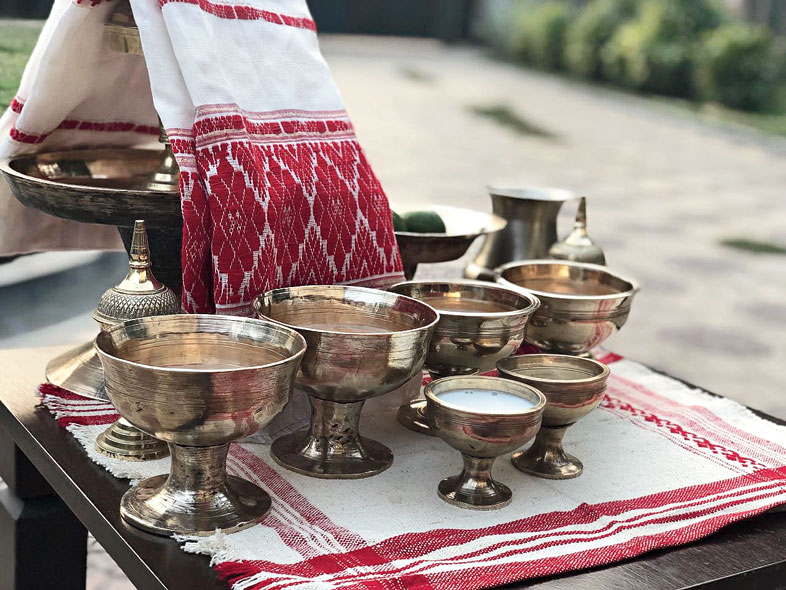 ---
|
Guwahati
|
Published 05.02.20, 06:40 PM
---
Organisers of the third edition of the Assamese Tea Ceremony said the tradition of serving tea in baan batis (brass metal bowls) should be popularised globally.
The third edition of the ceremony will be held at Pabhojan tea estate at Borpathar in Golaghat district of Upper Assam on February 8-9. Pabhojan tea estate is owned by Arin Tea Private Ltd.
A tea ceremony involves the ceremonial preparation and presentation of tea.
The ceremony, literally translated, is "way of tea" in Japanese, "etiquette for tea" or "tea rite" in Korean, and "art of tea" in Chinese.
Rakhi Saikia of Arin Tea said, "In Assamese culture, tea is just not a beverage but enjoys a high esteem in socio-religious rituals. It is almost customary to offer tea to the guests and any religious or social function is considered incomplete without serving tea. There are certain traditions while serving tea especially in religious functions to xatradhikars. The bhakats are served tea in brass bowls, which is quite unique." "This is the third year and we plan to popularise the ceremony globally. This needs the cooperation of all. We are hopeful that this small endeavour will impact the masses," she added.
Assam produces more than half the tea produced in the country.
A roundtable meeting has also been organised where experts from the tea industry will discuss the way ahead.
"We will discuss how to popularise and promote the customs of tea drinking," she said, adding they are expecting 300-odd people.
There will be a open meeting on mission-quality tea, attended by officials from Tea Board of India, Tocklai and others. "There is no reason why we cannot do it. A deeper consultation is needed with all stakeholders," she said.
There will be an exhibition-cum-sale on specialty tea, Assamese jewellery and dresses.