Students try to storm Manipur MP's house in citizen bill protest
Pressure on lawmaker Bhabananda Singh to vote against Bill on Monday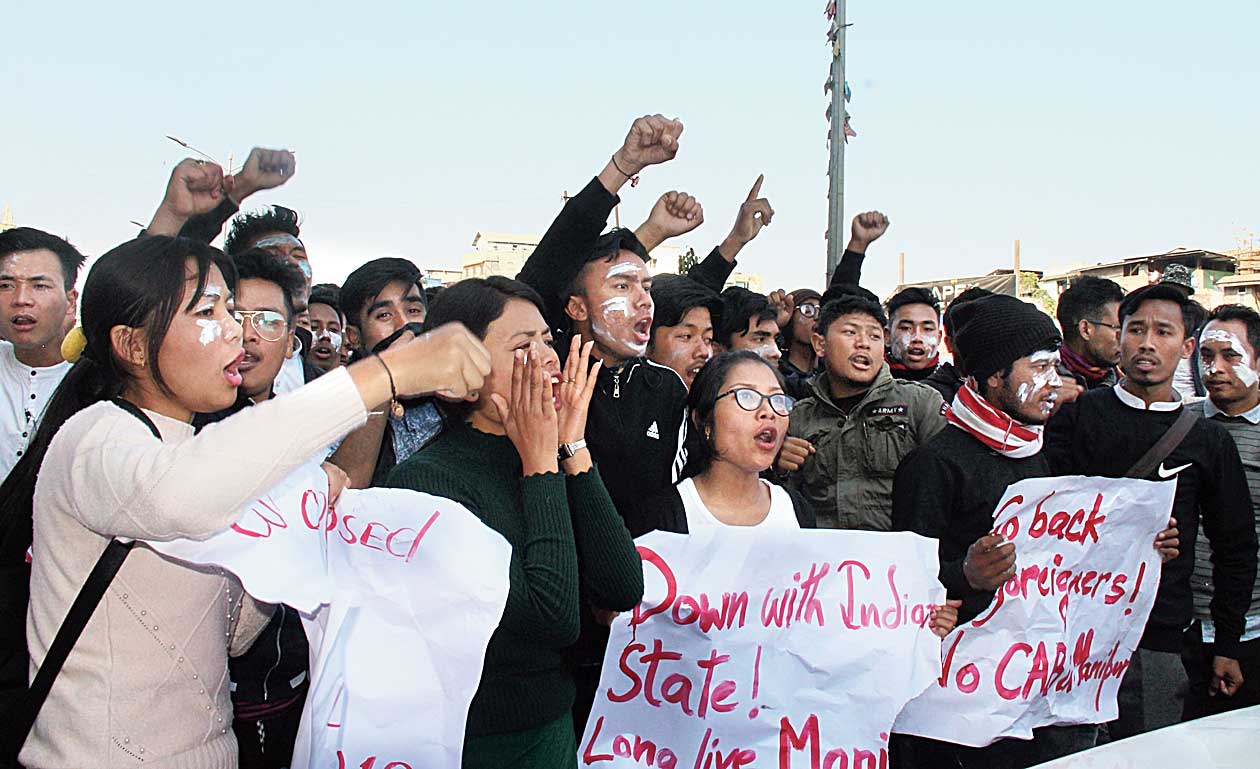 ---
|
Imphal
|
Published 24.01.19, 07:13 PM
---
Five students had to be hospitalised after police fired smoke bombs to disperse demonstrators marching towards Rajya Sabha MP Ksh Bhabananda Singh's house at Waheng Leikai here on Thursday demanding that he oppose the Citizenship (Amendment) Bill, 2019, in Parliament.
The bill, which was recently passed in the Lok Sabha, is expected to be introduced in the Rajya Sabha during the budget session of Parliament, beginning January 31.
Two student groups tried to storm the MP's residence.
The five students who fainted belonged to the first group, comprising the All Manipur Students' Union (Amsu), Manipur Students' Federation, Democratic Students' Alliance of Manipur, Kangleipak Students' Association, Students' Union of Kangleipak and the Apunba Irreipakki Maheirosing Singpanglup. They were admitted to the Regional Institute of Medical Sciences here.
Later, the group's representatives met Bhabananda. "We urged him to assure the people that he will oppose the citizenship bill in the upcoming Parliament session," Amsu president Manjit Sarangthem said. He urged all state leaders, both the ruling and opposition ones, to unite and act in the interest of society.
The second group comprised the Manipuri Students' Association Delhi, Socialist Students' Union Manipur, Reformists Student Front, All Meitei Pangal Students' Union Manipur and the All Manipur Muslim Students' Organisation. They were supported by the women vendors of Ima Keithel (women's market).
As they marched towards the MP's house, the police stopped them and allowed only their representatives to meet the MP.
The first group has announced that it will stage a protest in New Delhi on January 30. The second group will launch a mass protest in Manipur on the day the bill is tabled in the Rajya Sabha.
Bhabananda, also the president of Manipur BJP, said, "Meeting the students was very enlightening. They wanted to know my stand on the bill. I said as an MP I will stand on the side of the people of my state. I am also a son of
Manipur soil. We are in politics for the welfare of people. Our party and the government will not go against the wishes of the people. We will put pressure on the Centre accordingly."