Storm hits 3 states, houses damaged
Several big trees, along with electric poles, were uprooted and livestock injured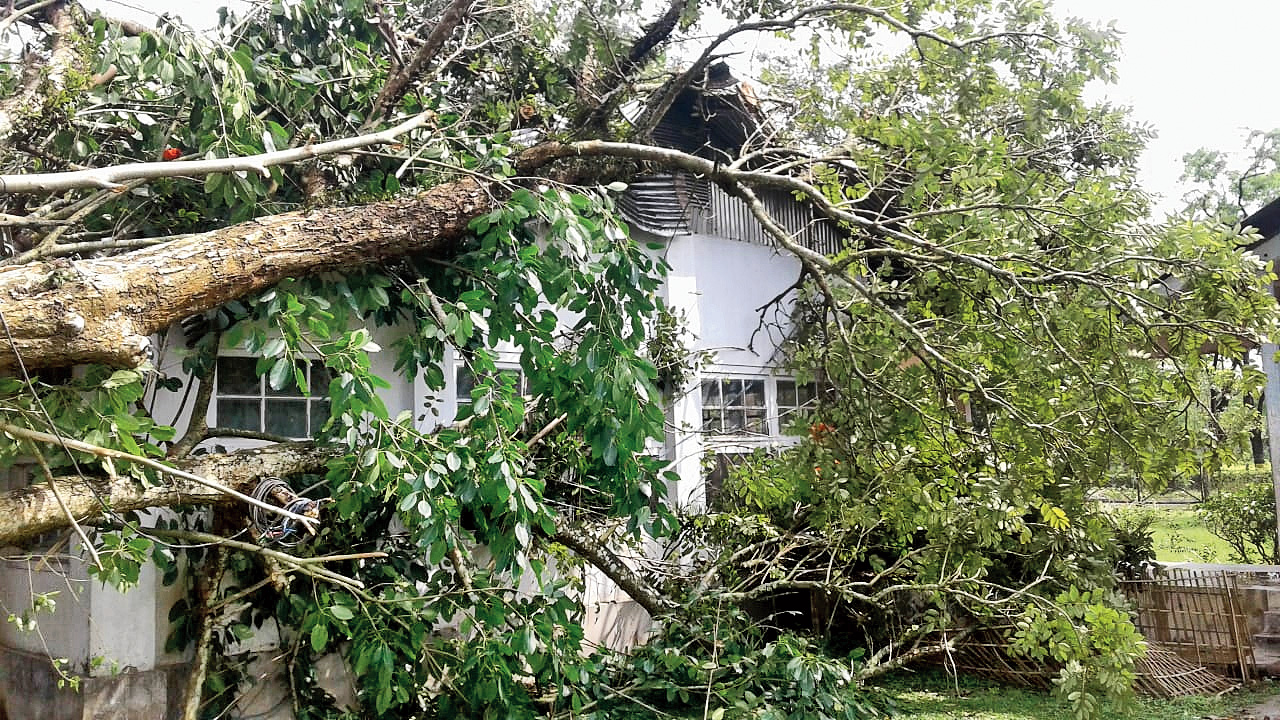 A house damaged in the storm at Bokakhat.
Picture by Sanjoy Hazarika
---
Bokakhat
|
Published 16.04.19, 06:57 PM
|
---
A storm, followed by torrential rain, left several houses damaged and trees uprooted in Upper Assam's Golaghat district in the past 24 hours.
The storm affected naamghars and Bihu pandals at Baruagaon, Kamargaon and Dergaon town around 10.30am on Tuesday. The storm also affected parts of Nagaon, Hojai, Morigaon and Sonitpur districts of central Assam but no damage or casualty was reported.
The storm damaged as many as 50 houses in and around Dergaon, but no causality was reported.
As many as 93 houses were damaged along with naamghars and temples in Barchapari Bagicha and Rajabari Bhakat Chapari area under Bokakhat subdivision on Sunday night. A total of 80 houses were damaged at Bhakat Chapari and 13 in Barchapari.
Several big trees, along with electric poles, were uprooted and livestock injured. A large number of birds' nests were also damaged.
"The storm was so strong that had it gone on for some more time, it would have caused widespread damage," Bedanta Barua of Baruagaon, whose house was partly damaged, said. "The storm was so terrible that I thought we might all be blown away," Mamani Loing of Bhakat Chapari, whose house was completely damaged, said.
"We were caught unawares as the storm came suddenly," Ashok Nayak of Barchapari said.
Three killed: A thunderstorm killed three women and injured about 30 students in Churachandpur district and other parts of Manipur on Monday morning.
Two of the women, identified as Nemdom, 74, and Chenkholhai, 50, died at T. Munjang village in Churachandpur when the house where they were taking shelter collapsed.
The third woman, identified as Yengkhom Nungsitombi, 56, died at Kakching Wairi Senapati Leikai when a banyan tree fell on her.
The students were injured when a building collapsed in Kwakta. They are reportedly out of danger.
There were also reports of houses being damaged in different parts of the state.
A makeshift tent of a public meeting was destroyed in the storm at Thanga in Bishnupur.
Manipur chief electoral officer P.K. Singh intimated the Election Commission about the storm that resulted in loss of lives and property so that emergency measures could be taken up according to the election model code of conduct.
More than 75 houses were damaged when violent winds hit the northeastern part of Mizoram bordering Assam on Monday morning, officials of the state disaster management and rehabilitation department said. No casualties have been reported, they said.
At least 41 houses were destroyed in Vairengte, 12 each in Phainuam and Saipum villages, eight in Saiphai village, two in Vaitin and several others along the Mizoram-Assam border. Altogether 13 houses were completely destroyed and many electric poles and trees were uprooted.
Additional reporting by Ngangbam Indrakanta Singh in Imphal and Henry L. Khojol in Aizawl