Rescuers find just 3 helmets in Meghalaya mine accident site
'Police have arrested the owner of the coal mine in East Jaintia Hills where 13 miners are feared trapped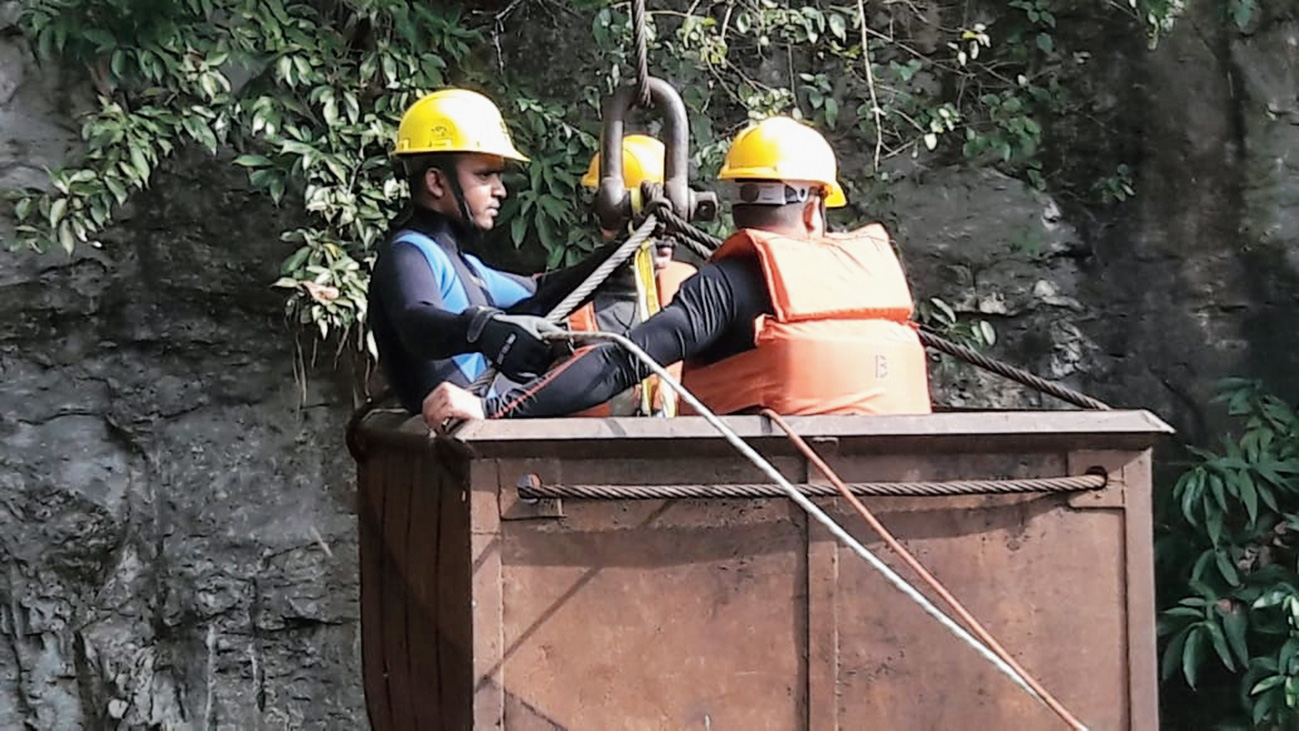 NDRF personnel undertake rescue operations at the coal mine in East Jaintia Hills on Saturday.
NDRF
---
Shillong
|
Published 15.12.18, 07:48 PM
|
---
Meghalaya police have arrested the owner of the coal mine in East Jaintia Hills where 13 miners are feared trapped.
While search and rescue operations have been going on since Thursday, a day after the mishap occurred, there has been no positive development as the water inside the mine is yet to be pumped out.
Police said a raid was conducted at Norwan village on Friday night and Jrin alias Krip Chulet was arrested.
East Jaintia Hills superintendent of police Sylvester Nongtnger said over phone on Saturday that Chulet was the "main accused". "He is the owner of the coal mine," Nongtnger said.
On Friday, police declared that James Sukhlain was the owner.
But Nongtnger clarified that Chulet is the "main accused" and Sukhlain was a "co-accused".
Chulet has been booked under Sections 188, 304A and 34 of the Indian Penal Code, Section 3(2)(d) of the Prevention of Damage to Public Property Act, and Section 21(1) of the Mines and Minerals (Development and Regulation) Act.
The same sections have also been applied to Sukhlain, who is "absconding".
On reports that there are more than 13 people trapped in the mine, Nongtnger said they are yet to ascertain whether more people are trapped since the rescue operations have not yielded any results so far.
Over 100 personnel have been pressed into service since Friday morning to retrieve the 13 miners from the coal mine at Ksan near the Lyteiñ river under Saipung police station. They include officers and men from the National Disaster Response Force (NDRF), Guwahati, State Disaster Response Force (SDRF) and from the civil defence, Jowai, West Jaintia Hills.
The 13 miners include three locals from Lumthari village while the remaining 10 are from the plains belt of West Garo Hills and Assam. Sukhlain is also from Lumthari.
Official sources said the mine is 320 feet deep, and the water inside is around 70 feet deep. The mine is divided into sub-channels, sources said.
"Even after pumping, the water level in the mine has not reduced. We have not been able to locate the water source responsible for filling up of the mine although we suspect that it is connected to the river," a source said.
On Saturday, three more pumps were pressed into service, apart from two pumps which were used since Friday.
The NDRF personnel also utilised Sonar, a technique that uses sound propagation to detect objects on or under the surface of the water.
"The Sonar technique did not indicate any positive result in the main tunnel but our rescuers dived twice up to 25-30 feet. The visibility in the water is almost nil," a source said.
Although the rescuers could not do much, the sources said three helmets were recovered from the surface of the water in the coal mine.