Repoll a defeat for BJP: CPM
'Repoll in 168 booths of a single constituency is unparalleled in the country'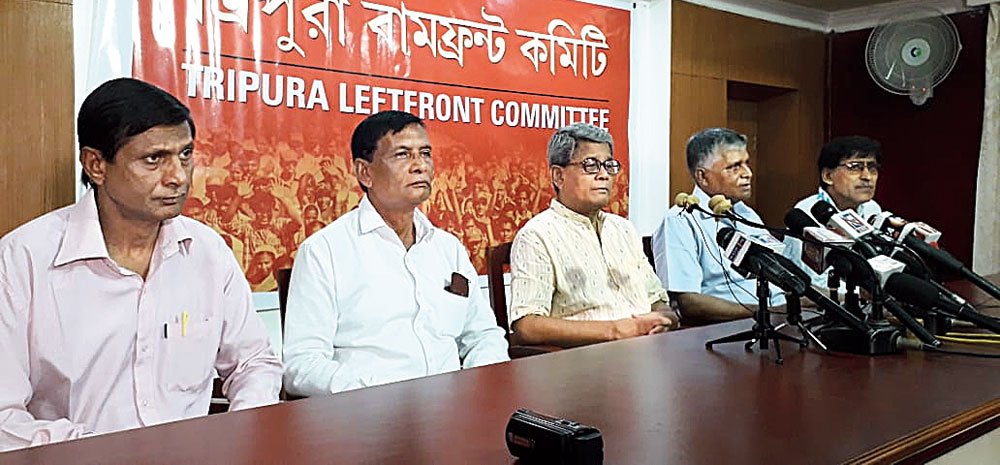 Bijan Dhar at the news conference in Agartala
Picture by Tanmoy Chakraborty
---
Agartala
|
Published 09.05.19, 06:48 PM
|
---
The Tripura unit of the CPM on Thursday claimed that repolling in Tripura West constituency, announced on Tuesday by the Election Commission, would be a "political defeat" for the ruling BJP.
Addressing a news conference in the evening, CPM state secretary Gautam Das said: "Almost 50 per cent of the electorate of the constituency could not cast their votes on April 11. The decision of repoll is a political defeat for the BJP. Repoll in 168 booths of a single constituency is unparalleled in the country."
He said the CPM would request the chief electoral officer (CEO) Sriram Taranikanti and the returning officer (RO) Vikash Singh to install video cameras outside and inside the polling stations.
"We will ask the CEO and the RO to install video cameras outside the polling stations to ensure that voters are not disturbed while going to the booths," Das said.
After polling was held in the Tripura West seat, a report of Singh revealed that webcasting suffered disturbances at 433 polling stations.
The CPM and the Congress alleged largescale rigging in the absence of CCTVs and demanded fresh election in the constituency.
Tripura Left Front convener Bijan Dhar, who was present at the news conference, appealed to people to cast their votes against the BJP.
Later in the evening, the CPM took out a rally across the city, demanding fresh elections.
On Wednesday, the CPM had filed a petition in the Supreme Court challenging the Election Commission's decision to hold repolls in 168 polling stations of the Tripura West seat. The party sought fresh election in the seat.
Repolling will be held from 7am to 5pm on Sunday.