Protest 'good sign': Ex-CM
Protest of students against Citizenship (Amendment) Bill draws considerable attention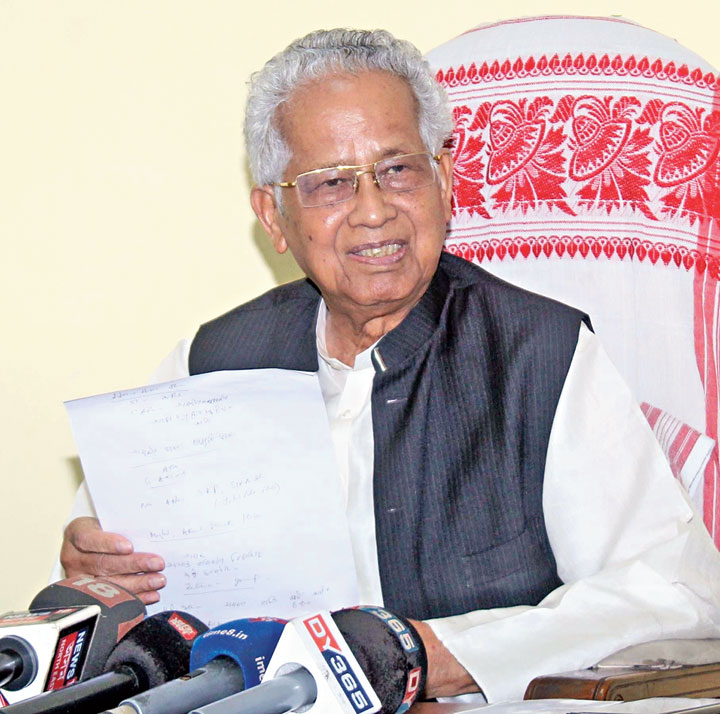 Tarun Gogoi speaks in Guwahati on Monday
Picture by UB Photos
---
Guwahati
|
Published 02.12.19, 08:46 PM
|
---
 Former Assam chief minister Tarun Gogoi on Monday said it was a good sign that students from the state's universities were coming out in protest against the Citizenship (Amendment) Bill as it would strengthen the movement.
Students of Gauhati University (GU), Cotton University (CU) and Dibrugarh University (DU) have been organising protests against the bill over the past few days.
CU and DU students have announced a ban on the entry of pro-bill politicians into the university, CU students had protested in front of the head-office of the Asom Gana Parishad (AGP), an ally in the BJP-led government, and burnt effigies of AGP leaders on Sunday while GU students had organised a protest on Saturday.
"It's a good sign that university students are coming forward to protest against the bill," Gogoi said.
Although various organisations of the state have been protesting against the bill, participation of students from these three leading universities has drawn considerable attention.
Gogoi also appreciated the All Assam Students' Union (AASU)'s stand that it will "never accept the bill".
"I hope AASU leaders will place their opposition with conviction in front of Union home minister Amit Shah tomorrow (Tuesday)," he said.
AASU and some other organisations, including the Asom Jatiyatabadi Yuba Chatra Parishad (AJYCP), will meet Shah in New Delhi to discuss the bill.
Parties and organisations from the region have been meeting Shah since Friday to discuss the bill. While the Centre wants to garner support for the proposed law before placing it in Parliament, the discussions give Northeast parties and organisations opposed to it an opportunity to convey their reservations.
Gogoi, however, questioned the need to discuss the bill with people since the Centre was determined to pass it in Parliament. "The Centre is determined that it will pass the bill. Why all these discussions then?" he asked.
He said the bill and the National Register of Citizens (NRC) were nothing but the Centre's tactics to divert people's attention from real issues like economic slowdown and its failure to create jobs.