Father Rajesh Lakra, parish priest of St Joseph's Catholic Church said on Friday that the Christians of the Northeast should render selfless service to humanity and political leaders should not involve themselves in divisive politics.
He was talking to reporters on Good Friday at Doomdooma in Tinsukia district of Upper Assam.
He said, "Christians do the selfless service that you are expected to do. You should not be afraid to do service. Jesus has told you to serve the poor and the helpless. Consider everyone as equal."
"The top-level leaders are good in India and most of them are educated in Christian educational institutions. To help the central leadership, political parties should not involve in divisive politics and change their attitude. Christians in Assam and in the entire Northeast are quite peaceful and happy and they don't have any problem,' he added.
Along with the rest of the world, the Northeast observed Good Friday in different churches with afternoon prayer services.
In Guwahati, special prayers were offered at Dispur Baptist Church, Pan Bazar Don Bosco church and others.
"We observe week-long rituals, which begin on Palm Sunday and continue till Easter Sunday, with prayer services and rituals held every evening. It is known as the Passion Week. Coming Sunday, we are going to observe Easter which marks the rebirth of Jesus Christ. A prayer service has been organised in the graveyard because we believe that just as Christ took rebirth, the dead will be reborn. Easter service will be organised in the morning and in the afternoon at the church," Fr William Horo, parish priest of St Savio Catholic church, Tongna, told The Telegraph.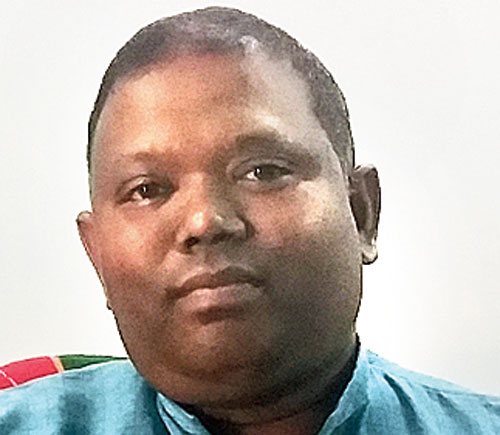 Father Rajesh Lakra A Telegraph picture
Fuljen Tigga, a student of Doomdooma College, said, "I come to the church every year as Good Friday is supposed to be a very holy occasion and whether a Christian or non-Christian, almost everyone comes here to offer their heartfelt prayers to the Almighty because its the faith and belief in God that matters and not one's religion. We should help and forgive others as Jesus did."
Another visitor, Lily Toppo, said, "This day has special significance in our religion, so we have come here to pray to Jesus. I prayed to the Lord for peace and asked him to reduce the suffering of the people."
The churches have been decorated with bells, garlands and other items.
Father Louis Dhan, priest at Sacred Heart Cathedral Church, Dibrugarh town, said, "The prayer services in our church begun at 1.30pm and thousands of people attended the service. People sang songs and hymns in praise of Christ who sacrificed his life for the sake of humanity. Special prayer services were held at 3pm, the time when Christ was crucified."
This year the students of Don Bosco organised a play on the occasion.