Plea to PM Modi on rainforest
Save-Dehing Patkai cry gets shriller as concern mounts over green cover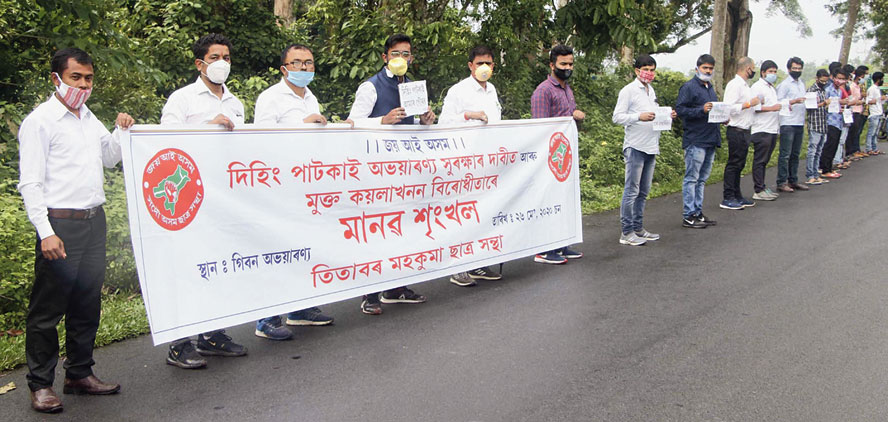 AASU's Titabar unit stages a protest over Dehing Patkai wildlife sanctuary at Mariani on Tuesday.
Picture by UB Photos
---
Doomdooma
|
Published 26.05.20, 10:42 PM
|
---
The Doomdooma Press Club wrote to Prime Minister Narendra Modi on Tuesday, requesting preservation of the biodiversity of Dehing-Patkai rainforests and Dibru Saikhowa National Park.
The letter, which lends voice to the clamour to preserve the natural beauty of Tinsukia district, was submitted to Modi through the circle officer of Doomdooma revenue circle.
"The Dehing Patkai wildlife sanctuary, under the larger Dehing Patkai elephant reserve that stretches over a vast area of Tinsukia, Dibrugarh and Sivasagar districts of Upper Assam, is one of the last vestiges of rainforests in the country. Because of its rich biodiversity, this forest is often referred to as the Amazon of the East," the letter, signed by the club's president Arjun Baruah and secretary Manoj Dutta, read.
"Recently, the National Board for Wildlife, under the Union ministry of environment, forest and climate change, had given permission to Northeastern Coalfields, a unit of Coal India Limited, to use 98.59 hectares of land of Saleki proposed reserve forest under Lekhapani range of Digboi forest division, under the Dehing Patkai elephant reserve, in Tinsukia district of Upper Assam for coal mining," it said.
The letter said the site allowed for coal mining falls on the 10km-radius boundary of Dehing Patkai wildlife sanctuary and thus within its "eco-sensitive zone". Any type of human activity, including coal mining, would, therefore, definitely affect the biodiversity of this "fabulous rainforest whose service to mankind is immeasurable".
"The Union ministry of environment, forest and climate change has accorded environmental clearance to Oil India Limited for extension drilling and testing of hydrocarbons at seven locations in Dibru Saikhowa National Park in Tinsukia district. The abode of several endangered species of flora and fauna, including the white winged duck and feral horse, the national park is rich in biodiversity. We feel the drilling and testing activities of OIL would hamper the biodiversity of the national park," it added.
The letter requested the Prime Minister to take steps to stop all kinds of coal mining, drilling and testing activities in the two forest lands to protect their biodiversity.
Northeastern Coalfields, Margherita, in a release on Tuesday, clarified that coal mining operations in Tikak have been suspended since October 2019 on the directive of the Assam forest department and that it is awaiting stage II clearance from the ministry.
"Currently, production is on hold in Tikak OCP," it said.