Northbrook Gate to get a facelift - Lack of proper upkeep has put British-era landmark in disrepair
Read more below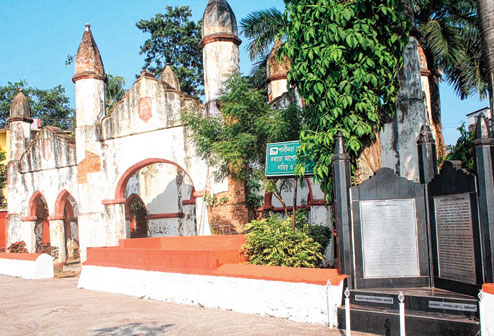 ---
---
The Northbrook Gate. Telegraph picture
Guwahati, Sept. 30: The historic Northbrook Gate, a British-era landmark in the city that has fallen into disrepair, will finally get a facelift.
Under the initiative of Kamrup (metro) deputy commissioner M. Angamuthu, the state archaeology department, Archaeological Survey of India (ASI), Assam Tourism Development Corporation (ATDC) and the Assam chapter of Indian National Trust For Art and Cultural Heritage (Intach) have come together to carry out repair and restoration of the gate, popularly known as the Gateway of Assam.
An official source told The Telegraph today that a meeting was held here yesterday where it was decided that the state archaeology department would prepare the plan estimate for conservation and restoration of the heritage gate.
"At the meeting it was decided that the plan estimate will be prepared within the month of October so that the work can start from November 1," he said.
The Northbrook Gate, located on the banks of the Brahmaputra, was built to mark the arrival of then Viceroy of India Thomas George Baring, better known as Lord Northbrook, in Guwahati on August 27, 1874. The gate was constructed near Sukreswar Ghat, where Northbrook got down from the ship, which brought him from Calcutta. The gate has since then become an important landmark of the city. The same gate welcomed Lord Curzon during his visit to the city.
Lack of proper upkeep and continuous pressure from the turbulent Brahmaputra had caused the central arch of the monument to lean towards the river. Signs of damage have become visible in the structure and cracks have appeared on the walls indicating that the structure is getting weak. The source said experts in such restoration work from Calcutta would be involved to ensure that the gate is restored to its original glory.
Director of the state archaeology department Diprekha Kuli, ATDC managing director Anurag Singh, director of tourism Mukul Gogoi, senior ASI official B. Kumar, additional deputy commissioner of Kamrup (metro) Rajib Prakash Baruah and convener of Intach's Assam chapter Jayanta Sarma were present at yesterday's meeting.
The source said the tourism department would provide funds to the ATDC for carrying out the restoration work. "The meeting decided that the archaeology department will give a list of dos and don'ts to the ATDC to comply during the restoration process," the source said. He said they want the restoration to be carried out in an expeditious manner in order to prevent any further damage to the structure.