No trace of bodies at pipeline burst site at Kopili hydro power station
Neepco generates 275MW from the two power stations of the project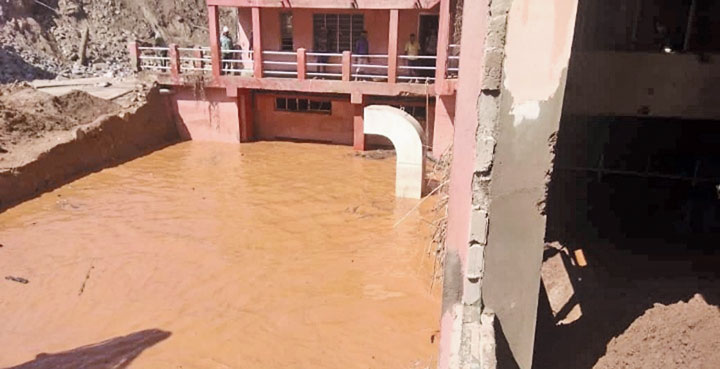 The inundated powerhouse of the project.
Suroj Barman
---
Haflong
|
Published 14.10.19, 06:38 PM
|
---
Rescue work at the North Eastern Electric Power Corporation Ltd (Neepco) disaster site is on to rescue the four trapped officials.
A pipeline burst at the Kopili hydro power station at 29 Kilo in Umrangsu in Assam's Dima Hasao district around 4am on October 7 had led to massive flooding and created a water fountain that rose several hundred feet into the sky. Altogether 800m of the project area were effected.
The rescue operation began on October 7 by a joint team of the National Disaster Response Force and the State Disaster Response Force.
Sources said loose earth in the basement of a two-storey pump house of the project is causing hindrance and it might take more time to recover the trapped persons. The earth blocking the entrance of the pump house has been cleared and excavators put into service to dig out the mud inside.
Local residents said Neepco should stop blaming the coal mining authorities for the disaster.
"Since its establishment in 1976, the Neepco authority did not change the pipeline that should be altered after every 30 years. We never heard of the pipeline being changed in the past 43 years," a local resident said.
Neepco director Vijay Kumar Gupta on Saturday said they had cautioned the Centre as well as the Assam and the Meghalaya governments on Kopili's water turning acidic owing to drainage from the nearby coal mining sites but their appeals had fallen on deaf ears.
As per Assam chief minister Sarbananda Sonowal's directive, a high-powered team, led by state minister for hill area development Sum Ronghang and others such as the Autonomous District (ST) constituency MP Horen Sing Bey, Bokajan MLA Numal Momin, Haflong MLA B.B. Hagjer, North Cachar Hills Autonomous Council chief executive member Debolal Gorlosa visited the project site on Sunday to take stock of the situation.
Ronghang said the state government should order an independent inquiry by a team of experts to bring out the truth behind the rupture in the pipeline.
"The iron pipeline was damaged as it came in contact with acidic water," Ronghang added.
Neepco generates 275MW from the two power stations of the project. Assam receives 150MW of the total production.