New crab species in Namdapha tiger reserve
Santanu Mitra of ZSI, Calcutta, who was part of the three-member team who spotted the crab, said the species is around 1.5 inches in size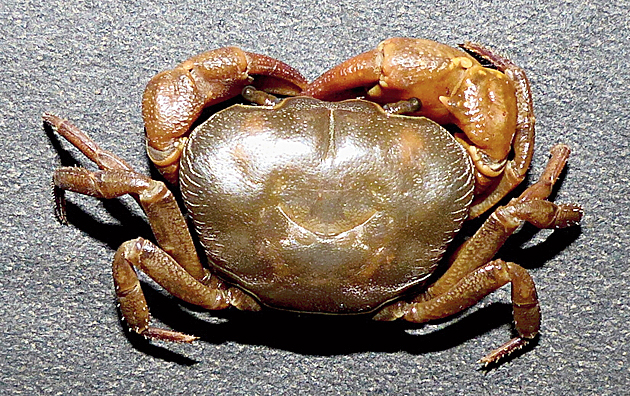 Teretamon kempi
Telegraph picture
---
Published 07.11.18, 06:45 PM
|
---
 A new freshwater crab species, Teretamon ke-mpi, has been spotted in Namdapha tiger reserve in Aru-nachal Pradesh by scientists of Zoological Survey of India.
The discovery, which has been reported in the journal Zootaxa, said the new species was observed under rocks and a few under leaf litter along or near dried or partially dry streams.
Santanu Mitra of ZSI, Calcutta, who was part of the three-member team who spotted the crab, said the species is around 1.5 inches in size, lives in streams, below small boulders and is found only at Namdapha. It has a brownish colour and a glossy surface with round-shaped carapace.
"The crabs retreated into small, shallow burrows underneath rocks, when disturbed. In some cases, multiple individuals were found under the same rock. During the field survey in March last year, several brooding females were observed and some were collected. None of the individuals observed during other seasons were reproductively active, suggesting that T. kempi breeds before or at the onset of monsoon," he said.
The other members who did the survey were Arajush Payra and Kailash Chandra.
The new species is named after Stanley W. Kemp (1882–1945), former superintendent of the Zoological Survey of India, for his valuable work on Indian carcinology (study of crustaceans), particularly in Arunachal Pradesh.
All the specimens were collected from primary forests and from elevations of 375–657 metres above sea level.
Saha said during a recent survey conducted by ZSI in the Himalayas in Arunachal Pradesh (March to June 2017), several small potamid crabs were collected from the riparian zone along hill streams of Namdapha tiger reserve in Changlang district. "With this discovery, there are now 10 species of freshwater crab known to occur in Arunachal Pradesh," the paper said.
The new species differs from Teretamon spelaeum, the only cave-dwelling potamid known from India, found at Krem Khung cave in Larket village, East Jaintia Hills, Meghalaya, during a faunistic survey in March last year.