Neso garners anti-bill support in Delhi
Many political parties of the Northeast have also sounded their opposition to the Citizenship (Amendment) Bill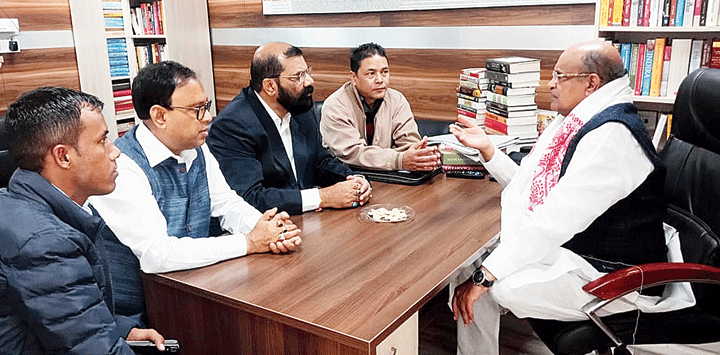 Neso leaders meet K.C. Tyagi in New Delhi on Saturday
Telegraph Picture
---
Shillong
|
Published 23.11.19, 06:40 PM
|
---
The North East Students' Organisation (Neso) has taken its campaign against the Citizenship (Amendment) Bill to the national capital with the objective of making the Narendra Modi government withdraw the legislation permanently.
Led by its chairman Samuel B. Jyrwa, a Neso delegation met Janata Dal (United) leader K.C. Tyagi on Saturday, who reiterated his party's stand against the bill.
"During the meeting with Tyagi, the Neso leaders expressed their opposition to the proposed bill. Tyagi, on behalf of JDU, reiterated the party's stand against the bill and pledged support to the anti-CAB movement," Khasi Students' Union leader Donald V. Thabah said.
He said the Neso delegation was camping in Delhi and will meet leaders from various national and regional parties, including the Congress, Samajwadi Party, Trinamul Congress, Shiromani Akali Dal, Shiv Sena, Biju Janata Dal, BSP, DMK and others, to seek support for "permanent" withdrawal of the bill.
JDU is ruling Bihar along with the BJP after dumping Lalu Prasad's Rashtriya Janata Dal (RJD).
Earlier this year, when the Centre wanted to table the bill in Parliament, Neso leaders had met Tyagi and other political leaders to garner support against the bill.
The bill, which seeks to amend the Citizenship Act, 1955, in order to grant citizenship to Hindus, Sikhs, Buddhists, Jains, Parsis and Christians who fled Afghanistan, Bangladesh and Pakistan to escape religious persecution and entered India before December 31, 2014, has been vehemently opposed by several groups in the Northeast.
Besides the Neso and other pressure groups, many political parties of the Northeast have also sounded their opposition to the bill.
On Monday, the organisation and its constituents had staged protests across the region to vehemently oppose the move of the Modi government to table the bill during the winter session of Parliament.
Recently, the Neso had submitted a memorandum to the Prime Minister saying that Northeast was not a dumping ground for illegal migrants from Bangladesh.
"A foreigner is a foreigner irrespective of his religion," it added.
"We oppose the objective of the proposed bill. It should not be adopted by Parliament under any circumstances. Such an undesirable step by Parliament will once again agitate the entire Northeast region. We all have a responsibility to avoid such a potentiality," it added.