Mother of two gets best plucker award
Senior assistant manager of Orangajuli tea estate attributed prosperity of the garden to workers like Jhalo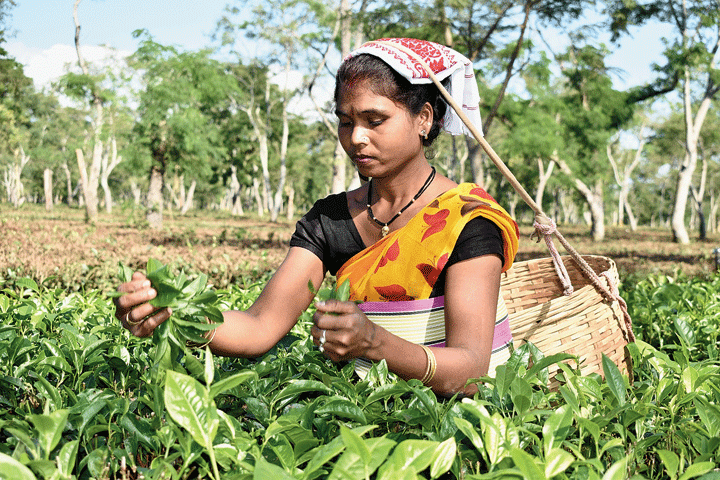 Jhalo Orang at Orangajuli tea estate in Udalguri on Thursday.
Picture by Shajid Khan
---
Udalguri
|
Published 28.11.19, 07:55 PM
|
---
She is hardworking and dedicated.
Meet Jhalo Orang, 34, winner of the Best Plucker (female) Award in Brahmaputra Valley of Assam. She is a garden worker of Goodricke-owned Orangajuli tea estate in Udalguri and a role model for other garden workers.
Jhalo, who is fondly called Ulo by other pluckers, was on cloud nine after receiving the award — a citation sponsored by the labour department of the state government — from none other than chief minister Sarbananda Sonowal on the occasion of Shramik Kalyan Divas at Kothalgoorie tea estate in Jorhat on Saturday.
Monica Nag, 41, the garden supervisor of female pluckers, said: "A mother of two, Ulo has bravely combated all odds. Her husband Domnick Kujur works at a cinema hall in Chennai. She has sent her sons to convent schools. She does her best at work and never takes leave — come rain or shine. She is a role model for other women pluckers.
"Her day starts at 4am. After finishing household chores, she comes to the factory at 7am and works till 4pm. She always wears a smile, reaches on time and cycles to work with 150 other female pluckers of the garden."
Thanking the Assam government for the award, Jhalo said: "Receiving the award from the chief minister was like a fairy tale. I dressed well for the occasion, unlike other days. My work is my religion. It has fetched me this recognition. My only ambition is to provide good education to my sons and I want at least one of them to serve the estate as a babu."
Senior assistant manager of Orangajuli tea estate, Ashish Sood, attributed prosperity of the garden to workers like Jhalo.
"It is due to sincere guidance and effort of general manager Talat Ahmed and the team of workers that we are doing good in every spheres. In 2019 the Orangajuli tea estate has produced 15,15,000 kg tea with each plucker's productivity is 6.2kg. It has surpassed all previous records of the tea estate," Sood said.