Mizos burn effigies of Modi, Rajnath in citizen bill protests
Protesters threaten to take up arms and fight for independence if the Centre continues to neglect state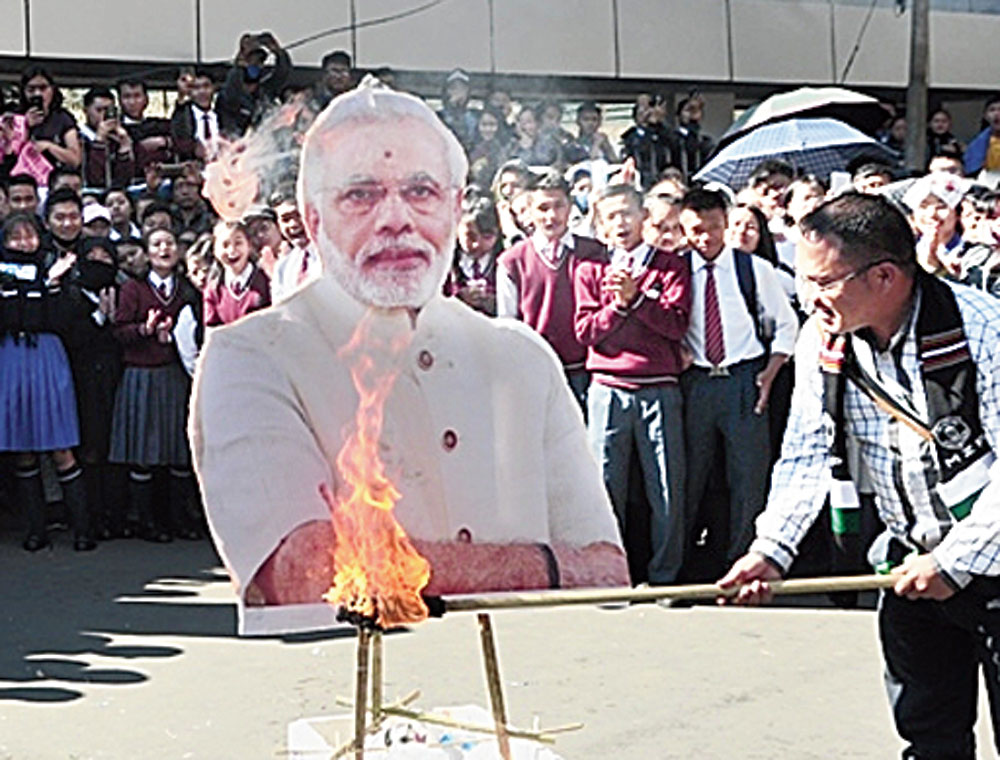 A protester burns an effigy of Narendra Modi in Aizawl on Wednesday.
Picture by Henry L. Khojol
---
Aizawl
|
Published 23.01.19, 06:41 PM
|
---
Protesters burnt the effigies of Prime Minister Narendra Modi and home minister Rajnath Singh during an agitation against the Citizenship (Amendment) Bill, 2019, here on Thursday.
Responding to a call by Mizoram's most influential student body, the Mizo Zirlai Pawl (MZP), thousands of people, mostly students, took to the streets across the state to protest against the bill.
According to student leaders, the citizenship bill would have a "severe demographic impact" on the state.
"Over 3,000 people took part in a rally here. Protesters shouted slogans such as 'BJP-down, down, down' and 'Let the Citizenship (Amendment) Bill, 2019, be scrapped," MZP president L. Ramdinlian Renthlei said.
Protests were organised in all eight district headquarters.
Addressing the rally near Vanapa Hall here, Renthlei said the "bill is harmful for a small state like Mizoram where there are thousands of Chakma and Bru refugees".
Renthlei slammed the Centre for "turning a deaf ear" to the civil society groups' plea not to pass the bill.
"The Joint Parliamentary Committee did not pay attention to our cry when it submitted its report to Parliament. Mizoram was skipped in the report. We are ignored by the Centre," he added.
Renthlei said the people of Mizoram have begun to develop a feeling of alienation from the rest of the country owing to this discrimination.
He warned that the Mizo youths would take up arms to fight for their independence if the Centre continues to neglect Mizoram.
"Has the Centre forgotten about the 1966 Mizoram uprising? We would not hesitate to spearhead a secessionist movement if the Centre goes ahead with the bill's passage," he said.
Young Mizo Association president Vanlalruata, who addressed the rally here, said the bill is harmful for Mizoram as it would encourage influx from Bangladesh.
He asked the Centre to either scrap the bill or exempt the Northeast from its provisions.
The NGO Coordination Committee and the People's Representation for Identity and Status of Mizoram called to boycott Republic Day celebrations to mark their protest against the bill.