Misuse charge at NSUI post
The "distorted" version of the cartoon on the Facebook page of the Jorhat district NSUI shows Sonowal with a dejected elephant calf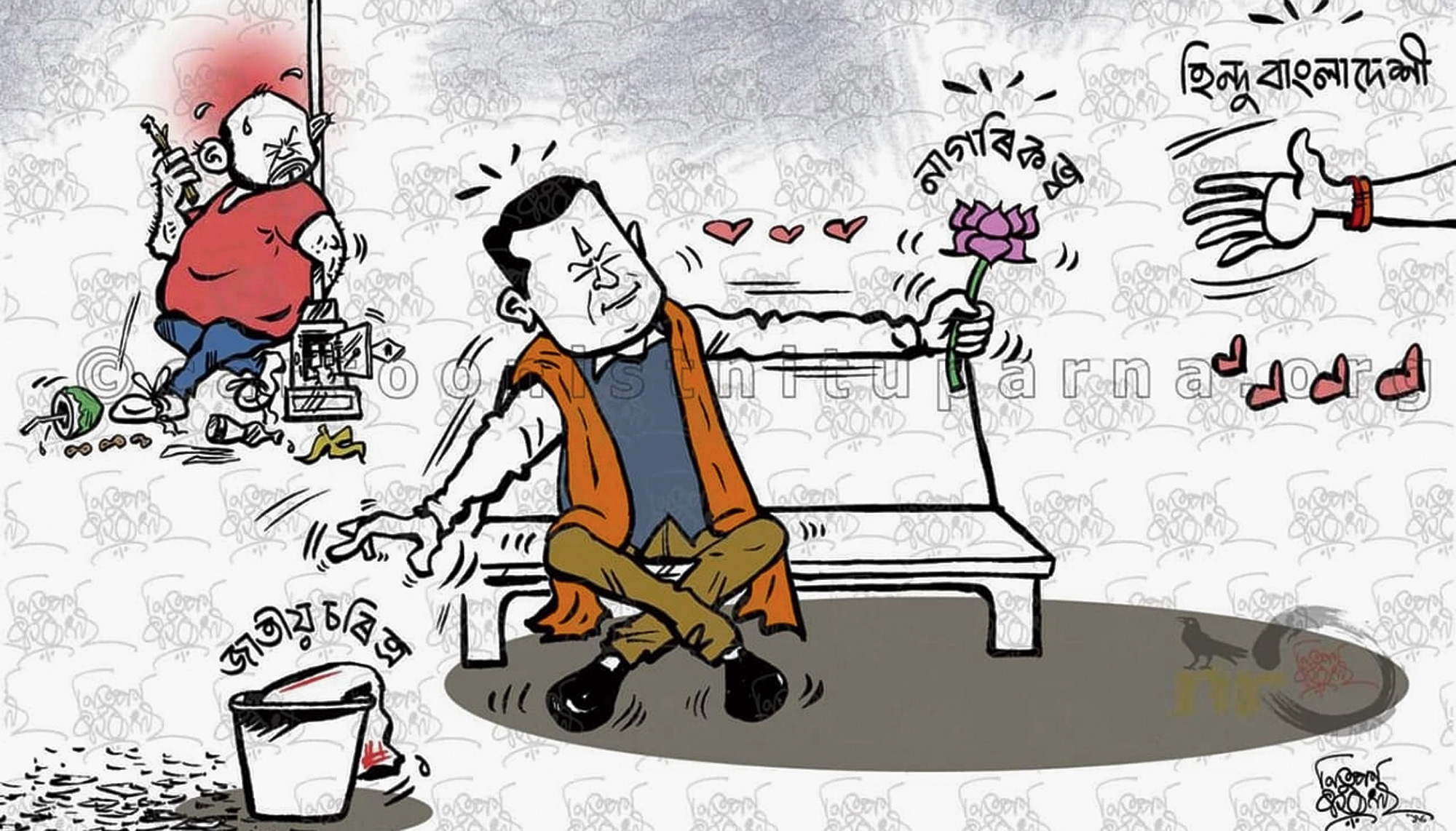 The original cartoon.
Nituparna Rajbongshi
---
Guwahati
|
Published 11.03.19, 07:46 AM
|
---
Cartoonist Nituparna Rajbongshi, whose cartoons often lampoon politicians of Assam and India, has reported the "misuse" of one of his cartoons by the National Students' Union of India (NSUI) on Facebook, violating intellectual property rights and infringement of copyrights by not taking the cartoonist's permission.
The original cartoon, depicting Assam chief minister Sarbananda Sonowal sitting on a bench and offering a lotus flower with his stretched hand to someone's hand, which has been titled Hindu Bangladeshi, was drawn during the protests against Citizenship (Amendment) Bill, 2019.
The Assamese word for citizenship — Nagoriktabva — clearly sways around the lotus flower. Sonowal is also shown reaching out to an Assamese gamosa in a bucket. Nationalist character or Jatiyo Charitra in Assamese is also written around the bucket. The piece also shows former chief minister Prafulla Kumar Mahanta in the background leaning against a pillar with drops of perspiration on him as if waiting to see what Sonowal is up to.
"I informed the NSUI leaders but they did not even bother to acknowledge their fault. They said in big organisations nobody knows what is going on at a lower level," Rajbongshi said.
The "distorted" version of the cartoon on the Facebook page of the Jorhat district NSUI shows Sonowal with a dejected elephant calf (Elephant is the party symbol of the AGP) superimposed on Rajbonshi's caricature of Sonowal from the original Hindu Bangladeshi. Below the bench is a signboard with "Friendship forever" written on it. The background reads "Despite thousands of differences, you are my heart's bosom". A heart is shown above Sonowal and the elephant calf.
"The original piece was based upon a different theme, which was not related to the new political development. The Jorhat district NSUI didn't even ask my permission to use the cartoon and they distorted my piece. This is a violation of my work and my talent. I have already lodged a complaint to Facebook citing a violation of intellectual property rights and copyright infringement. I am waiting for a response from them," Rajbongshi said.