Mission for a greener world
Jayanto Chaudhary has set up a stall to distribute neem and sandalwood saplings at Rastra Bhasha High School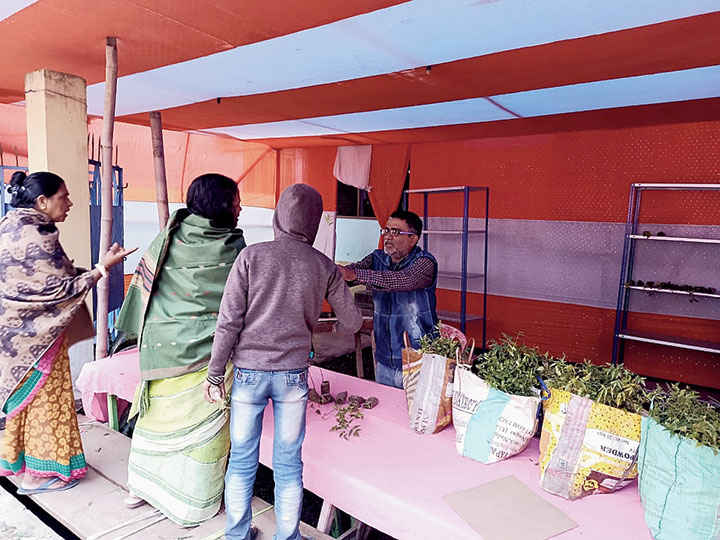 Jayanto Chaudhary distributes saplings in Hojai.
Picture by Nikhil Kumar Mundra
---
Hojai
|
Published 04.01.20, 08:33 PM
|
---
Jayanto Chaudhary of Assam's Hojai district is on a mission to distribute 1,000 neem and sandalwood saplings among the residents here to protect the environment and create awareness among the people about the significance of trees in their life.
Chaudhary is distributing the saplings on his own initiative at the Akanda Mandali Golden Jubilee Celebration at Rastra Bhasha High School playground here from Saturday. He has set up a stall to distribute the saplings at the venue for two days. The stall was inaugurated by a differently-abled person, Sanjit Das, on in the morning.
Around 407 saplings were distributed on the first day.
Chaudhary told The Telegraph, "Day by day, the environment is suffering irreparable damage and the quality of air we inhale is deteriorating. It is our responsibility to take care of nature."
Earlier, he had distributed 2,000 saplings at the golden jubilee celebration of Ram Thakur Mandir.
For the past four years, Chaudhary has been distributing neem saplings at high school-leaving examination felicitation programmes organised for meritorious students by the Hojai unit of the Asam Sahitya Sabha.
In these four years, he has distributed around 1,200 saplings among students.
He has also been working since 2008 for the uplift of the differently-abled through various awareness meets, banners and skits.