Assam government shows it cares for its own
Dispur plans aid, natives' return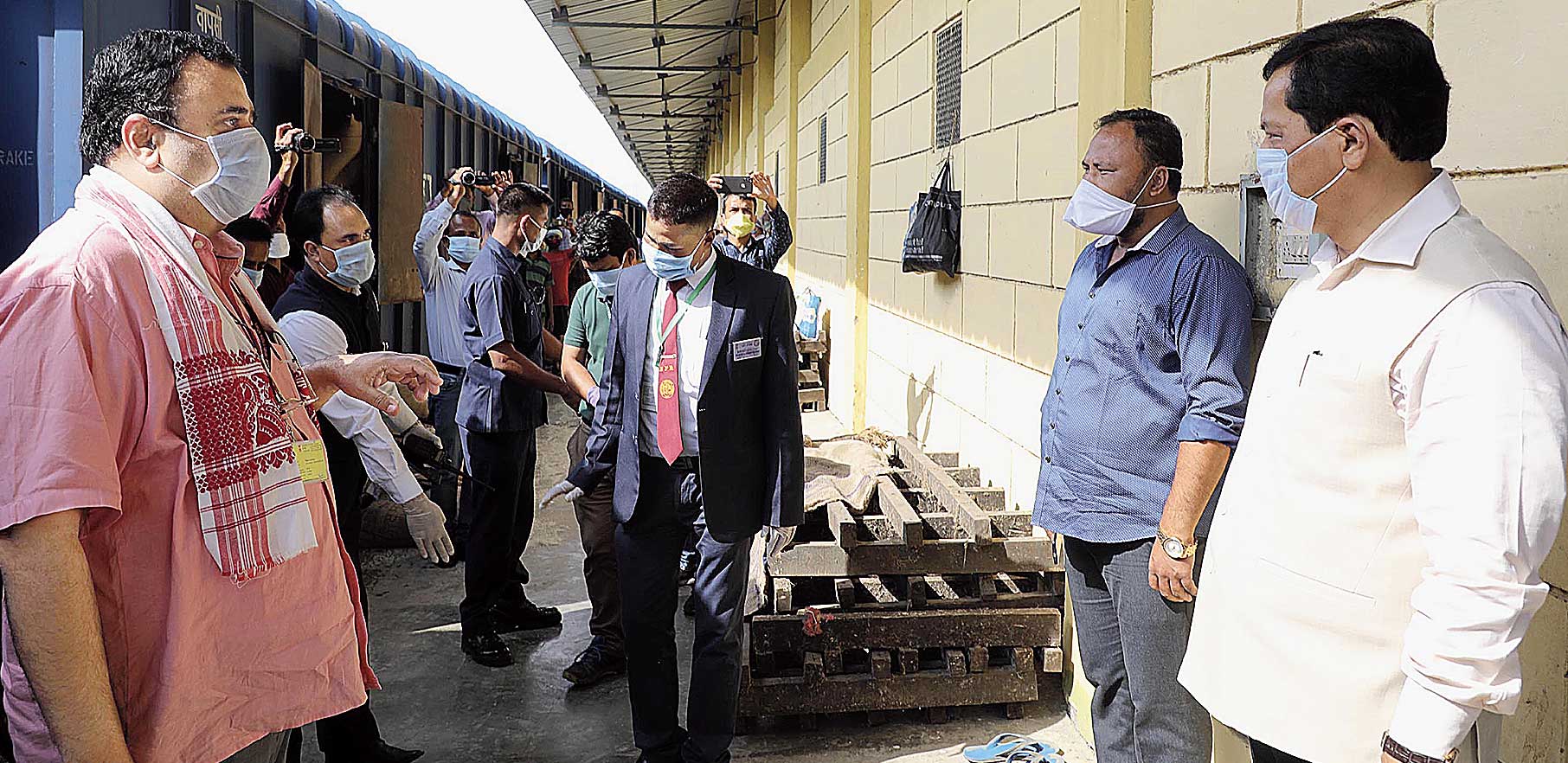 Chief minister Sarbananda Sonowal at the FCI godown at Changsari on Monday.
Picture by UB Photos
---
Guwahati
|
Published 20.04.20, 07:31 PM
|
---
Assam Cares, Dispur's outreach initiative to help the lakhs of people from the state stranded outside because of the nationwide lockdown, has provided it with "valuable information" to plan its response on regulating the huge inflow, mostly from Covid-19-affected states.
Assam health minister Himanta Biswa Sarma said on Monday, "Besides being able to know how many people of the state are outside, we have also got vital information about their whereabouts. This will help us plan better when they start arriving."
Government helpline numbers for those stranded outside, including students, private employees, pilgrims, tourists, medical patients and a large numbers of migrant labourers, have so far received over 4.29 lakh calls.
Sarma has maintained that the inflow of these people, which he termed as the "second wave", would be the next big challenge for the state.
He referred to the "first wave" as the incoming of around 70,000 people ahead of the lockdown which began from March 24 midnight.
A majority of these people, kept in quarantine centres, have already been discharged after showing no signs of infection.
Assam has registered 34 Covid cases so far, of whom 14 were under treatment till Monday. One died while 19 have been discharged, including two on Monday.
The highest numbers of people, about 68,000, are stranded in Karnataka. About 36,000 are stranded in Tamil Nadu, 34,000 in Kerala and 21,000 in Maharashtra, which are some of the most Covid-affected states in the country. Besides, significant numbers of people are stranded in Uttar Pradesh, Nagaland, Andhra Pradesh and Goa.
Sarma said, "Now we know from where they will be coming and where they will be heading. This will help us to plan and maintain the inflow of this large number of people into the state later. Since now we have their local addresses too, we know where they are heading and where we can put them in quarantine."
Earlier, the minister had said that everyone returning to the state must undergo quarantine.
Immediately after receiving the details of the stranded people, the deputy commissioners and superintendents of police of the areas they belong to were alerted.
The state government, while chalking out plans for bringing them back safely, has already sent financial assistance of Rs 2,000 each to some 86,000 people under the Assam Cares initiative. "For the time being, the state government has decided to send the financial aid directly into their bank accounts. Out of the total calls received, the authorities have verified around 99,700 bank accounts and they will receive Rs 2,000 each by tonight. Already 86,000 people have received the amount. This sum will be the first instalment and we will send another round of instalment before the lockdown ends. The details of other callers are being verified and they will be contacted within April 22," Sarma said.
The state government has also provided Rs 25,000 each to 647 people from the state who got stuck in different locations after going there for medical treatment for cancer, heart or kidney ailments.