Meghalaya government tells staff not to air views on media
Sources say state govt is only reminding its employees about existing rules but what prompted the move is not known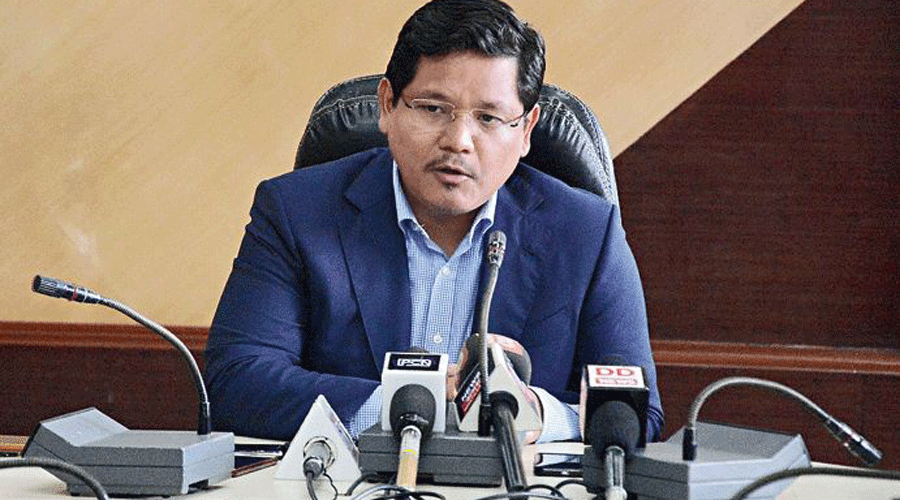 Conrad K. Sangma.
File photo
---
Guwahati
|
Published 15.08.22, 12:17 AM
|
---
The Meghalaya government has directed its employees against airing their views in the press or social media, which are critical of any of its "recent" policy or action.
Non-compliance will attract departmental proceedings found in violation of the Rule 8 of the Meghalaya Services (Conduct) Rules, 2019, a government circular issued by commissioner and secretary R. Lyngdoh on Friday said.
The circular said government employees, including those posted in PSUs, boards, associations, corporations, societies are "participating in social media" in violation of the Rule 8 of the service conduct rules.
According to the circular, "No government employee shall, in any broadcast over the electronic or social media or in any document published in his/her own name or anonymously, pseudonymously or in the name of any other person or any communication to the press or in any public utterance make any statement of fact or opinion:
⚫ Which has the effect of an adverse criticism of any current or recent policy or action of the central government or any state Government or which is capable of embarrassing the relations between the Central government and the government of any State;
⚫ Or which is capable of embarrassing the relations between the Central government and the Government of any foreign country."
The circular further warned the employees that violation of Rule 8 would attract departmental proceedings.
Sources said the state government was only reminding its employees about existing rules but what prompted the move is not known.
Meghalaya has a coalition government headed by the National People's Party of which the BJP is a constituent.
The Meghalaya government order comes close on the heels of the Manipur government directing its officials to quit social media groups "engaged in furthering anti-national, anti-state, anti-social, communal and divisive agendas" or face disciplinary action.
The office memorandum issued by H. Gyan Prakash, special secretary (home) on Wednesday, had directed government officials who are "members" of social media groups such as Facebook, Whatsapp and other chatgroups "to exit from such social media group(s) within 48 (forty-eight) hours i.e 6 pm of 12.08.2022 failing which appropriate disciplinary action will be initiated against them under legal and applicable conduct rules provisions".