Manipur Congress plea to unite against BJP for Lok Sabha seats
The gathering pledged to fight the "anti-people" BJP governments in the state and at the Centre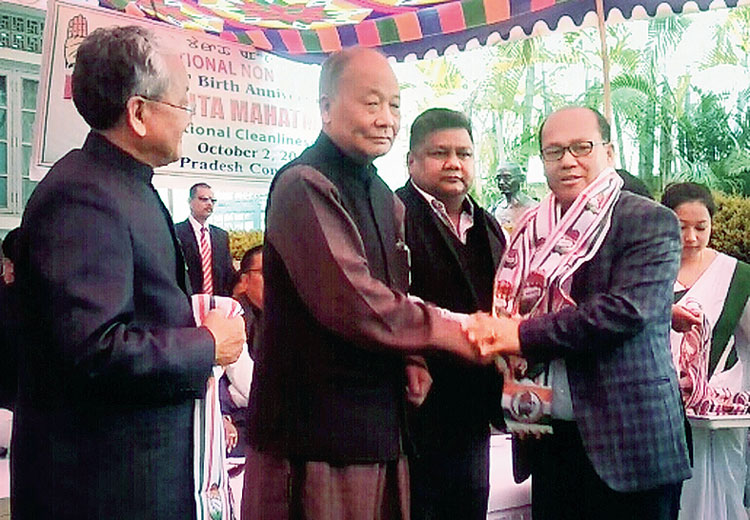 ---
|
Imphal
|
Published 20.02.19, 06:36 PM
---
Manipur PCC leaders on Wednesday appealed to the people of the state to work together with the Congress to win the two Lok Sabha seats and bring down the Narendra Modi government.
The appeal was made during a reception ceremony for 18 persons who joined the party at Congress Bhawan here on Wednesday.
Former chief minister and Congress Legislature Party leader Okram Ibobi Singh welcomed the newcomers and said, "We believe that the BJP-led government will fall after the Lok Sabha elections. Let's work together to strengthen the Congress and defeat the communal BJP so that integrity and communal harmony will be no more disturbed in the country."
Ibobi said, "It is a happy moment that people from different walks of life have joined Congress to work on one platform. Help Congress to teach BJP a lesson in the coming election."
Manipur PCC president Gaikhangam said: "The BJP is a cheater. We should not stop opposing the citizenship bill. BJP leader Amit Shah said the bill would be passed if the BJP continues its governance after the Lok Sabha elections. The defeated BJP is like a wounded tiger and it will fight back dangerously. So we have to be very careful".
President of Trinamul Congress Manipur Pradesh Soraisam Manaoton, who was among the persons received at Congress Bhawan, said, "I left the Trinamul two days ago and joined the Congress to bring down the BJP government."
Okram Joy Singh, a veteran politician and member of the PCC, said, "The popularity of the Narendra Modi government is almost down. Trying to pass the bill is total arrogance. To save India, the BJP should be rooted out."
A large number of people gathered at the Congress Bhawan compound where the reception ceremony was held.
The gathering pledged to fight against the "anti-people" BJP-led governments in the state and at the Centre.
Other than Manaoton, those felicitated include ex-BJP candidate Sword Vashum of Chingai autonomous council, ex-NEIDP candidate Paukhansuan Khuptong of Churachandpur, ex-ADC members Zino Kamei and Satkhojang Kipgen of Tamenglong. Imphal Municipal Corporation's Y. Lukamani Devi of Yaiskul, Th. Purnachandra and H. Nutanchandra of Thangmeiband and O. Romeo of Keishamthong also joined.
Former Manipur chief secretary Nabakishore Singh, retired IRS officer W. Lalkholam Hanshing, retired professor Dr. E. Iboyaima Singh, retired commandant of Manipur Rifles Y. Ashok Kumar, James Kanshung, John Manglianthang Zou, former BJP member Kh. Ratankumar Singh, H. Jiten Singh and former BJP member Oinam Romen Singh were felicitated.