Jail for teacher-transferring officials in Assam
Data tabled in the Assembly on Tuesday show 439 teachers were transferred from Dhubri district alone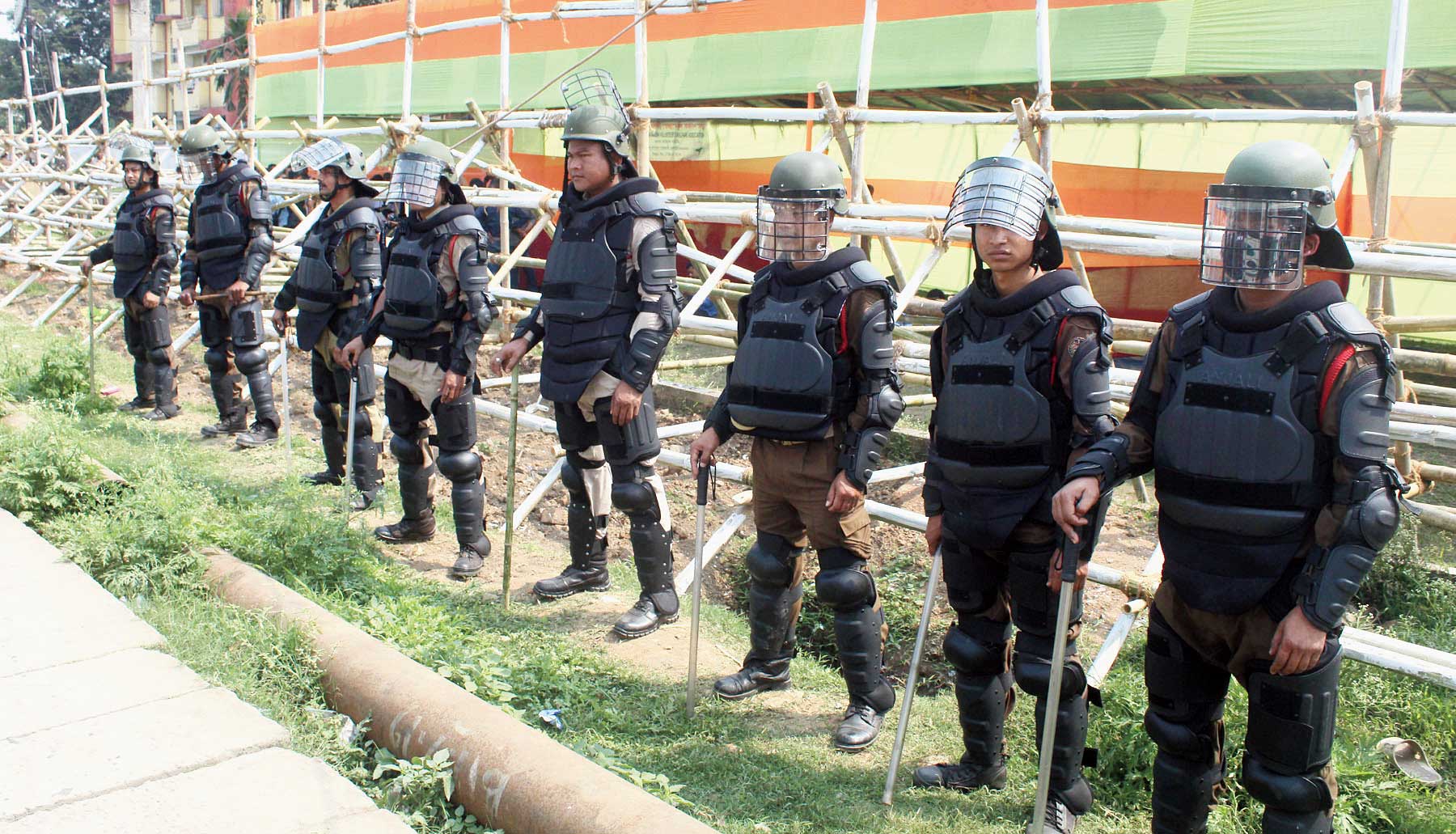 Security personnel keep vigil during the budget session of the Assam Assembly at Dispur Last Gate in Guwahati on Tuesday.
Picture by UB Photos
---
Guwahati
|
Published 03.03.20, 08:45 PM
|
---
The Assam government will introduce a bill during the ongoing budget session to send to jail officials for three years who transfer teachers before they serve 10 years in the schools they join their service.
Anyone, including minister or MLA, who recommends such transfer would also face the same penalty, said Assam education and finance minister Himanta Biswa Sarma in the Assembly on Tuesday.
"We will introduce a bill making it compulsory for a teacher to serve 10 years in the place of his or her posting. Only after that the teacher will be able to apply for transfer. In the bill we are proposing three years' jail for an official who transfers a teacher before completion of 10 years of service or who recommends such transfer," said Sarma.
He added that all teachers who had taken transfers during the past three years would have to join their earlier schools. "A committee will see whether there are special considerations like a teacher facing a threat or disability among these teachers," Sarma added.
He, however, said teachers, who had taken mutual transfers, would not be affected.
Sources said Sarma, who took charge of the education ministry from Siddhartha Bhattacharya after January's cabinet reshuffle, was unhappy with transfers of teachers.
Data tabled in the Assembly on Tuesday show 439 teachers were transferred from Dhubri district alone.
Altogether 34,639 teachers posts have been lying vacant in the education department (16,387 in elementary education department, 17,909 in secondary and 343 in higher education department).
The Assam government has already advertised to appoint 9,635 elementary teachers.
Besides, 6,204 educational institutions (2,821 in lower primary, 2,341 in upper primary, 692 in high school, 126 higher secondary, 176 junior colleges and 48 colleges) are still running as venture educational institutions.
Sarma said the education department had sent a proposal to the finance department to create posts in the venture educational institutions which fulfil the criteria of Provincialisation Act, 2017, and Provincialisation Act, 2018.