Hindus, Muslims build life and death bond
Bhuyans give land for kabarstan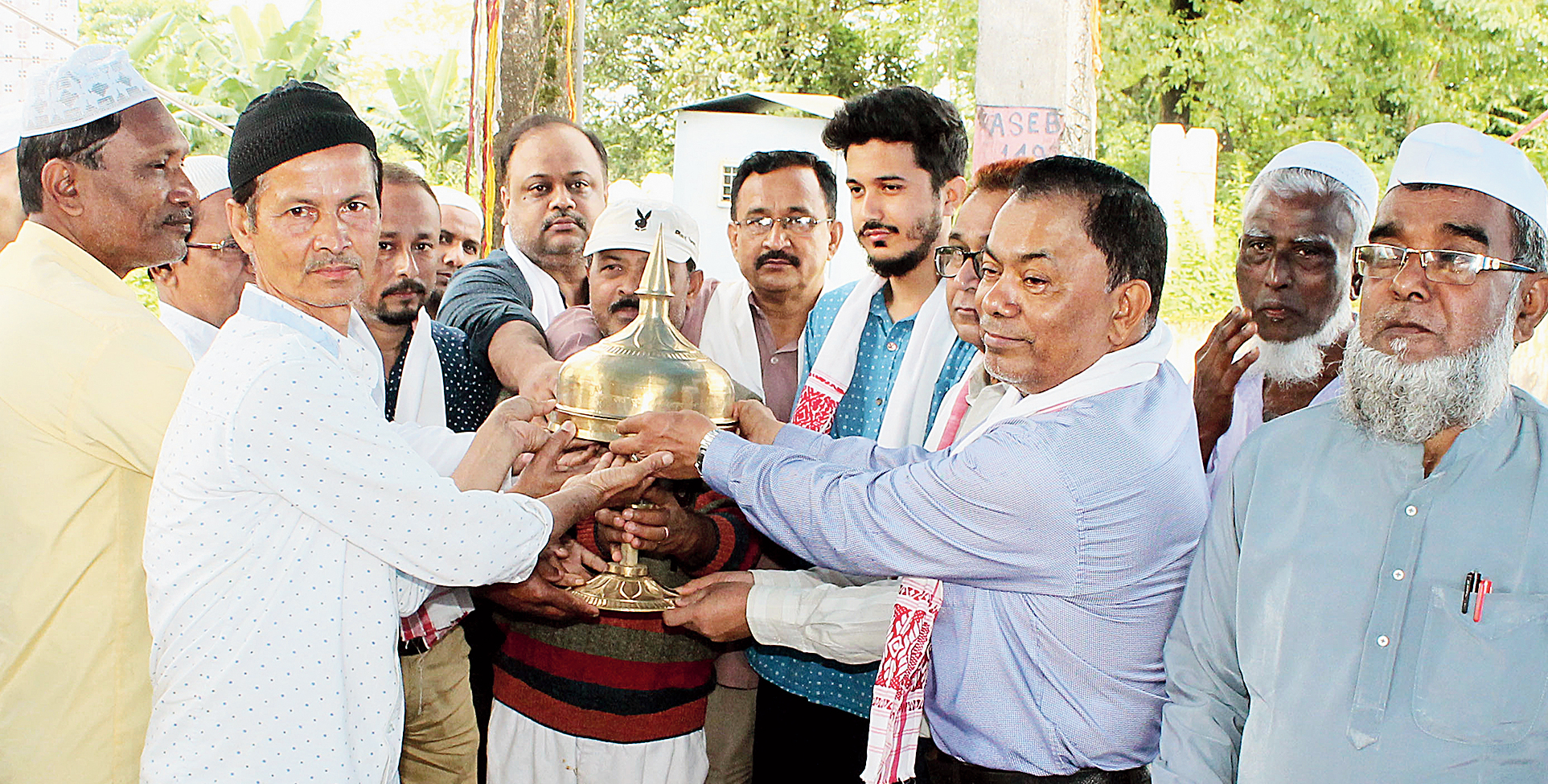 Members of the Bhuyan family being felicitated at Garehaga village in Lakhimpur district on Monday.
Picture by UB Photos
---
Guwahati
|
Published 06.05.19, 07:14 PM
|
---
Setting an example of communal harmony, a Hindu family has donated a plot of land for expansion of a kabarstan (graveyard) in Upper Assam's Lakhimpur district.
This rare gesture made by the family of late Karunakanta Bhuyan, a resident of Garehaga, has been widely appreciated by the people of the area.
"We have been living here peacefully for generations, taking care of each other. The Bhuyan family's gesture will strengthen the bond of brotherhood and unity among people of different communities in the area. We are grateful to the family," chief adviser of Nahar Pukhuri Kabarstan Management Committee Hamidur Rahman told The Telegraph.
Bhuyan, who was an employee of the district treasury office, passed away four months ago. He is survived by his wife and two sons.
His family formally handed over the plot of land, measuring one bigha, two katha and 19 lessa and adjoining the graveyard, to the committee at a function held at the kabarstan located near North Lakhimpur railway station on Sunday.
Interestingly, the graveyard is located adjacent to a Hindu cremation ground, which stands as a symbol of amity in the area.
"Religious barrier has never come in the way of harmonious relationship between Hindus and Muslims here," Rahman, a former principal of Lakhimpur Telahi Kamalabaria College, said.
Bhuyan's family members, including his wife Anima, were felicitated with gamosas by the committee at the function.
Rahman said the function was organised to express their gratitude to the Bhuyans who gave the land without asking for anything in return.
"We will soon put up a plaque at the entrance to the kabarstan, acknowledging the land donation by the family," he said.
"The land will help us develop the burial ground," he added.
Rahman said members of the committee and other prominent citizens of the area had attended the function.