Hailakandi SHGs in novel venture on tracks
Local cuisine on train platter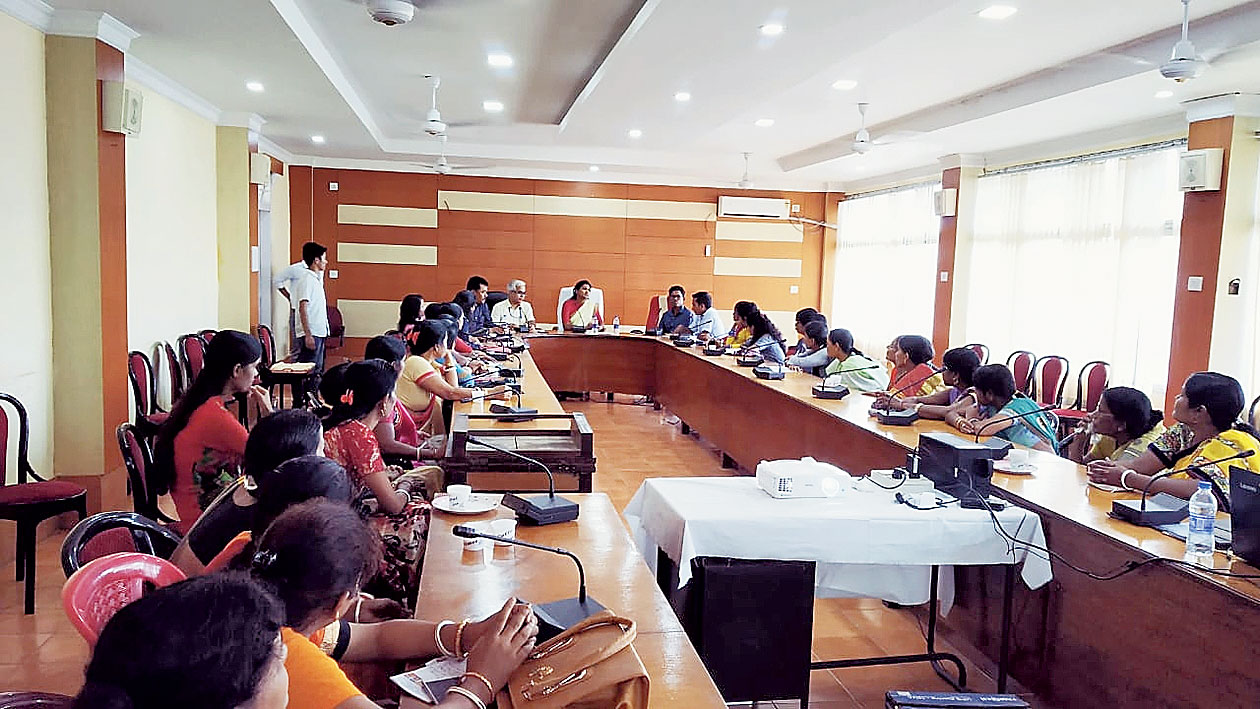 The meeting in progress in Hailakandi on Saturday.
Picture by Satananda Bhattacharjee
---
Hailakandi
|
Published 27.07.19, 06:45 PM
|
---
The Hailakandi district administration has asked the Indian Railway Catering and Tourism Corporation Limited (IRCTC) and the Northeast Frontier Railway (NFR) to include women self-help groups (SHGs) for providing local cuisine on trains through station-based e-catering service.
At a meeting held here on Saturday between IRCTC and NFR officials, the district administration and SHGs, deputy commissioner Keerthi Jalli called upon the catering arm of railways to empanel the women SHGs of Hailakandi district to provide authentic regional food cooked in hygienic conditions at certain stations, including Panchgram and Hailakandi.
Evincing keen interest, IRCTC officials said passengers of all trains originating/stopping at these stations can avail of the facility of SHG cooked food through e-catering.
At present, 11 lakh meals are served in a day on trains across the country, of which private caterers provide a majority of the meals.
The empanelled SHGs will be displayed on e-catering websites with their menu and prices. Passengers may choose meal or food items offered by SHGs and place the order. This will help in sustainable development of SHGs, a senior official said.
"The proposed association with SHGs will empower women by giving their food products a brand name," city project manager, National Urban Livelihoods Mission, Mustafa Ahmed Laskar said.
Many women SHGs have come forward to provide popular local cuisine and it is expected that more and more SHGs will join the scheme, he said.
The railways has announced a new catering policy with the aim of providing quality food on rail premises and reduce the number of complaints against the existing catering system.
At present, the IRCTC provides e-catering facility on all the trains passing through the most important 45 stations of the Indian Railways. It also provides food to 1,516 trains without pantry cars. The food is directly delivered by the vendor on the berth/seat of the passenger.
Besides this, the administration requested the railway officials to engage women SHGs in station- cleaning operations, cleaning of pay-and-use toilets and in ticket booking.
The railway officials said the women SHGs must participate in the tendering process but would be given preference. "Involvement of women SHGs in e-catering of the IRCTC and other services of railways will provide scope for employment generation leading to women empowerment," said a railway official.
There are altogether 168 active women SHGs in Hailakandi district.