Gram sevaks for Tripura
Deb said Tripura govt decided to recruit around 1,100 gram sevaks to bridge the gap between police and public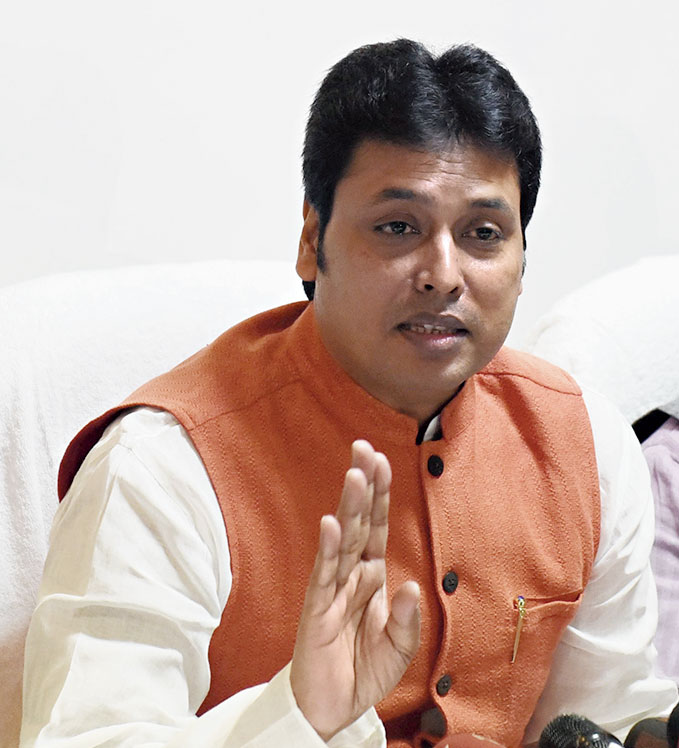 ---
|
Agartala
|
Published 09.01.20, 08:03 PM
---
Tripura chief minister Biplab Kumar Deb on Thursday said his government would recruit 1,100 gram sevaks in the state soon.
Addressing the Police Week Parade-2020 at Manoranjan Debbarma Stadium in AD Nagar Police Lane here on Thursday morning, Deb said to maintain law and order in the state and build a cordial relationship between public and the police, the state government has decided to recruit gram sevaks.
"The Tripura government has decided to recruit around 1,100 gram sevaks across the state soon to bridge the gap between police and public and particularly to maintain law and order in villages. They will inform the police about daily incidents in a village," Deb said.
He claimed that his government, which was formed in March 2018, had given a free hand to the police, adding the state police now were taking action on time because of which the crime rate had dropped.
"During the previous government, the police could not work properly because the government did not give them a free hand. Now, the police are working freely and working very hard to control law and order in the state. After our government was formed, many things have changed and there is change in the police also. Now they know how to work and how to submit chargesheets on time. This is called 'development'," Deb claimed.
He said 987 cases had been registered in the past 20 months in which around 4,992 people had been arrested so far. He lauded the state police's activities in controlling drug-related illegal activities in the state. "There is a change in mindset and the police are now seizing contraband every other day," Deb said.
Tripura Police Week will be observed for the next six days. It started with Police Day Parade in which Tripura police, Tripura State Rifles and Tripura traffic police personnel participated. The Best Policeman Award and trophies were given under different categories during the ceremony. Later in the evening, Deb inaugurated a police gallery in the state museum at Ujjayanta Palace here.