Glare on Conrad govt over coal mining
The government has been accused by several quarters of facilitating illegal coal mining and transportation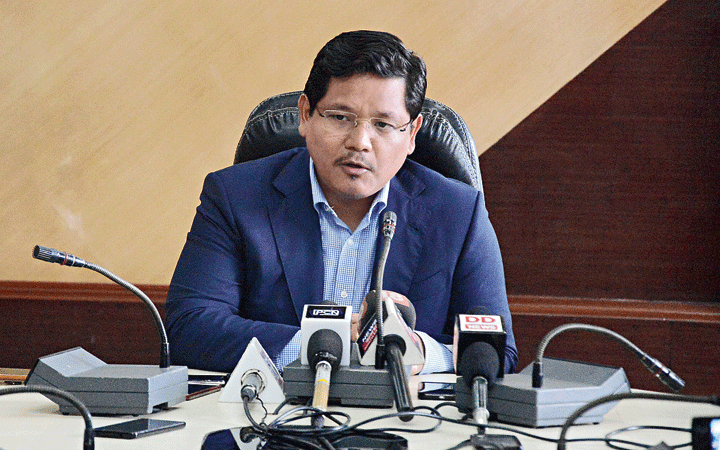 Conrad K. Sangma
File picture
---
Shillong
|
Published 07.02.20, 06:59 PM
|
---
The Conrad K. Sangma government appears to be losing the battle in defending alleged illegal coal mining and transportation in Meghalaya.
The government has been accused by several quarters of facilitating illegal coal mining and transportation while the partners of the Meghalaya Democratic Alliance (MDA) have pointed fingers at home minister James K. Sangma for the inability of his department to put a check on such illegal activities.
Though Conrad had last month "advised" director-general of police R. Chandranathan to initiate measures to curtail movement of coal-laden trucks and take immediate action if illegalities were detected, allegations are still rampant that these are continuing.
Even Conrad himself had recently denied that illegal coal mining and transportation was taking place.
Leader of the Opposition Mukul Sangma had alleged that a "cartel" was operating to facilitate illegal coal mining and transportation.
A committee constituted by the National Green Tribunal (NGT), in its report submitted to the tribunal, recommended that Meghalaya police should identify those who were behind the illegal transportation of more than 80,000 metric tonnes of coal, which have been seized in the past few months.
The committee headed by Justice (retd) B.P. Katakey recommended that Meghalaya police should ensure that all persons, vehicles, equipment, tools and machineries involved in raising and transporting the 80,000MT of coal are identified and action taken according to the law.
The director-general of police was also asked to provide to the Meghalaya State Pollution Control Board the list of persons involved in illegal coal mining and transportation.
The board shall then file complaints before the court under various laws and rules against such persons.
The tribunal had imposed a ban on illegal coal mining in April 2014.
In July last year, the Supreme Court had allowed coal mining to resume in Meghalaya, but ordered that it should be done within the regulatory framework of the MMDR Act, 1957, and the Minerals (Concession) Rules, 1960 besides environmental laws.
On Thursday, a meeting between the All Jaiñtia Transporters' Association and the Meghalaya People's Labour Union took place at Jowai, West Jaiñtia Hills, where concern was expressed over the non-implementation of the Supreme Court judgment and order of July 3, 2019.
The meeting resolved to convene a public gathering on Tuesday at Seventh Mile, West Jaiñtia Hills where all truck owners, coal miners and traders have been invited.
On Friday, a notification from the directorate of mineral resources said in pursuance of the Supreme Court judgment and order to facilitate systematic, safe, scientific and planned utilisation of mineral resources and to streamline mineral based development of the state, the directorate will conduct an orientation and sensitisation programme for all the mine owners in East Jaiñtia Hills in granting of prospecting licence, preparation of geological report and feasibility study, granting of mining lease under scientific coal mining plan as per the MMDR Act, 1957 and Mineral Concession Rules, 1960.