Gamosa, symbol of pride and protest
Thousands who joined the movement against the bill since it was cleared last week, hit the streets wearing gamosas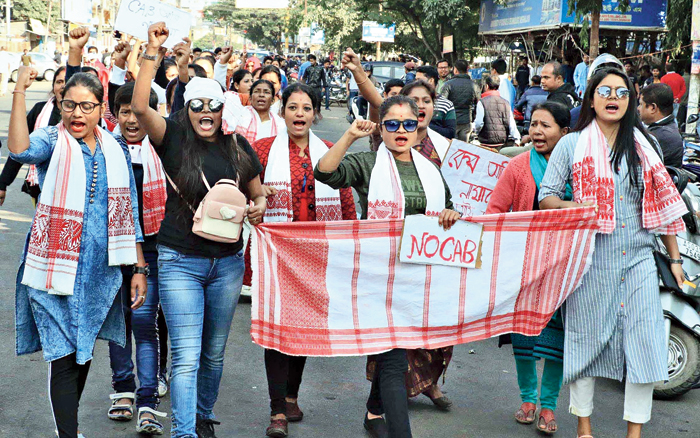 ---
|
Guwahati
|
Published 13.12.19, 09:34 PM
---
Ananta and Bikram, both in their late twenties, got ready to join the hunger strike by All Assam Students' Union (AASU) on Friday morning. But they did not leave home without wearing the "gamosa", Assam's traditional scarf and a symbol of pride.
But the duo were not alone. Thousands, who joined the movement against the bill since it was cleared by the Union cabinet last week, hit the streets wearing gamosas. The gamosa has been around since the Ahom days.
On Wednesday, when the protesters clashed with the security forces on GS Road, they laid the gamosas on the city streets to stop the security forces from moving forward.
Bikram said, "CAB has directly insulted the Assamese people's pride and rights. Gamosa has become the symbol of this protest with everyone flaunting it with pride. I am a proud Assamese and will do my bit to oppose the bill even as it has become a law of the land already."
Despite the widespread protests against the bill continuing in the Northeast, CAB received the President's assent and became an act on Thursday. According to the act, refugees of six communities who had entered India before December 31, 2014, after facing religious persecution, will be given Indian citizenship.
"Gamosas are the lifeline of the Assamese community. The way the anti-CAB protesters have been donning our gamosas gives me immense pleasure. I hope the people of Assam will also make serious efforts to save our gamosas from its cheap duplicates from outside the state like they are taking against illegal infiltrators," said Nibedita Handique, a traditional weaver.
To safeguard the traditional Assamese gamosas from its cheaper twin from other states, the state government had earlier formed flying squads to check illegal consignments.
The students of Cotton University have announced that they would send a letter on behalf of the 855 martyrs of the Assam Agitation along with a gamosa to Prime Minister Narendra Modi as a mark of protest. Already, students of the premier institution have been staging continuous sit-ins since Tuesday night.
Rahul Bordoloi, general secretary of the Cotton University Students' Union (CUSU), said, "Besides sending the letter and gamosa to the Prime Minister to express our resentment, we've also decided to take out a signature campaign and hold different cultural programmes to protest against the government's move."
Modi had donned the Assamese gamosa several times during his national and international programmes.
It also caught global attention when Assam sprinter Hima Das, after becoming India's first world gold medallist at the World U20 Championships in Tampere, Finland in 2018, did the victory lap with an unfurled gamosa.